Lanise Howard, and Genevieve Cohn @ Mindy Solomon Gallery-21
LANISE HOWARD: IN AN AGE OF A(SIMULATION)
ABOUT LANISE HOWARD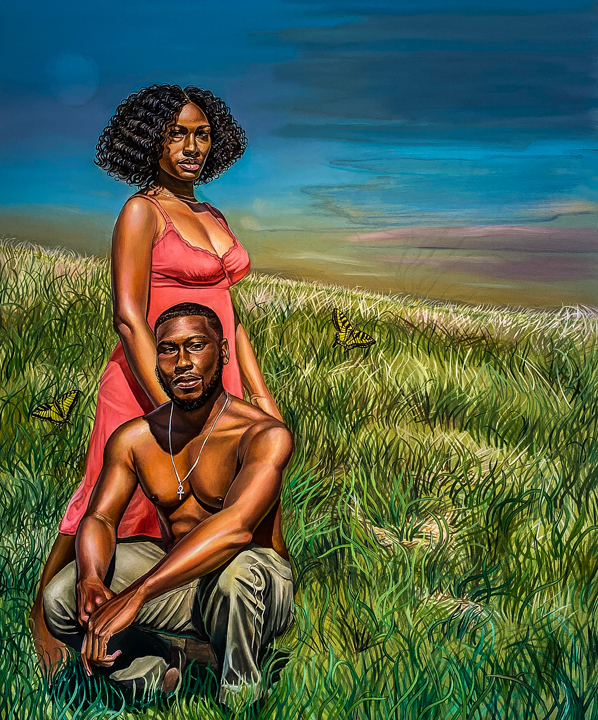 Lanise Howard is a visual artist who recently graduated from Otis College of Art and Design. She works mainly in paint and mixed media. Lanise was born in Southern California and raised partially in New York State. Her earliest years were spent from El centro, California to Los Angeles California. The unique environments of Southern California and New York have both shaped the way she sees the world. Her work is usually figurative and often narrative. There is a surrealistic quality to her work, as well as a spiritual feeling that is often embodied.
Lanise is interested in many various topics such as, the esoteric, sacred geometry, ancient belief systems, the current digital world, as well as her experience as a woman of color in today's climate. Recently she has been moving towards a fusing of these many inspirations, and hopes to future investigate these phenomena in her works. Her recent body of work is an investigation on censorship and assimilation, lost narratives, and hidden histories. Lanise Howard has shown in multiple exhibitions within the past two years, and has won art prizes, such as the Women's Painters West Award in 2019, and was a finalist in the 2019 AXA art prize.
Art works Lanise Howard
HOW TO SEE IN THE DARK, Genevieve Cohn
We know it: 20 months of pandemic, of anxiety, loss, of isolation has been transformative. As Keeyanga-Yamahtta Taylor put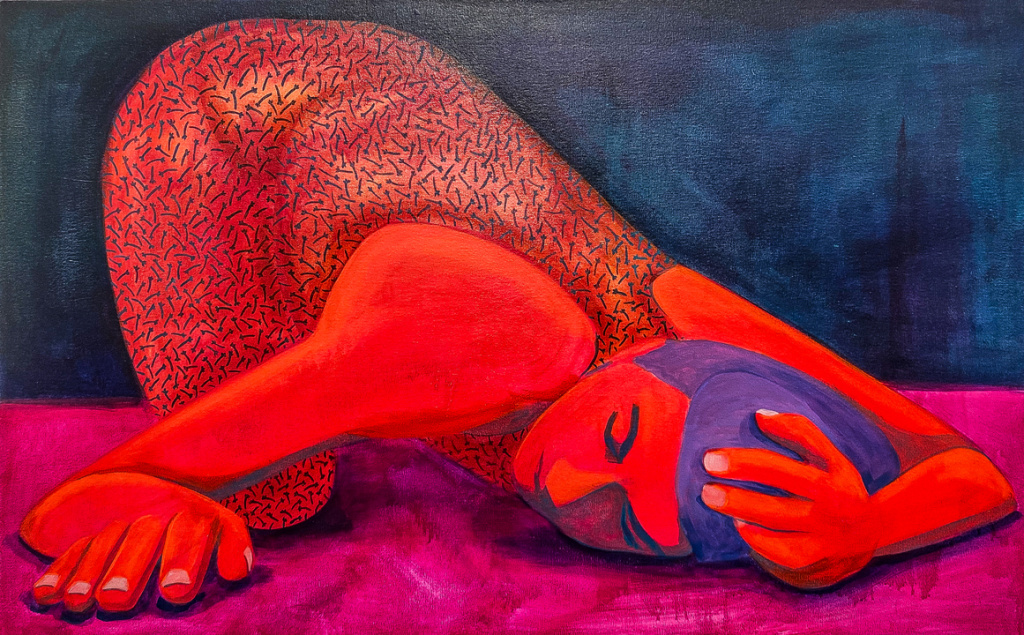 it, "life has been suddenly and dramatically upended, and, when things are turned upside down, the bottom is brought to the surface and exposed to the light."  Much has been brought to the light this year: our relationships to each other, to ourselves, to our communities, to our work.  Maybe especially our relationships to our work.  
Genevieve Cohn's last solo show, "The Beauty of the Burden," featured wide swaths of blue and yellow, orange and purple.  In those paintings, women worked together – building external environments to match their internal ones.  In Cohn's own words, those paintings were "held together by women who navigate, fix, and pull together the landscape that surrounds them; they pull their worlds together with string and mold mountains with their bare hands."  It was beautiful, as has been the oft overlooked work of women.  But the light in Cohn's new work (created in late 2020 and 2021), is different.  The pacing is different.  How to See in the Dark represents a progressive evolution.   Though still rich in blues, greens, awash in purple, these are no longer paintings of women at work.  These women have put down their tools.  They have laid down their heads.
In February 2020, The New York Times Magazine published a "Future of Work" edition.  The issue featured an article profiling the Marxist feminist Sylvia Frederici, who, since the early seventies – when she spearheaded the Wages for Housework movement -, has pointed to the unpaid domestic labor of women.  "Women's work" has historically been seen as the work of caring, of tending, of
uniting ("They say it is love, we say it is unwaged work" was an early rallying cry of the movement).  "How might this year have looked different" the article's author, Jordan Kinser asks, "had the work we do to care for one another, ourselves and the world around us been valued at a premium? How would the future look different if, as Federici suggests, "we refuse to base our life and our reproduction on the suffering of others," if "we refuse to see ourselves as separate from them"?
Like the women in Cohn's new paintings, many of us spent hours in the last year and a half in a dark room with one ear pressed to a wall, listening.  As our own worlds became more isolated, we got to know our neighbors through the sounds they made in the morning, in the evening.  For some of us, something strange happened.  Spending less time in motion, more time with ourselves, we became more connected to the people in our buildings, on our block, in our city.  It is counter-intuitive but evident, this year especially: when we slow down, we are more able to let our bodies acclimate to their space.  We are more able to radically, honestly, hear one another – to empathize. 
How to See in the Dark is an exercise in empathy.  Walking into this room full of women in close up is like entering a room full of light after a long trek through a touch tunnel.  These women – alone and in endless combinations – are protesting.  They are also developing new and greater senses by which to relate. 
art works HOW TO SEE IN THE DARK, Genevieve Cohn