The quintessential extensions of American identity are intertwined in Tim Buwalda's new series of paintings, expanding the scope of his incisive commentary on self-actualization and social change embodied by classic cars. The enigmatic set pieces of Neighborhood Projects engage audiences' imaginations with glimpses of property bordering real models, disclosing just enough authentic details about their modest home-lives to suggest dramatic backstories for the unseen inhabitants. The artist discovered his latest muses by scouring the quotidian sidestreets and middle-class quarters of South Florida's suburban sprawl, fertile territory for stagnant dreams, forsaken treasures and abandoned projects more likely to be sheltered from voyeurs in colder climes.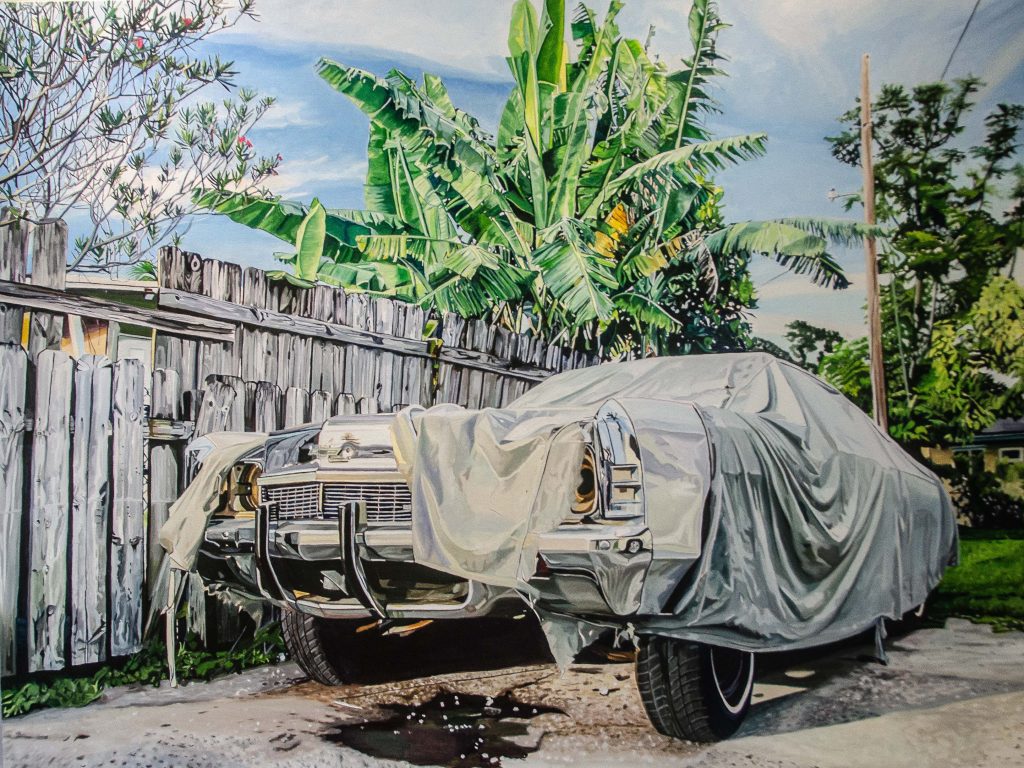 Buwalda documents each scene without judgment or intervention, only adjusting the perspective and framing of found objects in situ. At his Miami studio, the artist adapts selected compositions into oil paint or watercolor with a signature blend of precise brushstrokes and expressive shading. This balance of verisimilitude and perceptual veracity tempers the impermeable veneer of photorealist pioneers with subtle subjective touches. He shines a stark light on deteriorating conditions by meticulously rendering the disheveled slipcovers and overgrown foliage that shroud survivors with symbolic weight. Yet he also elevates objects of desire by grounding the gaze in a point of view reminiscent of his boyhood tinkering at West Palm Beach garages under the tutelage of masculine elders.
The conscious presence of the artist's hand evokes the impossibility of perfection and inevitability of change – for man and machine alike – as well as the ideals that propel invention and consumption. Buwalda simultaneously articulates and penetrates the branded personas of each vehicle to reveal both the wishful self-image projected by its invisible driver and the subconscious reflection of unvarnished human nature. Writ large, these auto-portraits take on allegorical dimensions, signaling the inevitable displacement of car culture and illusory glory of the American Dream.
– Margery Gordon
---
LnS GALLERY presents
Neighborhood Projects by Tim Buwalda
February 2 – April 6, 2019
PREVIEW RECEPTION | Saturday, February 2, 2019 | 6:00-9:00pm
MIAMI, FL (January 2019) – LnS GALLERY unveils its first exhibition to open in 2019: Neighborhood Projects. The solo show unveils a new body of work by photo-realist painter Tim Buwalda, and is accompanied by a catalog featuring a thought-provoking essay by Margery Gordon, art critic and Founder/Director of ArtsEncounters.
In hyper-realistic oil and watercolor paintings based on photographs taken over several years of streetscapes around his native South Florida, Tim Buwalda presents iconic and forgotten figures of the automotive age as characters through which the glory and fallacy of the American Dream are refracted. With a framework of historical and hands-on automotive knowledge, elevated by a point of view that reflects his youth spent tinkering under the tutelage of elders in garages in West Palm Beach, Buwalda's cars are metaphors for unbridled American independence. They embody, in the artist's own words, "vehicles of a promise. One of destiny and ownership. One of freedom to explore and progress. These are ideas ingrained into Americans. Like the 'promised land' with Moses. It brings up questions of how the American Dream can work or fall apart."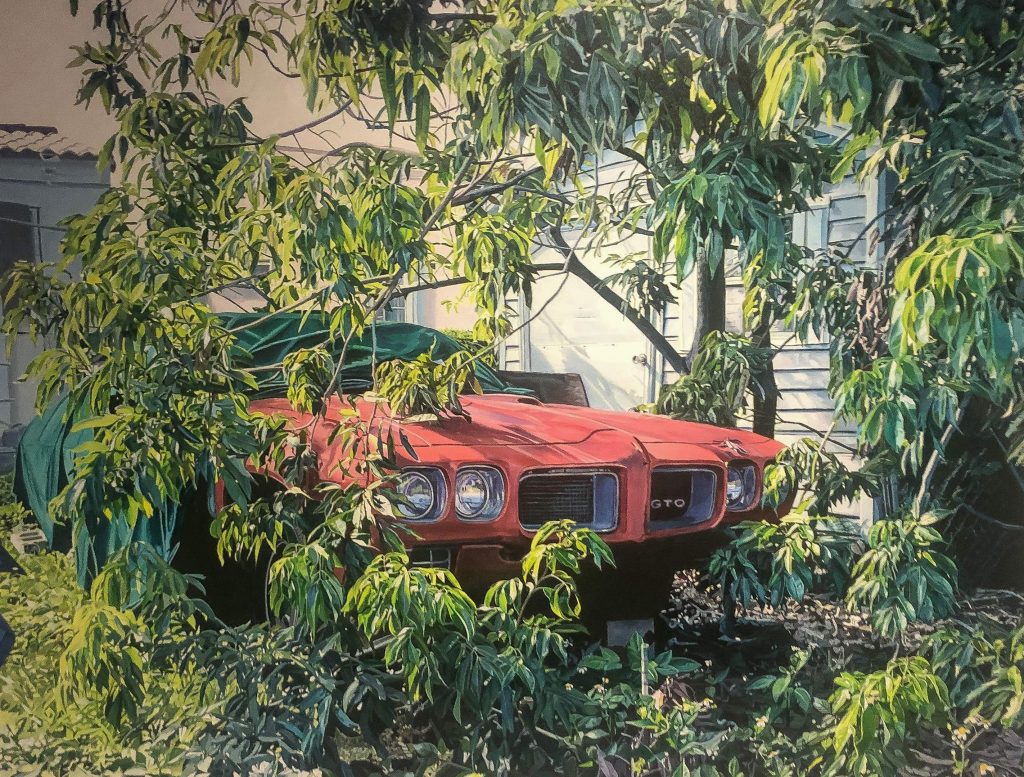 In the exhibit's accompanying catalog essay, "Scenes from an American Neighborhood," contributing art critic Margery Gordon offers this analysis of the collected works, in whose creation the artist has invested two years: "Intertwining the primary extensions of American identity widens the frame and symbolic scope of Buwalda's auto-portraits, advancing his body of work by taking a few steps back from the tighter compositions and abstracted close-ups of crumpled chrome in earlier series that established his signature blend of exacting precision and expressive shading. The conscious presence of the artist's hand evokes the impossibility of perfection and the inevitability of change – for man and machine alike – as well as the ideals that propel invention and consumption."
While these vintage cars are models of ingenuity, their influential development and marketing as products also illuminate the fickleness of human consumption, from aspiration to depreciation. Gordon opines: "If the march of time cannot be denied, nor can it be blamed for the premature abandonment of durable goods. Purposeful Obsolescence attests to the lasting effects of a now-ubiquitous business strategy that General Motors was early to adopt, introducing novel features or superficial updates every year to generate demand for its latest model and dissatisfaction with previous versions. The incessant repackaging and reselling of the dream ultimately devalues it, observes Buwalda."
Though the exhibition predominantly depicts automobiles parked in residential settings, one large oil painting of dilapidated sedans idling on a used car lot stands apart as a notable exception. Its aging stars are personified in Gordon's essay: "The plaintive tone of a sales pitch inscribed across one windshield, 'FOR SALE – RARE,' is underscored by Buwalda's title, Devoid of All Meaning Except Self-worth. Clinging to bygone status and hopeless fantasies of staging a comeback like the legendary grande dame Norma Desmond in the film noir classic Sunset Boulevard, this rusting relic punctuates the social commentary of Neighborhood Projects with an elegiac coda for the inevitable displacement of car culture and fading glory of the American Dream."

PREVIEW RECEPTION
Saturday, February 2, 2019
6:00 – 9:00pm
EXHIBITION ON VIEW
February 2 – April 6, 2019
Catalog of the show