UDO NÖGER ARTIST'S STATEMENT A
sovereign's discourse upon light and space is characteristic of Nöger's paintings. In his sensuous, delicately color-shaded works he pursues the traditional parameters of painting. He explores the possibilities of the interaction of light, color and open space. His recent work incorporates translucent materials, which emphasize the artist's interest in light and its manifestations. In Nöger's art light enters into the painting, illuminating the forms and then returning to the surrounding space that is its source. The paintings' media is oil and acrylic on layered canvas and fabric, which trap the light so as to transform it and send it back. The light in the painting feels as though it is emanating from the forms themselves.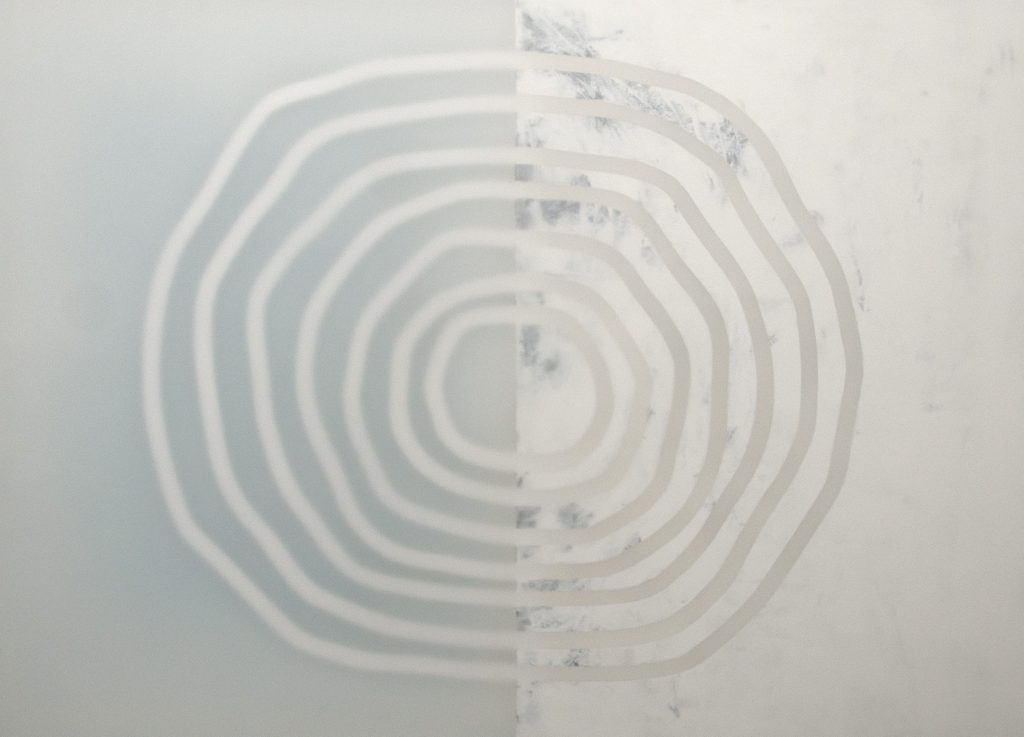 Nöger draws and entraps luminosity not only for the practical purpose of highlighting his compositions but also for the abstract rendering of light as a material – a hugely difficult, and more than likely a German, objective. In Nöger's case, this transformation of an abstract entity into sensuous terms feels German in both a philosophical and a formal sense; his art turns on the paradox that something as disembodied as light can be represented physically, so that our conception of it literally has something to hold. The paintings show the floating of the elements and their permanent change. His work results from a well-considered combination of concept and intuition, of rationality and subjective expression.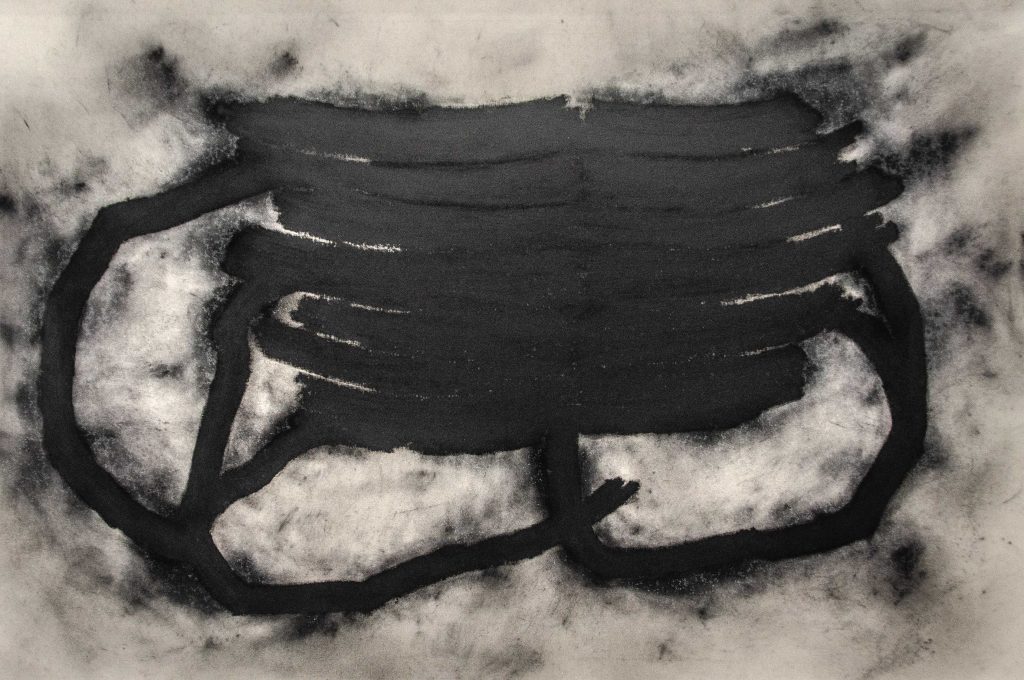 Education
Fachhochschule Bielefeld University
Solo Exhibitions
2015
Weight of Light, Kunsthalle Dresden, Germany
Innen, Schultz Contemporary, Berlin, Germany
drawings from 2010-2015- Galería Álvaro Alcázar, Madrid, Spain
Geistlos-Diana Lowenstein Fine Arts, Miami, FL
unconscious paintings- Ruth Bachofner Gallery, Los Angeles, CA
2014
Invisible Visible- Karin Weber Gallery, Hong Kong
Beyond- Dolby Chatwick Gallery, San Fransico, CA
Water has no figuration- Ruth Bachofner Gallery, Los Angeles, CA
minimal Paintings- Grossetti Arte Contemporanea, Milano, Italy
reduced-212 Gallery, Aspen, CO
2013
Michael Schultz Galerie, Berlin, Germany
Karin Weber Gallery, Hong Kong
Lukas Feichtner Gallery, Vienna, Austria
Galerie Lausberg, Düsseldorf, Germany
Guthrie Contemporary, New Orleans, LA
Timothy Yarger Fine Art, Beverly Hills, CA
2012
Galería Álvaro Alcázar, Madrid, Spain
Grossetti Arte Contemporanea, Milano, Italy
Bachofner Gallery, Los Angeles, CA
Galerie Lausberg, Toronto, Canada
One Man Show at ART MIAMI 2012
Walker Fine Art, Denver, CO
2011
Karl Ernst Osthaus-Museum, Retrospective Works from 1980 -2011
Museum of Contemporary Art Honolulu, HI
Walker Contemporary, Boston, MA
Sherry Leedy Contemporary, Kansas City, MO
Galerie Lausberg, Düsseldorf
Diana Lowenstein Fine Arts, Miami, FL
2010
Light as a Material, Grossetti Contemporanea, Milan, Italy
Me Water, Galeria Alvaro Alcazar, Madrid, Spain
Sherry Leedy Contemporary Art, Kansas City, MO
Galerie Lausberg, Toronto, Canada
2008
Morat Institut für Kunst und Kunstwissenschaft, Freiburg, Germany
Kunsthalle Krems, Krems, Austria
Museo de Arte y Diseno Contemporaneo, San Jose, Costa Rica
Grossetti Arte Contemporanea, Milan, Italy
Galeria Alvaro Alcazar, Madrid, Spain
2007
Me Water, Diana Lowenstein Fine Arts, Miami, FL
Galerie Michael Schultz, Berlin, Germany
Galerie van Hoecke, Paris, France
Lukas Feichtner Galerie, London, England
Beck & Eggeling International Fine Art, Düsseldorf, Germany
Ruth Bachofner Gallery, Los Angeles, CA
2006
Daum Museum of Contemporary Art, Sedalia, MO
Art & Cultural Center, Maui, HI
Galerie Michael Schultz, Berlin, Germany
Lukas Feichtner Galerie, Vienna, Austria
Galerie Parisud, Paris, France
Chiaroscuro Contemporary Art, Santa Fe, NM
2005
Museum of Contemporary Art, Denver, CO
Ruth Bachofner Gallery, Los Angeles, CA
Chiaroscuro Gallery, Scottsdale, AZ
Buschlen-Mowatt Galleries, Palm Desert, CA
Diana Lowenstein Fine Arts, Miami, FL
Robin Rule Gallery, Denver, CO
Beck & Eggeling International Fine Art, Düsseldorf, Germany
Lukas Feichtner Galerie, Vienna, Austria
Galerie Hollenbach, Stuttgart, Germany
2004
Lowe Gallery, Atlanta, GA
Chiaroscuro Gallery, Santa Fe, NM
Buschlen-Mowatt Galleries, Vancouver, Canada
2003
Galerie Hollenbach, Stuttgart, Germany
Galerie Feichtner & Mizrahi, Vienna, Austria
Diana Lowenstein Fine Arts, Miami, FL
Lowe Gallery, Atlanta, GA
Rule Gallery, Denver, CO
Lowe Gallery, Los Angeles, CA
Fassbender-Stevens Gallery, Chicago, IL
2002
Galerie Hänel, Wiesbaden, Germany
Lowe Gallery, Atlanta, GA
Buschlen-Mowatt Galleries, Palm Desert, CA
Jacob Karpio Gallery, San Jose, Costa Rica
2001
Museum of Contemporary Art, Boulder, CO
Kunstverein Lippstadt, Lippstadt, Germany
Art Frankfurt (with A.R. Penck), Galerie Hänel, Wiesbaden, Germany
Art Miami, Facchini Gallery, Miami, FL
Galerie Beck & Eggeling, Düsseldorf, Germany
Galerie Peter Borchardt, Hamburg, Germany
Fassbender Gallery, Chicago, IL
Kevin Bruk Gallery, Miami, FL
Lowe Gallery, Atlanta, GA
Artcore Gallery, Toronto, Canada
2000
Art Cologne, Galerie Hänel, Wiesbaden, Germany
Art Frankfurt, Galerie Hänel, Wiesbaden, Germany
Galerie Hänel, Wiesbaden, Germany
Galerie Beck & Eggeling, Leipzig, Germany
Galerie Feichtner & Mizrahi, Vienna, Austria
Lowe Gallery, Atlanta, GA
Robischon Gallery, Denver, CO
Jacob Karpio Gallery, San Jose, Costa Rica
1999
Kunsthalle Bielefeld (Studiengalerie) >innen<, Bielefeld, Germany
Contemporary Art Center of Peoria, IL
Galerie Beck-Eggeling-Schlag, Düsseldorf, Germany
Galerie Bernd Dürr, Munich, Germany
Galerie Hans-Jürgen Siegert, Basel, Switzerland
Galerie Feichtner & Mizrahi, Vienna, Austria
Mindy Oh Gallery, New York, NY
1998
Galerie Hänel, Frankfurt, Germany
Galerie von Alom, Berlin, Germany
Galerie Hans-Jürgen Siegert, Basel, Switzerland
Lowe Gallery, Atlanta, GA
Fassbender Gallery, Chicago, IL
Jan Maiden Fine Art, Columbus, OH
1997
Galerie Maria Sels, Düsseldorf, Germany
Lowe Gallery, Atlanta, GA
Peyton Wright Gallery, Santa Fe, NM
Jain Marunouchi Gallery, New York, NY
Olga Dollar Gallery, San Francisco, CA
1996
Galerie Hänel, Frankfurt, Germany
Galerie Bernd Dürr, Munich, Germany
Galerie van Alom, Berlin, Germany
Jain Marunouchi Gallery, New York, NY
1995
Sherry Frumkin Gallery, Los Angeles, CA
Mindy Oh Gallery, Chicago, IL
Jain Marunouchi Gallery, New York, NY
Marcia Rafelman Fine Arts, Toronto, Canada
1994
Galerie van Alom, Berlin, Germany
Autogen Galerie, Dresden, Germany
Mindy Oh Gallery, Chicago, IL
Jain Marunouchi Gallery, New York, NY
Lowe Gallery, Atlanta, GA
Marcia Rafelman Fine Arts, Toronto, Canada
1993
Siegerlandmuseum, >Between everything< , Siegen, Germany
Galerie Bernd Dürr, Munich, Germany
Galerie van Alom, Berlin, Germany
Tamenaga Gallery, New York, NY
Hypo Bank Foundation, New York, NY
Lowe Gallery, Atlanta, GA
Lowe Gallery, Los Angeles, CA
1992
Jain Marunouchi Gallery, New York, NY
Lowe Gallery, Atlanta, GA
Lowe Gallery, Los Angeles, CA
1991
Galerie Bernd Dürr, Munich, Germany
Galerie van Alom, Berlin, Germany
Payton Rule Gallery, Denver, CO
1989
Galerie van Alom, Berlin, Germany
Kunstverein Paderborn, Paderborn, Germany
1988
Galerie Delta, Rotterdam, Netherlands
Galerie Bernd Dürr, Munich, Germany
Galerie Trost, Lippstadt, Germany
Group Show Exhibitions
2014
4409.72 Miles | 9125 Days, Diana Lowenstein Gallery, Miami, FL
2005
Chiaroscuro Gallery, Santa Fe, NM
Buschlen-Mowatt Galleries, Vancouver, Canada
Chiaroscuro Gallery, Santa Fe/Scottsdale, AZ
Galerie Feichtner, Vienna, Austria
2004
Galerie Feichtner, Vienna, Austria
Buschlen-Mowatt Galleries, Palm Desert, CA
Chiaroscuro Gallery, Scottsdale, AZ
Ruth Bachofner Gallery, Los Angeles, CA
Galerie Beck & Eggeling, Düsseldorf, Germany
2003
Galerie Beck & Eggeling, Düsseldorf, Germany
Buschlen-Mowatt Galleries, Vancouver, Canada
Galerie Hollenbach, Stuttgart, Germany
2002
Gallery Mordoch, Paris, France
Buschlen-Mowatt Galleries, Vancouver, Canada
2001
Katharina Rich Perlow Gallery, New York, NY
Gallerye Hollenbach, Stuttgart, Germany
Sublime Landascape, Cardinal Strich University Museum, Milwaukee, WI
2000
Beyond Borders, Coninx Museum, Zürich, Switzerland
1999
Fassbender Gallery, Chicago, IL
Robischon Gallery, Denver, CO
1998
Robischon Gallery, Denver, CO
Peyton Wright Gallery, Santa Fe, NM
1997
Galerie Hänel, Frankfurt, Germany
Galerie Hans-Jürgen Siegert, Basel, Switzerland
Robischon Gallery, CO
Mindy Oh Gallery, New York, NY
Fassbender Gallery, Chicago, IL
1996
Galerie Hans-Jürgen Siegert, Basel, Switzerland
Dresdener Kunstmarkt, Galerie Hans-Jürgen Siegert, Basel, Switzerland
1995
Galerie Hänel, Frankfurt, Germany
Fay Gold Gallery, Atlanta, GA
1994
Tamenaga Gallery, New York, NY
1993
Galerie Hänel, Frankfurt, Germany
Jain Marunouchi Gallery, New York, NY
1992
Tamenaga Gallery, New York, NY
1989
Kunst '89, Haus der Kunst, Munich, Germany
Art Fairs
2015
Art Miami, Diana Lowenstein Gallery, Miami, Fl
Art 15 London, Diana Lowenstein Gallery, London, England
2014
Art Miami, Diana Lowenstein Gallery, Miami, FLExpo Chicago, Diana Lowenstein Gallery, Chicago, ILTexas Contemporary, Diana Lowenstein Gallery, Houston, TXArte Fiera, Diana Lowenstein Gallery, Bologna, ItalyArt 14, Diana Lowenstein Gallery, London, England
2013
Expo Chicago, Diana Lowenstein Gallery, Chicago, IL
Pulse Miami, Diana Lowenstein Gallery, Miami, FL
2007
Art Cologne, Diana Lowenstein Fine Arts, Cologne, Germany
2006
Art Basel Miami Beach, Diana Lowenstein Fine Arts, Miami, FL
Art Cologne, Diana Lowenstein Fine Arts, Cologne, Germany
2005
Arco Madrid, Galerie Feichtner, Madrid, Spain
Art Brüssel, Galerie Feichtner, Brussels, Belgium
Art Moscow, Galerie Feichtner, Moscow, Russia
Art Beijing, Galerie Feichtner, Beijing, China
Art Miami, Chiaroscuro Gallery, Miami, FL
Kunst Köln, Galerie Feichtner, Cologne, Germany
Art Cologne, Galerie Beck & Eggeling, Cologne, Germany
Art Zürich, Galerie Hollenbach, Zurich, Switzerland
Art Bologna, Galerie Hollenbach, Bologna, Italy
Fiac Paris, Galerie Lukas Feichtner, Paris, France
Kunst Wien, Galerie Feichtner, Vienna, Austria
2004
Art Cologne, Galerie Feichtner, Cologne, Germany
Art Moscow; Galerie Feichtner, Moscow, Russia
Fiac Paris; Galerie Feichtner, Paris, France
Art Brüssel; Galerie Feichtner, Brussels, Belgium
Kunst Köln; Galerie Feichtner, Cologne, Germany
Art Zürich; Galerie Hollenbach, Zurich, Switzerland
Kunst Wien; Galerie Feichtner, Vienna, Austria
2003
Art Basel, Diana Lowenstein Fine Arts, Basel, Switzerland
Art Basel | Miami Beach, Diana Lowenstein Fine Arts, Miami, FL
Art Cologne, Galerie Beck & Eggeling, Cologne, Germany
Art San Francisco, Fassbender Gallery, San Francisco, CA
Art Chicago, Fassbender Gallery, Chicago, IL
Art Palm Beach, Diana Lowenstein Fine Arts, Palm Beach, FL
Arco Madrid, Galerie Hollenbach, Stuttgart, Germany
Art Brüssels, Galerie Feichtner & Mizrahi, Brussels, Belgium
Kunst Wien, Galerie Feichtner & Mizrahi, Vienna, Austria
Kunst Zürich, Galerie Feichtner & Mizrahi, Zurich, Switzerland
2002
Art Basel Miami Beach, Diana Lowenstein Fine Arts, Miami, FL
Art Cologne; Galerie Borchardt, Cologne, Germany
Art Miami, Galerie Borchardt and Jacob Karpio Gallery, Miami, FL
Art Chicago, Fassbender Stevens Gallery, Chicago, IL
Arco, Galerie Hollenbach, Madrid, Spain
Art Frankfurt, Galerie Hänel, Wiesbaden, Germany
Art Basel, Diana Lowensten Fine Arts, Basel, Switzerland
2001
FIAC, Diana Lowenstein Fine Arts, Paris, France
Art Miami, Jacob Karpio Gallery, Galerie Hollenbach, Miami, FL
Art Chicago, Jacob Karpio Gallery, Chicago, IL
Art Cologne, Artcore Gallery,Cologne, Germany
Art Toronto, Artcore Gallery, Toronto, Canada
FIA Caracas, Jacob Karpio Gallery, Caracas, Venezuela
Köln Art, Galerie Beck & Eggeling, Dusseldorf, Germany
2000
Art Forum Berlin, Galerie Feichtner & Mizrahi, Vienna, Austria
Art Chicago, Fassbender Gallery, Jacob Karpio Gallery, Chicago, IL
Art Miami, Jacob Karpio Gallery, Miami, FL
1999
Art Chicago, Fassbender gallery, Chicago, IL
Art Forum Berlin, Galerie Feichtner & Mizrahi, Berlin, Germany
Art Vienna, Galerie Feichtner & Mizrahi, Vienna, Austria
Art Zürich, Galerie Frank Hänel, Zürich, Switzerland
1998
Art Chicago, Fassbender Gallery, Chicago, IL
Art San Francisco, Fassbender Gallery, San Francisco, CA
Art Cologne, Galerie Beck & Eggeling, Cologne, Germany
Art Frankfurt, Galerie Hänel, Frankfurt, Germany
Art Zürich, Galerie Hänel, Galerie Hans-Jürgen Siegert, Zürich, Switzerland
1997
Art Cologne, Galerie Hänel, Cologne, Germany
Art Frankfurt, Galerie Hänel, Frankfurt, Germany
Robischon Gallery, Denver, CO
Mindy Oh Gallery, New York, NY
Fassbender Gallery, Chicago, IL
Art Miami, Jacob Karpio Gallery, Miami, FL
1996
Art Cologne, Galerie Hänel: Galerie Bernd Dürr, Cologne, Germany
1995
Art Cologne, Galerie Hänel, Cologne, Germany
1993
Art Frankfurt, Galerie Delta, Frankfurt, Germany
1989
Art Frankfurt, Galerie Delta, Frankfurt, Germany