FREDRIC SNITZER GALLERY , Alexandre Arrechea, "Uninhabited Order", Miami 2019
Following a fascination with the performative nature of historical narratives, Cuban-born artist Alexandre Arrechea brings new work under the banner Uninhabited Order to Fredric Snitzer Gallery. Mixing multi-media installations, sculptural pieces, and wall length watercolors, Arrechea assembled structures that are both devoid of physical presence and inhabited in a new way. These individual pieces form a relational nexus, setting off an active dialogue between them and bringing forth a new order in the process. The show not only marks the artist's first use of bronze in a large-scale piece, but also serves as a new model of art production within his highly varied oeuvre.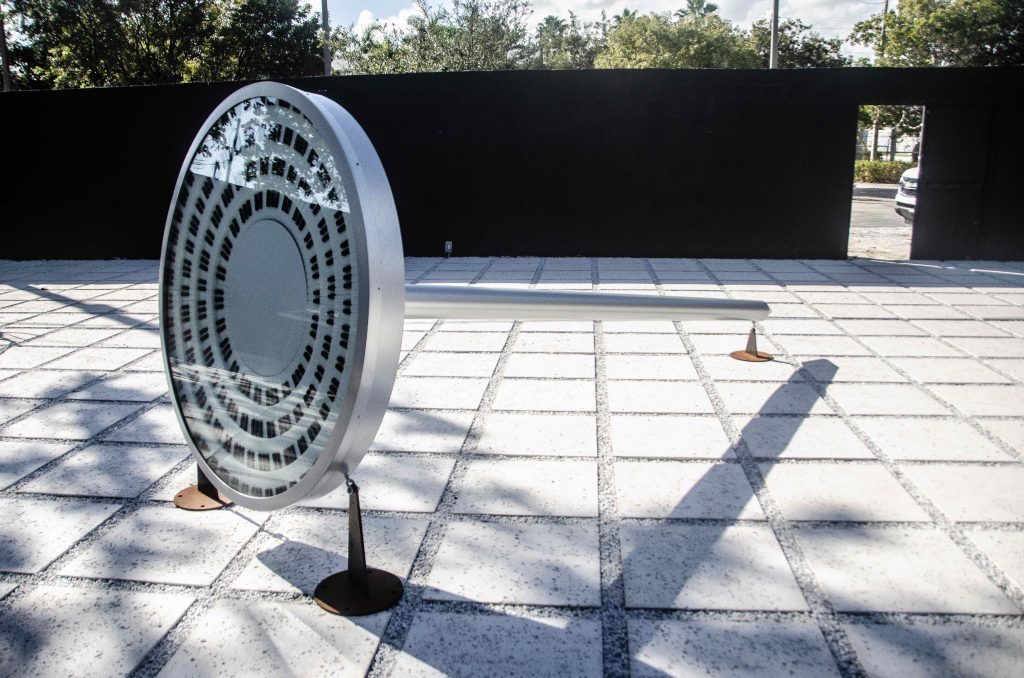 Uninhabited Order is also Arrechea's first attempt at collaboration with figures outside the art world. This new multidisciplinary approach allows for a richer dialectic, not just among the pieces in the show, but internal to each work as well. In Materfall from Agora series, he approached longtime friend, musician Pavel Urquiza, who shot a music video of an escalator framed to look like a waterfall. Displayed on a flat-paneled screen, the video is the centerpiece of a 9' x 5' x 3' stadium-like structure Arrechea renders in a vibrant yellow hue.
In dancer, the artist lays bare one of the show's central themes: historical narrative as performance. This bronze piece is at once an art-historical reference to the iconic Edgar Degas sculpture La Petite Danseuse de Quatorze Ans (1880) and something new altogether. Instead of Degas' frilly tutus, Arrechea's dancer is caught in a tutu turned stadium. A commentary on the duality of performance, the artist's dancer seemingly wants to inhabit the stage and escape it at the same time.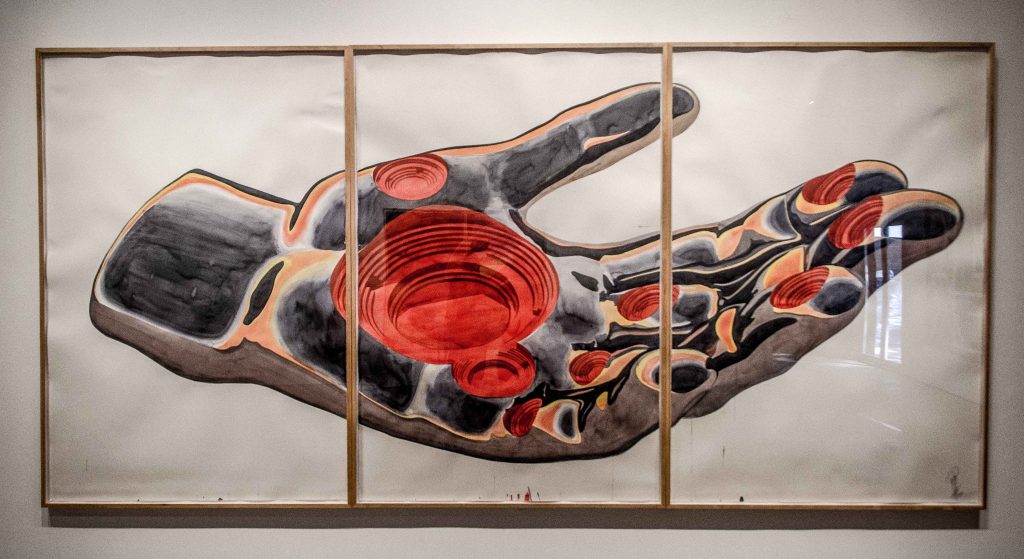 Surrounding these pieces is a series of four large-scale watercolors that elaborate on main visual motifs. The first two works to create a nearly imperceptible text, a new language of the artist's own making. The shapes, lines and blocks Arrechea constructs attempt to say more than the abstract composition before the viewer.
The third watercolor expands on the stadium metaphor, depicting a large hand populated by stadiums that weave throughout its surface like a tangled web of fingerprints. Entitled History Matters, the final watercolor renders two bowl-like stadiums with a green liquid poured out of one and into the other. It's a visual allegory that attempts to deconstruct the process of historical assemblage, where one event leads to another, and meaning is constantly created, destroyed, and recreated.
Alexandre Arrechea (Born in Trinidad, Cuba) graduated from the Instituto Superior de Arte (ISA) in Havana in 1994 and was a founding member of the collective Los Carpinteros (1994-2003). The interdisciplinary quality of Arrechea's work reveals a profound interest in the exploration of both public and domestic spaces. Most recently this quest has led him to produce several monumental projects like NOLIMITS (2013) encompassing ten monumental sculptures installed along the Park Avenue Malls. Among his solo shows are Twisted Horizon at Magnan Metz Gallery, New York (2012), Espacio Derrotado at Casado-SantaPau Gallery, Madrid (2011), Black Sun, which was on the NASDAQ Billboard in New York (2010), The Rules of Play, Savannah College of Art and Design, Georgia (2010), and Orange Tree at the Bronx Museum, New York (2011). The artist's work can be found in the permanent collections of the Brooklyn Museum in New York, CAB Burgos, Spain, Museum of Latin American Art, California, the Museum of Contemporary Art in Los Angeles, Daros Collection, Switzerland and the Museo Centro de Arte Contemporáneo Reina Sofia in Madrid.
FREDRIC SNITZER GALLERY