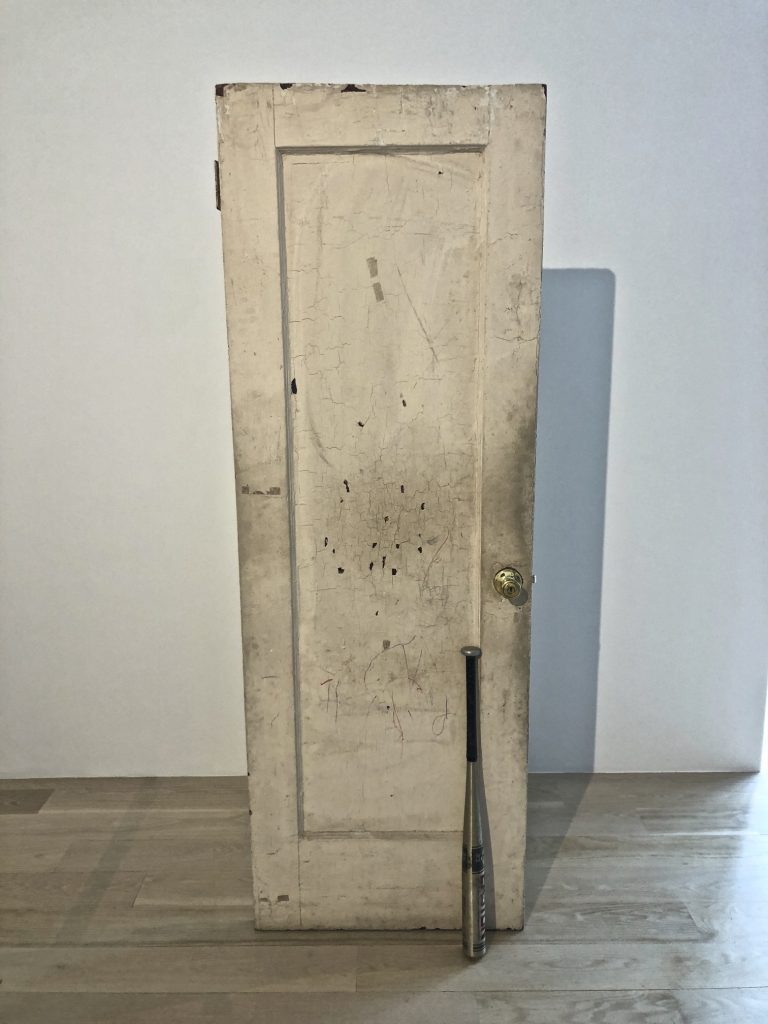 ICA Miami presents "Diamond Stingily: Life In My Pocket," the first solo museum exhibition by the emerging New York-based artist. For her presentation at ICA Miami, Stingily will create a new installation that sees the artist using the form of the readymade to explore personal and shared memories of suburban life, black girlhood, and racial violence.
This focused presentation will be on view in ICA Miami's signature Project Space, dedicated to providing an early museum platform for emerging and under-recognized artists from around the world.
Working across disciplines, but with a concentration in sculpture and video, Diamond Stingily (b. 1990, Chicago) uses ready-made materials, such as wood doors, chains, and synthetic hair, to create works that reflect on systemic racial injustice in the United States and her personal experiences. Her recent solo shows include Elephant Memory, Ramiken Crucible, New York, 2016, and Diamond Stingily: Kaas, Queer Thoughts, New York, 2015. Her recent group shows include it started with a rose, 315 Gallery, Brooklyn, 2017; The Ending of Violent Crime, Queer Thoughts, 2015; Denude, Ramiken Crucible, Los Angeles, 2015; It's A Girl, A1, Chicago, 2015; Small Pillow, Arcadia Missa, London, 2014; Rainbow, Queer Thoughts, San Juan del Sur, La Virgen, and San Jose de los Remates, Nicaragua, 2014; and Love, Diamond, Dominica Publishing, Los Angeles, 2014. The artist lives and works in Brooklyn.
This exhibition is organized by ICA Miami and curated by Alex Gartenfeld, Artistic Director, and Stephanie Seidel, Associate Curator.
---
On view May 17 – Sep 23, 2018
"Terry Adkins: Infinity is Always Less Than One" is a major thematic survey highlighting the artist's crucial contributions to the medium of sculpture and cultural protest, featuring major installations that have not been viewed in decades.
One of the great conceptual artists of the 21st century, Terry Adkins was renowned for his pioneering work across mediums, which were often inspired by or refer to significant black cultural figures who have been under-represented throughout history. The exhibition explores significant periods and influences in the artist's career, beginning with transitional hand-wrought sculptures and continuing with his major immersive installations.
Known for his deep engagement with the collective rituals of musical performance and "abstract portraits" of African American luminaries who have often been relegated to the historical margins and erasure, Terry Adkins (b. 1953, Washington, D.C.; d. 2014, New York) was a New York-based artist and musician. His works span across multiple media, including sculpture, drawing, site-specific installation, photography, video, and performance. His often elegiac and always resonant objects, which are the focus of this exhibition, challenge dominant historical narratives and set us to think of ways of being and moving in the world that rely on deep and long views of displacement and the sociability and community that happen despite it. These objects, deftly assembled, remind us, too, of the immaterial legacies that are passed on through ritual and sound.
"Terry Adkins: Infinity Is Always Less Than One" is organized by ICA Miami and curated by Alex Gartenfeld, Deputy Director and Chief Curator, and Gean Moreno, Curator of Programs.
---
evidence – Catalog Poster
---
ICA is always an interesting space, and give us excellent time to observe the creative phenomena, thank you.