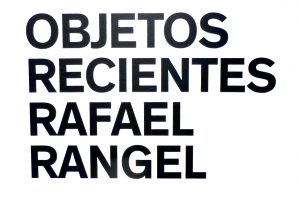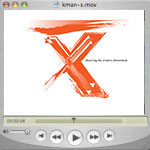 Rafael Rangel, Venezolano nacido en Nueva York (1978), se gradúa, cuando apenas contaba con 22 años de edad, Cum Laude en Artes Visuales en el prestigioso Pratt Institute de su ciudad natal. Inmediatamente, comienza a trabajar con el artista visual estadounidense Matthew Barney.
Rangel inicia su carrera expositiva desde su 2da década de vida, participando a partir de ese entonces en muestras colectivas en Alemania, Canadá, Colombia, Estados Unidos y Venezuela, así como en instituciones museísticas de Venezuela. Así mismo su obra ha recibido destacados reconocimientos dentro y fuera del país.
En referencia a sus investigaciones visuales más recientes, escribe el artista: "Vemos continuamente códigos visuales en objetos de consumo masivo que nos rodean. En ellos hay líneas y formas creadas por mega industrias estandarizadas y diseñadores anónimos que definen la estética que vivimos en nuestro tiempo y entorno. Nos identificamos con estos objetos utilitarios ya que pertenecen a nuestro día a día. Al cambiarlos de posición o al utilizar recursos formales como la repetición, se diseccionan las líneas y códigos que contienen estos utensilios. Al eliminar la funcionalidad del objeto, su significado pasa a ser simbólico, interno y poético, entre otras cosas, mostrando preguntas visuales que pueden generar estas líneas preestablecidas de un lenguaje que nos rodea perennemente y que va mutando interactuando con un objeto/consumidor en un espacio relacional estandarizado y fetichizado".
Actualmente expone en Imago, art in action "Objetos recientes" la muestra estará hasta el 20 de Abril.
---
We can see that Marcel Duchamp and his influence has permeated art in many ways. He has permitted the ability for art to manifest itself beyond boundaries that are expected. We were reminded of this by the work of Rafael Rangel, his collection of ordinary objects intervened by the artist. A very interesting show. We recommend a visit to the gallery and thank the artist and the gallery for the expo.
[ngg_images source="galleries" container_ids="5″ display_type="photocrati-nextgen_basic_thumbnails" override_thumbnail_settings="0″ thumbnail_width="240″ thumbnail_height="160″ thumbnail_crop="1″ images_per_page="20″ number_of_columns="0″ ajax_pagination="0″ show_all_in_lightbox="0″ use_imagebrowser_effect="0″ show_slideshow_link="1″ slideshow_link_text="[Show slideshow]" order_by="sortorder" order_direction="ASC" returns="included" maximum_entity_count="500″]