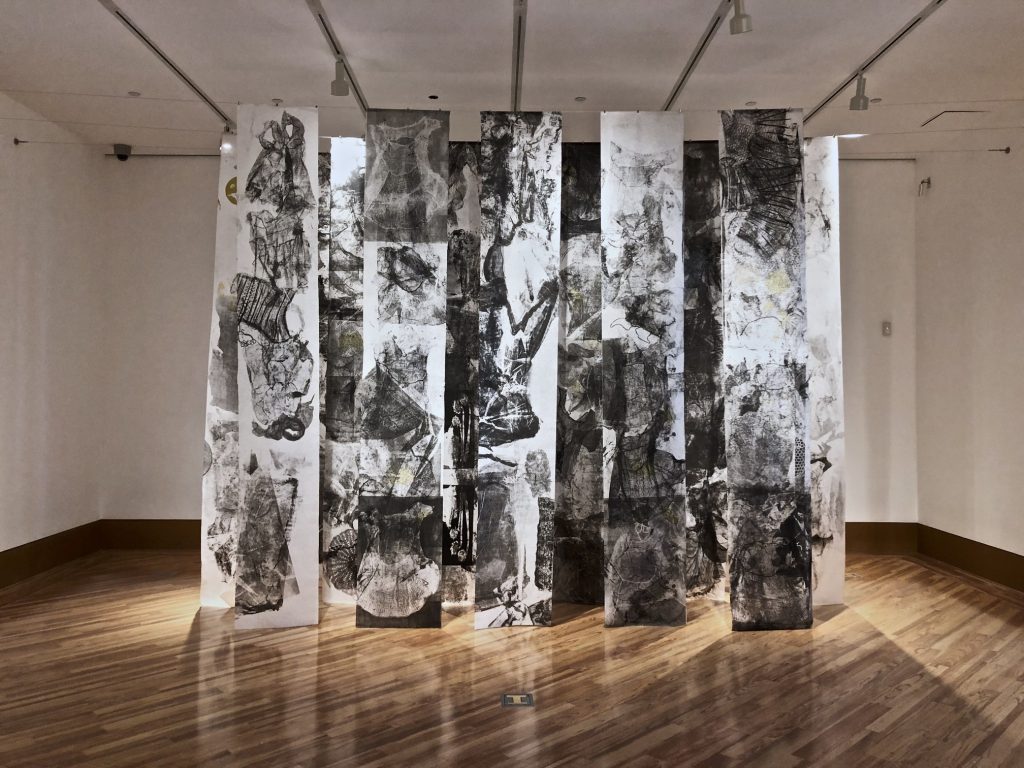 Each year, FIU's Department of Art + Art History presents its Master Thesis Exhibition featuring artwork from the Masters in Fine Arts (MFA) graduating class. This year, the MFA candidates presented 'End to End', a collection of pieces that reflect on topics of family, equality and intimacy.
'End to End' is the culmination of the three year masters program. Throughout the track, the students work with faculty, curators, mentors and classmates to develop their own concepts and techniques. Some students investigate the same project matter throughout the program, while others build upon their previous work with guidance from their mentors.
This year's MFA exhibition, brought together 7 emerging artists ranging in different art forms and mediums, including print making, installation, photography, sculpture, painting, video media and found objects. The collaborative artworks were chosen by Ashlye Valines, Assistant Curator of the The Patricia & Phillip Frost Art Museum. Professor William Burke also played pivotal role in the execution of the exhibit.
The exhibition, debuted on Saturday, March 3rd, features artwork from Hazel Gil-Salazar, Jose Luis Garcia, Rhea Leonard, Angela Yang, Maricel Ruiz, Daniel Marosi and Matthew Chernoff.
'End to End' is opening for viewing at the Frost Art Museum until April 7, 2018. Admission is free and open to the public.
For more information on the FIU Masters in Fine Arts program, please click here.
---
We found this to be an excelent show and experience, hope all have a chance to see it , we thank all the artist and the faculty, and the frost Museum and FIU.
[ngg_images source="galleries" container_ids="4″ display_type="photocrati-nextgen_basic_thumbnails" override_thumbnail_settings="0″ thumbnail_width="240″ thumbnail_height="160″ thumbnail_crop="1″ images_per_page="20″ number_of_columns="0″ ajax_pagination="0″ show_all_in_lightbox="0″ use_imagebrowser_effect="0″ show_slideshow_link="1″ slideshow_link_text="[Show slideshow]" order_by="sortorder" order_direction="ASC" returns="included" maximum_entity_count="500″]