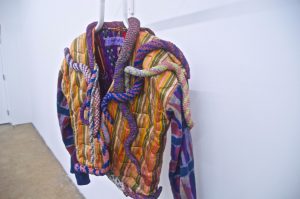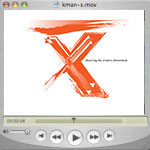 ---

Dina Knapp (b.1947-2016) Born in Cyprus, raised in Haifa, lived in Brooklyn, and studied at Pratt Institute. Ms. Knapp is one of the most respected artists of the Art-to-Wear movement, which emerged after the "Summer of Love" in the 1960s. Knapp has received National Endowment and Florida Arts Council fellowships and grants and her work is included in museum and private collections. She has been featured in the book Art To Wear by Julie Schafler Dale and her work has been exhibited at the Legion of Honor museum in San Francisco, the Julies Artisans Gallery, the Textile Museum in Washington, DC, the Barbara Gillman Gallery, the Museum of Art in Ft Lauderdale, the Pittsburgh Center for the Arts, and the Philadelphia Museum of Art
---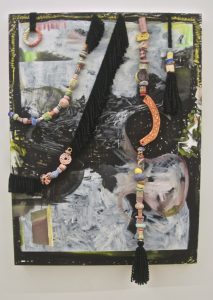 Nicole Doran, Digital Shaman consists of a suite of 13 abstract paintings serving as snapshots of the artist's attitude toward spirituality and magical thinking, and how these, in turn, are influenced by new technologies. While their raw canvases and drippy splattered abstract backgrounds recall outer space computer desktop images—popular in the 1990s, when western Spiritualism was also gaining traction—they additionally serve as matrixes for draped fringe, macraméd ropes, and ceramic ornament, peacefully recalling elements of a shamanic ritual. Intervention with ceramic adornments in some cases becomes figurative—sad face emojis, cell phones, fingers—in reference to harbored anxieties induced by both technology and human emotion. Each painting autonomously combats the fears and dreams that they also imply—group behavior, concepts of collectivity, self-care, and rituals––ultimately questioning whether these are relics of a new digital rite.
Doran states "Doing the actual handwork of painting – brushing, dripping, then rolling clay, making the beads… accumulating… started me thinking about everything fingers provide or produce… and joints and functions, typing and touching and holding a lover but mostly texting… lol… texting is the most important next to typing. These new works subtly hint at this line of questioning… "What is the most important movement do our fingers do?" I'm trying to get to a point of intimacy without proximity… Maybe I do not need to go through the process of engineering a robotic hand but rather do the handwork…"
---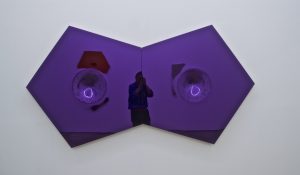 SINISA KUKEC, Describing his mixed-media sculptures as "sensually abstract forms" and his body of work as "A Cosmic Post Contemporary Psychedelic Melodrama," Sinisa Kukec produces amorphous, shining forms that spring from his consciousness and observations of his surroundings. Using an assortment of materials—including discarded furniture, mirrors, ceramic, paint, epoxy, and neon—he crafts wide-ranging forms that read as funhouse portraits of himself and the contemporary world. Perception—of oneself and one's surroundings—is key to his practice. By incorporating bright colors, reflective surfaces, fragmented objects, and open-ended words and phrases into his sculptures, he aims to unmoor viewers, demonstrating the constantly shifting nature of perception. Kukec expands upon this with 3PQ, an artistic collaborative he co-founded, which stages collective, experiential art making events that blur the boundaries between art and life, fantasy and reality, the self and others.
---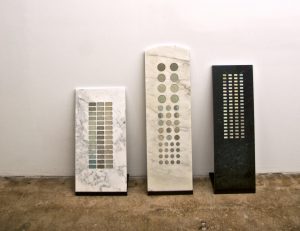 Agustina Woodgate creates art across multiple disciplines, her primary focus being the interplay between human beings and their surroundings. Born in Buenos Aires, Woodgate moved to Miami in 2004, where she gained recognition for covertly stitching labels inscribed with poems into thrift-store clothing ("poetry bombing,") and for her work made with human hair. Today, her practice ranges from objects—human hair sculptures and kaleidoscopic rugs assembled with the pelts of recycled stuffed animals—to site-specific, context-based installations and performances. Striving to create work that fosters human relationships, Woodgate has produced public works such as park benches and color-changing billboards and bus shelters. Exploring an interest in residue and ephemera, she has sanded down the walls of an unused classroom and similarly, erased maps from a world atlas, both times collecting and cataloguing the dust.
---
---
We @ MSA-X were pleased to revisit the Spinello space after 10 years and see its progress over time. We first want to talk about the vessel "the gallery" that contains all the works of art. The space has an interesting feel, like somewhat of a labyrinth that takes you to large space and guides you through corridors that magically open up. It is a great respect for the work being exhibited, to have such ample space to examine this phenomenon we call art. We want to thank the artists and the gallery for such a great presentation—A must see.