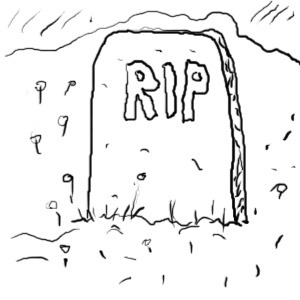 FUNERARIA
(Relato)
Por: Dr. Pitt von Pigg Ph.DDD
5-26-08
Es esta otra historia del muchachito artista sanjuanero Johnny la Fontain. Sucede que este pasado domingo (ayer) estaba yo retozando con mis 'utensilios' en mi cabaña de la Chorra, aquí en el monte de Yagüeca-USA, cuando este curioso muchacho de Johnny toca a mi puerta. ¿Cómo llegó este niño hasta acá? No me pregunten. Pues sabemos que a la crema de San Juan se le hace muy difícil el viajar a los entornos de 'la isla' debido al apego localista y a ese nacionalismo enfermizo del cual padecen. ¿Cómo traspasó los puntos de mi barriada para llegar hasta mi puerta? Tampoco me pregunten. Pues se necesitan 'cajones' para diambular por este entramado laberíntico de puntos donde cualquier carita desconocida puede muy bien recibir un balazo en medio de la frente. Y más aún cuando se trata de una carita como la de Johnny. Una carita blancusina de niño de 'buena familia', de la crema capitalina.
Pues como decía. Ya en medio de una 'operación ritualista' – porque ustedes saben que soy un hombre de fe, – este chico me interrumpe gritando mi nombre a boca de jarro y aturdiendo a la vecindad.
JF: "¡Doctor Pigg, doctor Pigg! ¿Cuál de todas es su puerta?"
DP: Desde adentro grité: "¿Cuál es su segundo nombre?"
JF: "¡Fitzgerald! ¡Fitzgerald es mi segundo nombre!"
Entonces abrí mi puerta y asomé mi testa. Johnny estaba eslembao mirando pal cielo como a media cuadra en medio del zaguán.
DP: "¡Condenao muchacho, echa pa'cá!"
JF: "¡Doctor Pigg, doctor Pigg, que gusto de verle!"
DP: "¿Qué te trae por acá?"
JF: "Pues estaba en la universidad porque el viernes se dio una conferencia sobre la vida y obra del pintor abstracto Marcos Rodríguez Enema, alias 'El Cordobés', y no lo vi allí. Entonces pensé en visitarlo.
DP: "Ah, sí. Recibí la invitación pero preferí quedarme en casa. ¿Y dónde dejaste el BMW?"
JF: "En la plaza Colón."
DP: "¿Y llegaste hasta acá a pie? You must be kidding."
JF: "Sí. No se me hizo difícil. ¿Y doctor, quién es el muchacho del turbante que me enseñó una 9 mm., ahí paradito en la esquina?"
DP: "Ah, pues ese es Macaracachimba, el 'hombre' del punto más importante de toda la comarca. Y no es un turbante es una toalla. Raro que te dejó pasar.
JF: "Bueno, le dije que era sobrino suyo."
DP: "No en balde. Pues cuéntame. ¿Cómo la haz pasado acá? ¿Dónde te estás quedando?"
JF: "En el hotel la Ensenada. Traté de llamarlo de antemano pero el número que usted me dio parece que no lo escribí bien. Me contestaron de las oficinas del FBI."
DP: "M,m,m,m… Bueno, díme de la conferencia. ¿Qué pasó?"
JF: "Horrible experiencia doctor. ¿Conoce usted a las 'viejitas resbaladizas'?"
DP: "¿Las del LSVIA? (Larra School of Visual Arts – por sus siglas en inglés)."
JF: "No doctor. Esas son las 'viejitas escurridizas'. Yo me refiero a las 'resbaladizas'. Se parecen pero no son las mismas."
DP: "M,m,m,m… Awright. Dáme nombres. Quiero nombres. Ahora."
JF: "Sussy Espinal, Lupita Mogoya y Mutty Satto."
DP: "Oh, sure I know dem! Sussy fue estudiante mía en la UPR, Lupita tuvo un negocio de tortillas en la Ponce de León y a la Mutty, después de 20 años la botaron como bolsa de la galería El Guaraguao. Yeah, yeah. Gratos recuerdos."
JF: "¿Doctor, qué es esa aguja que está ahí?"
DP: "Aw, shit. Anyway. De insulina. ¿Quieres tomar algo? Tengo ron caña, pontomon, creepy, whiskey, crack, laudanum negus, zoma y hashish."
JF: "No, no, gracias. Es muy temprano. ¿Entonces, usted las conoce?"
DP: "Johnny boy, a quien yo no conozca en esta ínsula es porque todavía no ha caido en las redes del conocimiento o de la Ley. Sussy llegó aquí desde las Pampas. Fue lavaplatos en la Bombonera hasta que descubrió la maldita cerámica y se hizo famosa haciendo muñecos sin ojos. Lupita llegó desde New Mexico y se cansó de hacer tortillas de harina y terminó haciéndolas de barro y porcelana. Y la negra Mutty llegó desde Haití para hacer 'trabajos' pa' los ricos de Miramar y después se hizo marchante del arte. Recuerda, todo es cuestión de conexiones. No es lo que sepas, es lo que finjas."
JF: "Veo. Pues las tres estaban en la conferencia y después que enseñaron todo sobre el pintor la sala se abrió para preguntas y comentarios. Ellas, cada una habló sobre lo que sabían de Marcos porque supuestamente lo conocieron en vida."
DP: "Awright. ¿Y qué carajos dijeron?"
JF: "Pues Sussy dijo que Marcos era un hombre apuesto. De temple de jierro pero dulce como el mabí. Lupita dijo que Marcos era de pensamiento profundo, tan profundo como la 'z' que atiznaba su acento. Y Mutty habló sobre el azul cristalinio de sus ojos españioles. Pero ninguna dijo nada sobre la obra del artista."
DP: "¡Pamplinas y bamblinas! No dijeron nada porque sencillamente ninguna sabe tres coños de lo que hablan. Así es aquí: que si me gusta esto pero no me gusta aquello. Noñerias de viejas tercermundistas y nada de primer orden. Ahora, si me hablan de la doctora Susan Stokebrowker!!! ¡Esa sí era una americana de verdad! Ducha en teoría, filosofía y conocedora de los artistas de los libros, y no sangraba. ¡En cambio éstas, de una buena mamada no pasaron! Y digo 'pasaron' porque ya nadie las necesita."
JF: "Bueno. Como dije, cuando preguntaron si habían preguntas o opiniones, yo sólo dije que la pintura de Marcos se parecía a la de Petter Jackson. Y sin pensarlo la Sussy me dijo que yo era un ignorante inberbe, la Lupita me dijo que me fuera de vualta a Cuba y la Satto empezó a hacerme muecas y a hablar en lenguas. Todas me miraron con ojos de odio, y yo asustado, preferí callarme."
DP: "Se dice 'imberbe', Johnny. 'Imberbe', con 'm' de 'pendejo'. ¿Y luego?"
JF: "OK. Entonces, al terminar la conferencia y después del aplauso, me dieron ganas de orinar. Salí hacia el baño y allí, justito al lado de la puerta del baño de las damas, estaba doña Lupita paradita como esperando, blandiendo un blackjack en la diestra y mirándome de mala gana. Entonces, cuando ya estaba por entrar al baño de los hombres y me iba a dirigir a doña Lupita para disculparme, ella gritó: "¡Aquí está el paisano!", y salieron como espepitás las otras dos. Doña Mutty con un machete y doña Sussy con una pistolita calibre 22."
DP: "Holly shit! ¿Y qué pasó?"
JF: "Pues casi nada. Doña Lupita me dio un macetazo en la espalda que caí de cabezas al suelo. Doña Mutty me puso el filo del machete tocando mi cuello y doña Sussy me puso el cañón a la cien, y me dijo enseñado los dientes: "Te conocemos. Sabemos quien eres y dónde haz expuesto tus trapos, en la próxima…." Yo cerré mis ojos y me dije "adiós mundo", pero cuando los abrí no había nadie, sólo la polvadera de su repentina ausencia. También debo decirle que me oriné encima."
DP: "Holly wacamoly! Johnny, parece que te haz convertido en el mangó bajito de las chochas viejas del Old San Juan. Que pena."
JF: "… si, bueno. Creo que por eso les llaman las 'viejitas resbaladizas."
DP: "'Escurridizas', querrás decir."
JF: "No doctor. Las 'escurridizas' son las de la Escuela Larra."
DP: "Ah, bueno. Anyway, ambas son invertebradas y oportunistas. Tú sabes, como una aguaviva que se escapa por entre los dedos de la mano. Humo. Ectoplasma. Imposibles de atrapar."
JF: "Sí. Pero todavía no he terminado. Debo de contarle sobre el funeral al que atendí los otros días, allá en la capital, en la funeraria Bruselas.
DP: "Oooookay. Spit it out. All of it. ¿Pero estás seguro de que no quieres algo de tomar fumar inyectar?"
JF: "No gracias. Pues, este amigo mío, que estudiamos en la Central, se murió de cáncer, y apesar de que no janguiábamos juntos, de todos los comecaca de aquel entonces, era el único que me dirigía la palabra. Yo no tenía amigos porque era muy tímido y además no sabía bailar dicou. Recuerdo que una vez estaba yo comiendo una manzana debajo de un palo de mangó cuando Tito, Tito Ticortric se llamaba, me preguntó de que cómo estaba yo comiendo una manzana USDG si al alcance de la mano tenía veintena de mangoses, y entonces…"
DP: "Johnny, baby, stop da jive! Ve al grano, que me estoy durmiendo."
JF: "Ok. Pues entonces… Perdone doctor. Es que aveces me envuelvo…"
DP: "Zzzzzzzzzzzz…"
JF: "… y entonces el cadáver del muerto todavía estaba ahí, caliente en la caja, con los ojos cocidos y lleno de colorete en los cachetes. Se veía como durmiendo, cuando…"
DP: "Zz,z,z,z,z,z,…"
JF: "… viro mi cabeza hacia atrás y noto que la viuda estaba siendo manoseada en las tetas y en el cuello por un hombre que supuestamente era amigo de Tito. El bien simbergüenza también estudió en la Central y al parecer era parte del clan de …."
DP: "… burp!, pow, shit, z,z,z,z,z…"
JF: "… ella parecía que le gustaba porque no respingaba y yo no entiendo ésto porque si estaban casados y el hombre hacía apenas unas cuantas horas que había fallecido, cómo era posible que…"
DP: "FUCK, DAMN, SHIT, ORG.!!! ¿Qué pasa Johnny? ¿Es que no te das cuenta? A rey muerto, rey puesto, nadie es imprescindible, un clavo saca otro clavo. El mundo posmoderno y globalizado y neoliberalizado es así. ¡Todo, escucha niño, TODO es deshechable! ¡Además, todas las mujeres son putas! ¡Abran las patas por error, por consenso o por violación, todas, empezando por mi madre y terminando con la tuya, SON PUTAAAS, putas, putas, putas…! ¿Pero estás seguro que no quieres fumar algo?"
JF: "¡Pero doctor… ¿qué hay del Amor?!"
DP: "Johnny boy… Un polvo es un polvo y Cupido es un infante maricón y bisexual, iluso e incompleto, degenerado y putongo. ¿Qué más quieres que te diga?"
JF: "…¿y entonces, qué hay del Honor, de la Nobleza, de la…?"
DP: "Hugwash, bullshit, bamblinas y besabotadas. ¡Todo eso son inventos de la fantasía humana! ¿Acaso no recordais lo que el diablo le dijo al Señor?: "Mirad a ese diocesito tuyo, como, en cada pila de mierda hunde sus narices, y a eso le llama 'razón'. ¡Guete, brow, Guete era genial! ¿Un pase?"
JF: "No gracias. Y entonces, cuando salí del funeral, en el parking, me encontré con un bonche de los asistentes que por primera vez viraron las cabezas a saludarme y entré en conversación. Pero todos eran médicos, tecnócratas, abogados, ingenieros arropados en sus gabanes y en sus prendas y todo lo que hablaban era de carros, yates, joyas, mansiones, de cuanto ganaban y de cuando se iban a retirar para dedicarse el baguin y a las compras en Plaza y yo me sentí como fuera de grupo porque usted sabe me sentí como si…"
DP: "¡No digas: como pez fuera del agua, como que perteneces a otra especie, como que eso no era lo tuyo, como que se te iva desinflando el alma, como que no sentistes ganas de siguir en las artes, como si la vida perdiera su sentido, como que si no valieras una puñeta a las 12:00 pm. y solito en tu alcoba jalándote la paja. Solo, solo, una soledad pasmosa, aterradora e inmensa que abarcó todo tu cuerpo. Una soledad más aislada que la soledad de esta pobre y triste tierruca que le llaman Porto Rico-USA! ¿Verdad que sí?"
JF: "… sí. Casi, casi me… deprimí…"
DP: "Recuerda mi pequeño amigo, no fue eso que llaman Dios el que votó a Adán y a Eva del Paraíso, fueron ellos que salieron de él, huyendo. Negaron la Vida. ¿Ahora, te pregunto; haz pensado en ingresar al ejército, al FBI? La patria te llama. ¿No la oyes?
JF: "…no… ¿Pero doctor, qué cosa es eso que llaman 'speedball'?"