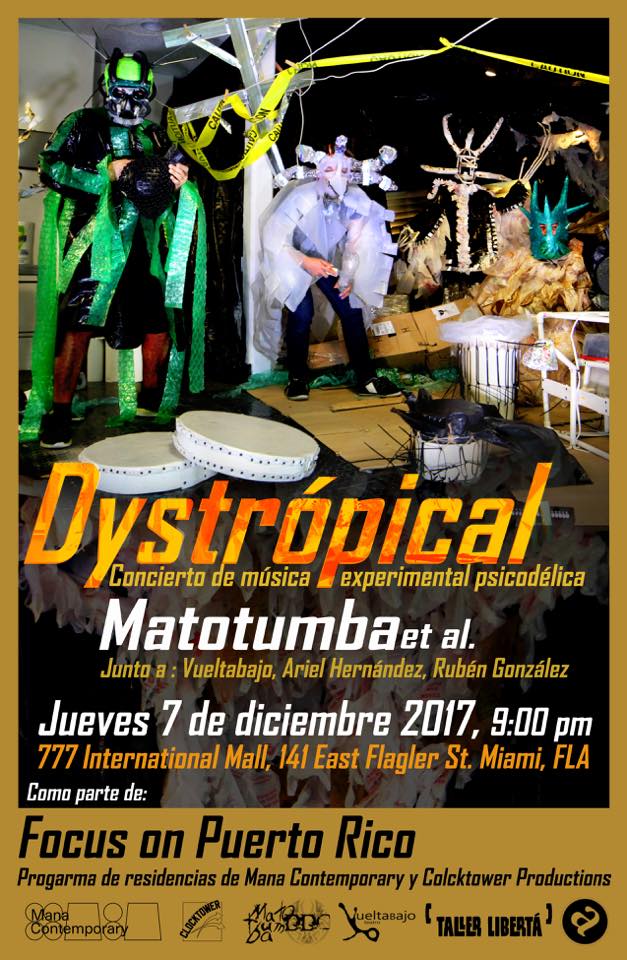 En el mes de marzo de 2017, seis meses antes del paso de las Huracanas Irma y María por Puerto Rico, Matotumba, fue invitado a participar del proyecto:
Focus on Puerto Rico de Clocktower Productions y Mana Contemporary.
Aceptamos la invitación y sometimos nuestra propuesta, un concierto de música psicodélica/experimental y exposición de arte la cual titulamos Dystrópical, una sátira a la crisis económica y socio política en un futuro no muy distante en la distópica isla tropical de Puerto Rico donde lo único que prevalece es el plástico y la tradición.
Estábamos programados a viajar a Miami a comenzar la residencia el 26 de septiembre pero el paso de la Huracán María 6 días antes, impidió nuestra partida.
De repente, lo que habíamos conceptualizado como un trabajo de ficción se volvió realidad, nos encontramos viviendo en esa  "distopía" que dada la situación actual política y social de Puerto Rico, era muy probable que pasara en un futuro, un caos que se veía venir desde muy lejos pero jamás pensamos que la infraestructura sistemática del país fuera a colapsar tan pronto.
Decidimos proseguir con el proyecto por que la propuesta se tornó más relevante que nunca. El paso de María nos limitó en varios aspectos pero nos dio mucho material para conceptualizar.  Luego de muchos esfuerzos logramos llegar hasta Miami pero seguimos rodeados de escombros, seguimos arrastrando esta "distopía".
Matotumba (MTTMB) is an art collective and experimental music group established in 2000 by audio/visual artists from Puerto Rico best known for their electronic-experimental music, visual arts, theatre and site-specific performances, videos and film and documentary scores incluiding Mater Atómica winner of the 2017 Emmy for Best Magazine Program.
Their themes deal with social dysfunction, illicit pleasures, censorship, manipulation, impunity, slander, fallacies, isolation, among other topics.
Over the course of two decades they have managed to compile an extensive discography and videography as well as producing two documentaries about their work; have been on tour 3 times in México, the most recent one, promoting their latest full length album Cosas Malas which was regarded as one of the best of the year 2016 by the music blogs Puerto Rico Indie and Batiscafos.
Currently the collective is composed of Robin Alicea, Jorge Martínez Picón, Milton Ramírez Malavé, Fernando de Jesús, Héctor M. Miranda, Raúl Reyes,  José Vega, Zuleira Soto-Román and Eury G. Orsini and often collaborating with fellow experimental art and theatre collectives such as Vueltabajo Colectivo, Casa Múcaro, Ágape Teatro, among others.
Matotumba along with Vueltabajo Colectivo, co-organize various projects such as AÑOS LUZ, Teatro de la CoMMedia, Circo de la Plaza, Cuentos para el Camino, AGUALLEVA, among others.
Also the two collectives self-run the multidisciplinary workshops in Puerto Rico: Foro Amalgama in Ponce and Taller Libertá in Mayagüez, cultural spaces dedicated to the arts and serve as a galleries and experimental stages for theater, performances, films and concerts.
[ngg_images source="galleries" container_ids="2″ display_type="photocrati-nextgen_basic_thumbnails" override_thumbnail_settings="0″ thumbnail_width="240″ thumbnail_height="160″ thumbnail_crop="1″ images_per_page="20″ number_of_columns="0″ ajax_pagination="0″ show_all_in_lightbox="0″ use_imagebrowser_effect="0″ show_slideshow_link="1″ slideshow_link_text="[Show slideshow]" order_by="sortorder" order_direction="ASC" returns="included" maximum_entity_count="500″]