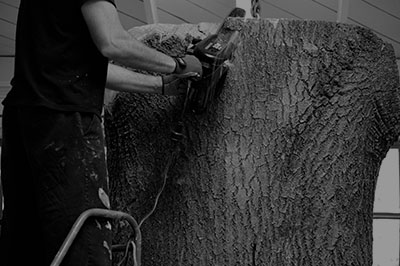 Here we are at Whale&Star, this is an interesting space of Enrique Martínez Celaya, here is some info from there site.
In 1998, Enrique Martínez Celaya, with the help of his assistants, started a small publishing house called Whale and Star Press. Its evolution, through many projects, has served as a catalyst to reconsider the ethical responsibility of the artist to the world, so it seemed appropriate to name the studio after the press. The whale and the five stars in the shield stand for the wide scope and mindfulness of integrity, action, service, surprise and knowledge.
Whale & Star is the culmination of a life-long search for a place to work meaningfully in and for the world. It compresses two very different models of such work, the scientific laboratory and the monastery. With its concepts of rigorous discipline, intense intellectual scrutiny, and service to the discovery of truth, the scientific laboratory offers a context that is precise and clear. The monastery offers a model that introduces an ethical dimension to work making it inseparable from the worker and his own development as a human being. This model has also developed in concrete, through the six buildings Martínez Celaya has remodeled for his studio throughout the last fifteen years, each of which has further refined the idea of Whale & Star.
The idea of Whale & Star has also benefited, and continues to benefit, from the writings of Paulo Freire, Emmanuel Levinas, Leo Tolstoy and Thomas Merton; the practices of Marcel Broodthaers, Hilma af Klint, Joseph Beuys and William Blake; as well as the contributions of scholar Daniel A. Siedell.
here is there web site WHALE&STAR.