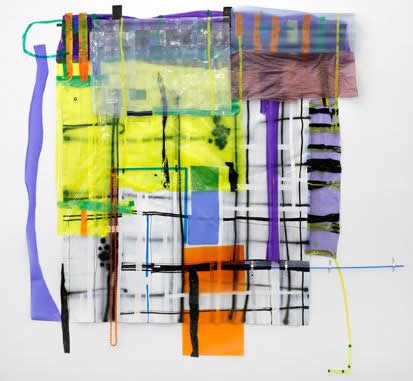 Here we are at Diana Lowenstein Gallery, we where happy to see Ivelisse Jimenez and to see here new work, Ivelisse was one of the artist that showed in MSA gallery, her work jumping from here installations and constructions now returning to painting, we where happy to see the transition and the way the painting maintain the illusion of 3d like here constructions the painting where very simply done but where very successful, thanx Ivelisse.
In this group show well not rely a group show for all the works where separated in there own space. Now the work of Daniel Gonzalez, was pop glitter gratify all made of small shine objects used in what is said to be elegant when used in dresses or Liberachies suit very intricate and playful, it reminded us of work by Santigo Flores, Santigos work is more formal and abstracted but in some of his work uses the same technique . Daniel work was fun.
Andy Halashyn his scenes of the beach where interesting but some what somber, using a very commercial style of painting and some what canceling the images with what seemed to be stamps, some what poking fun in a serious manner they may have been more affective in a larger format, the color benign bright but the image where some what dead illustrative it was very different from the other two artist, thanx Andriy.
the gallery is Diana Lowenstein here is the link