PLAYGROUND, and MIRAGE, @ Breach Gallery
PLAYGROUND, and MIRAGE, @ Breach Gallery
PLAYGROUND
GROUP EXHIBITION, CURATED BY ED BRONER
BREACH GALLERY PRESENTS, "PLAYGROUND", A GROUP EXHIBITION FEATURING WORK FROM ARTISTS: ANDRE WENDLAND, AUSTYN TAYLOR, MATIJA BOBICIC, CHRISTINA ALLAN, ED BRONER, KYLIE WENTZEL, ERKUT TERLIKSIZ, SAMMY BINKOW, GRIP FACE, DENISE RUDOLF FRANK, AND NINA VANDEWEGHE. THE GROUP EXHIBITION, WHICH WILL TAKE PLACE DURING MIAMI'S ART BASEL WEEK, IS CURATED BY ED BRONER.

 THE EXHIBITION WILL BE ON VIEW FROM NOVEMBER 27 THROUGH JANUARY 7, AND WILL HAVE TWO RECEPTIONS. FOR THE PROGRESSIVE ART BRUNCH'S MIAMI BASEL EDITION, AN OPENING WILL TAKE PLACE SUNDAY NOVEMBER 27 FROM 11 AM-5 PM. SUBSEQUENTLY, BREACH WILL HOLD AN ART BASEL MIAMI PARTY ON THURSDAY, DECEMBER 1 FROM 6 PM-12 AM.

Fabien Castanier Gallery is excited to present a solo exhibition for contemporary Czech artist, Jan Kaláb. His show will take place during Miami's Art Basel week and will commence with two events. The exhibition will open on Sunday, November 27th with an all-day reception, and on Thursday, December 1st, the gallery will present a Miami Basel party with the presence of the artist. This is the fourth solo exhibition for Jan Kaláb at the gallery, which will highlight a collection of new paintings.

Jan Kaláb introduces a meticulous study of color to the sweeping geometry of his canvases for this exhibition. From multi-dimensional pieces that curve organically beyond their boundaries to visual arrays of shapes that create fields of chromatic harmony, Kaláb's work plays with ideas of perception and the fluidity of what we see as real. Many of his paintings, through the masterful application of color gradient, present illusions to the eye. Incorporating sculptural elements, such as oblong and/or protruding canvases, the artist creates pieces that have no clear definition. One's perspective of the piece changes with every different angle, thus no one's view of the paintings can be the same.
Each of the pieces for MIRAGE exudes balanced energy. Kaláb's work continues to inspire with its vibrant tones and exceptionally immersive abstraction. Lost within the organic shapes are memories and emotions, which mesmerize as the movement of the colors change and wander upon the gallery wall. Shifts in volume and pigment evoke visions of Earth's atmosphere and the transformations in the sky during dawn or dusk. Encapsulating these moments upon canvas, the artist articulates his own unique perspective of abstract form.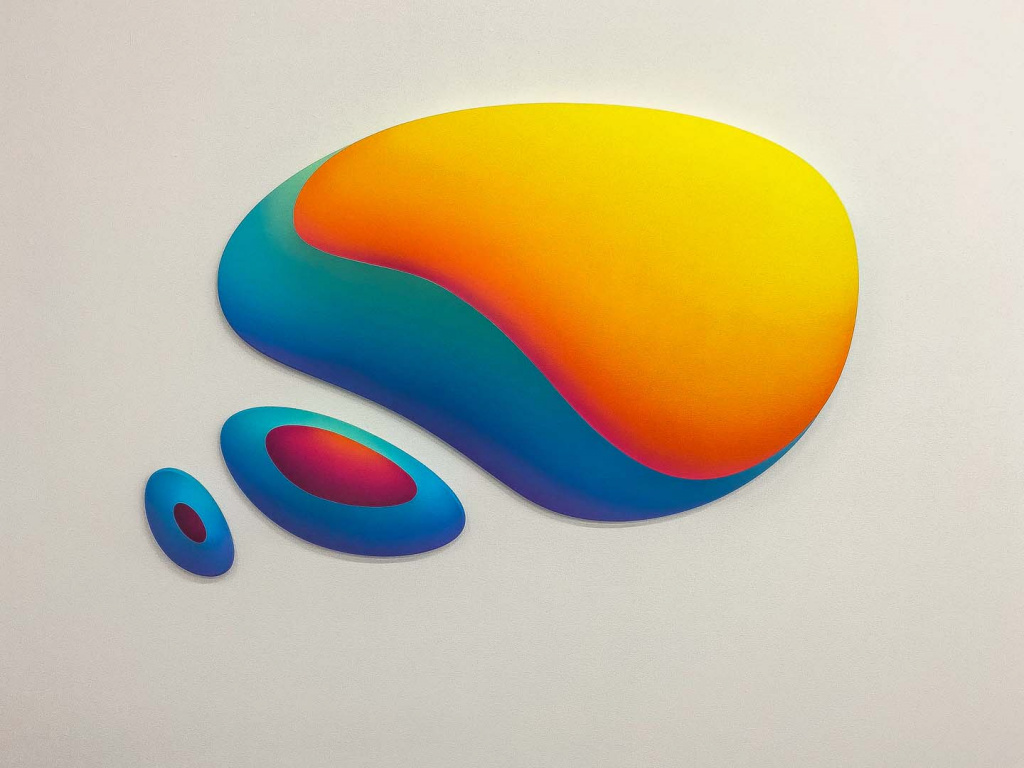 Jan Kaláb (b. 1978, Czech Republic) began painting in the 1990s and since 2007 has centered his style around the visual exploration of colorful and geometric abstraction. He studied formally at the Academy of Fine Arts in Prague, where he currently lives and works. He continues to hold exhibitions globally, throughout Europe, Asia, and North and South America.
ArtWorks