Mindy Solomon is pleased to present a solo exhibition of the work of Thrush Holmes. Entitled Fuck Paradise, Holmes utilizes his candy-colored floral motifs, muscle cars, and female figures to present a vibrant artificial sense of the promised land.
A Toronto-based painter, Holmes explores traditional artistic themes such as landscape, still life, and the figure in a wildly gestural and expressive way. Selecting a palette of high-contrast colors as well as the inclusion of neon, he creates an intensity that reflects a punk sensibility. Self-taught, Holmes has crafted a consistent visual vocabulary that has become amplified as he matures, thus presenting his own iconic, signature visual language. Holmes opines:
Paradise is a concept – unattainable and fleeting. Surrendering to that conclusion is universal. Fuck it and fuck paradise. The most difficult thing is when the unimaginable and imaginable become in conflict. You want something desperately and then get it and come to realize it doesn't change much. The energy in my work is dictated by circumstance. That unfolding affects the way in which I approach a painting, invariably. Give me a mess and I'll renovate it, beautifully. This exhibition is comprised of personal work. I hesitate from that confrontation or proposition ordinarily. It's easier to be removed from the ritual in some way. It feels more honest to make meaningful work – that which is not purely the result of familiar moves, executed with ease. My continued study of the motif of still life has allowed for emotional release. It's a comfortable format for me and I'm well-exercised at it. The vocabulary is in the painting. It's all right there. In making this work, I was influenced by a particular muse. I always need that. It just makes the tragedy of it all more tolerable. This work is endurable and uniformly related to all of the others I made in the past. It represents fantasy, love, and loss. It always does. It's just a station along the way.
With honesty and raw emotion, Holmes has produced an exhibition that speaks to the joy and heartache of being creative in the 21st century.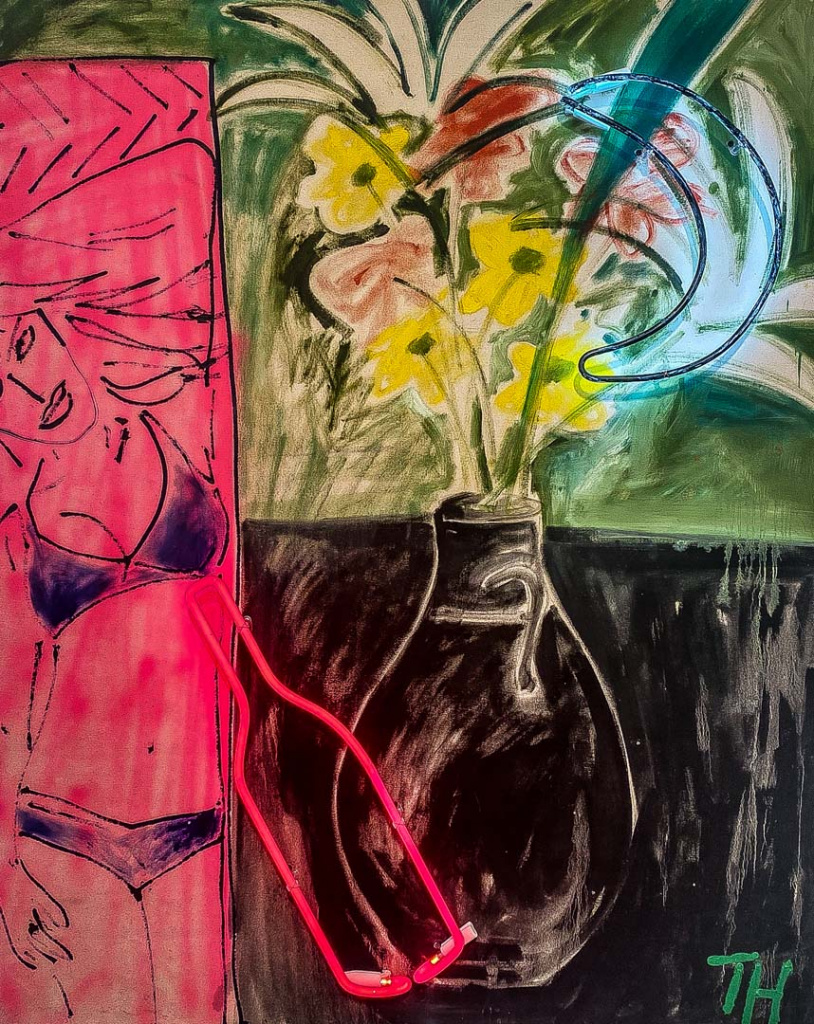 Thrush Holmes is a Toronto-based painter who explores traditional artistic themes in an aggressive, unapologetically contemporary way, contrasting poetic tropes with a punk sensibility. Romantic and idealistic, his naive forms (nudes, rainbows, still life florals) reference modernists like Picasso and Matisse, dissolving studies further into dripping, crude gestures of oil stick and neon light. Entirely self-taught outside two weeks in art school – where he quit after being told he couldn't fast-track to his final year – Holmes' process mirrors his ambitions. 20-ft paintings are made in a single sitting, and the initials 'TH' are often large enough in the bottom corner of a piece to be considered a compositional element. Holmes' newest works have begun to add nostalgia and introspection to an ongoing analysis of mythology, archetypes, and ego.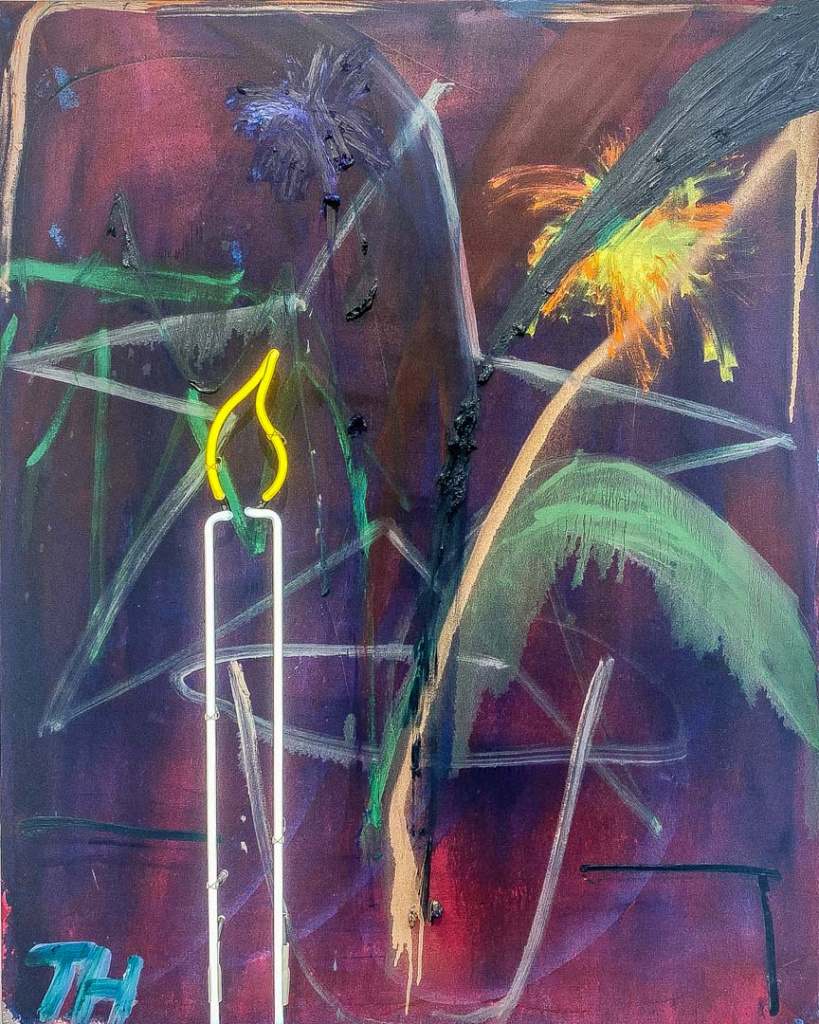 Holmes has work is found in permanent collections worldwide including the Elton John Aids Foundation, Sony Music, Dreamworks Studio, Detroit Art Collection, and Def Jam Records among others.
ArtWorks