This is the time. And this is the record of the time PT3. Emerson Dorsch gallery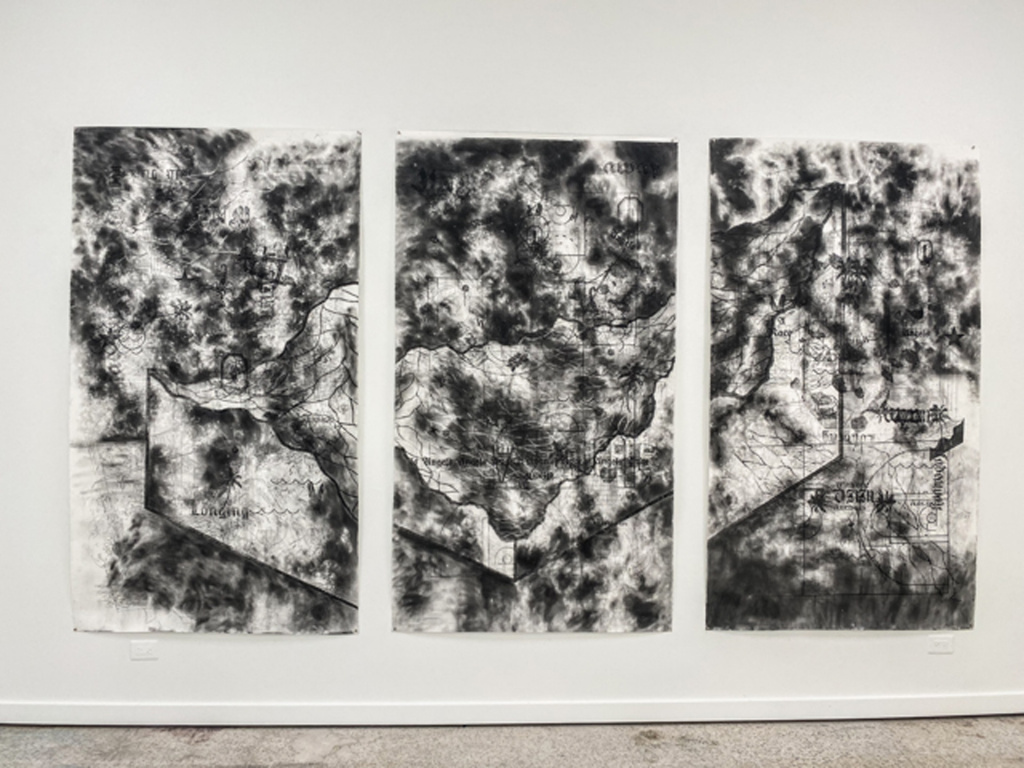 Emerson Dorsch is pleased to announce, This is the time. And this is the record of the time PT3, a group exhibition curated by Carlos Rigau with works by Jessica Gispert, Nick Klein, Seung-Min Lee, T. Eliott Mansa, Karen Rifas, Irgin Sena, Matt Taber and Andy Van Dinh. The exhibition will be on view from July 8th – August 20th, 2022.
The exhibition's title cites Laurie Anderson's 1982 song "From the Air," which channels and distills a widely felt intuition that disaster is at hand. Itself, a pun on the expression conveying zeitgeist; the song expresses symptoms of and reasons for this intuition. There seemed to be, at the time, a loss of personal control over one's own fate, much less the world's. The speed and quantity of technology were faster than any one person could keep up with. While news of global crises just as quickly spread and, similarly, piled up.
How can the state of things in 1982 register truer now than it was then? Other dystopian classics like Ray Bradbury's, Fahrenheit 451 and George Orwell's, 1984 that served as warnings to our school-aged selves reverberate now; 30 years later (give or take). The unreal imagined is the real unimaginable. Developments in media and technology, fiction decades ago, have come to pass, and fake news, alienation and authoritarian governments are indeed ascendent.
Curator Carlos Rigau states: "It's more convoluted, constructed, and more divisive than ever before. […] Both sides are using this political strategy… to basically make you choose one or another when in fact it's both.  The divisiveness has created a thick smoke screen that we can't see through. Just as the art of the fifties was very much about post-Fascism – modernism tried to construct art as if there was no past. The moment we're in now is utter confusion."
For curator Carlos Rigau, the resulting state of shock and paralysis marks the art of our time. Another reference point is that of Iceberg B-17, which broke off from a major continental ice shelf and drifted near the coast of Australia in the early 2000s.  After that, another iceberg, A-68 emerged as a media star in 2020. Both became media touchpoints as evidence for and against climate change. Ultimately, they both melted away.
We want to thank the artists in the exhibition and Carlos Rigau for their participation and support, and our gallery team, Daniel Clapp, Juan Gonzalez, and Rachel Llaveria-Powell for their exceptional dedication in organizing this and all of our exhibitions.
Acknowledgments: Francesco Casale, Fulano Inc, Exile Books, Logic Art Miami and LnS Gallery, Miami FL
Jessica Gispert – is a visual artist from Miami, FL. Her work interconnects themes of identity, spirituality, and corporeality. Gispert uses transformative materials to investigate subcultural practices in the digital era related to ethnography, alchemy, and religion. Her recent book, UNSEEN, explores her relationship to spirituality as a silent part of her Cuban identity. The book presents new photographic work inspired by the intimate spaces used to honor ancestors and deities in Latin-American households.
Nick Klein – is a prolific electronic music artist from the south and the north of the eastern United States. Klein practices as a recording artist who runs radio programs, a label, and events under the working title " Psychic Liberation". Klein has released record and tape editions with L.I.E.S., Viewlexx, BANK, Alter, Monorail Trespassing, Unknown Precept, Angoisse, Ascetic House, and more globally; with a forthcoming 12″ EP on iDEAL, "Actor-Network Theory". Klein is interested in loud volume as form, and the sociology and ideology that presents in self-identifying music subcultures. His work investigates these tropes through touring extensively in Europe, Canada, and the USA. Klein spent the majority of his time in New York organizing performances for artists of the electronic music milieu operating on the fringe territories of experimental music circles. At the end of 2019, Klein relocated to Den Haag, NL. He continues to expand his studio practice while writing for Swiss magazine Zweikommasieben, monthly radio projects for Montez Press and Rinse France, and curating his Psychic Liberation imprint.
The Psychic Liberation Show on Montez Press Radio aims to document and recount information through conversations with artists working within sub, and sometimes countercultural, connective musical or otherwise creative communities. This is a template worth reflection as we enter a further atomizing digital age wherein the role of in-person connectivity is actively subverted and co-opted by convenient social interfaces. This program aims to create a model by which inspiration and information can be pulled from and applied to aiding burgeoning communities regardless of form, content, or make-up.
Seung-Min Lee – was born in Seoul, South Korea in 1981 and raised in New York City. She graduated from Harvard College with her A.B. in History of Art and Architecture.  She completed her MFA in Combined Media from Hunter College in 2012. She has performed at Essex Flowers, International Waters, Hauser and Wirth, Luxembourg and Dayan, Museum of Chinese in America, Artists Space, The Kitchen, Performance Space NY, MoMA PS1, The Shanghai Biennial, Human Resources LA, NADA NY, The Museum of The Chinese in New York. She has been reviewed and published in The New York Times, The New Yorker, Rolling Stone, dismagazine, The Guardian UK, Artnews, and e-flux's Art-Agenda.
Every project I begin starts with thoroughly trying to find the sources of a feeling of alienation I experience in my daily, mundane experience of being in the world. Rage, disappointment, resignation, submission: these are the internal phase changes that alert me to a rift in my acclimatization to the "best-fit" diagram of a world that assumes a white body as its subject/customer/end-user. Having this "double consciousness" is how we cope, but it is not how we heal. In my work, it is my habit, in these instances, to try to inhabit this Other, white, space fully until I can almost empathize with the oppressor, to hold inside my body the monstrous and allow myself to be fully consumed by its seductive power; and by allowing my body to be vulnerable and open to this possession in public space, I seek to create a meaningful tension that can disrupt the supposedly natural order of things. By targeting the materials of everyday life, e.g. the news, food, consumer goods, celebrity, and pop culture, I attempt to defamiliarize the viewer with their assumptions of the distribution of power and meaning, so that they in turn seek to challenge the same.
T. Eliott Mansa – b. 1977 lives and works in Miami, Fl. Mansa received a BFA from the University of Florida (2000) and an MFA from CUNY-Hunter College (2018). Recent exhibition venues include the African American Museum of the Arts in Deland, FL,  Miami Museum of Contemporary Art of the African Diaspora.  Mansa has received the 2019 Creator Award from Oolite Arts, a Green Space Initiative Grant, a Young Arts Emergency Microgrant, and a Miami Independent Artist Stipend Grant. He has attended residencies at Oolite Arts in Miami Beach, and Artpace in San Antonio. His work is in the permanent collection of the African American Museum of the Arts in Deland, FL.
T. Eliott Mansa works to question the efficacy of political art-making, by creating a ritual practice to honor, memorialize, protect, and defend Black Lives from state and extrajudicial violence. Mansa's assemblage, paintings, and sculptures incorporate commercial materials in a way that subverts their original intent, reimagining them as apotropaic objects. His work examines how Western Hegemony has required the sacrifice of Black Lives for developing Capital and funding the Industrial Revolution. His work incorporates the aesthetic of amalgamation found in grassroots roadside memorials, visionary Southern vernacular sculpture, and the West African practices of nkisi nkondi and bocio sculpture making. Mansa's intention is to trigger the radical imagination of viewers, encouraging them to subvert the status quo and find socio-political agency in their own communities.
Karen Rifas – (Chicago, b. 1942) has shown nationally and internationally since the 1980s. She is the second recipient of The Michael Richards Award, presented by Oolite Arts. This award is given to a Miami-based artist who has created a recognized body of original, high-quality works over a sustained period of time, and who, through his or her practice, is achieving the highest levels of professional distinction in the visual arts. Her show at The Bass Museum of Art in 2018 was extremely well-received. In 2020, the Bass Museum of Art commissioned a series of banners by Rifas for their Art Outside initiative. Her work is represented in many public and private collections, including Museo de Arte de Ponce in Puerto Rico, The Bass Museum of Art, Fairchild Tropical Gardens, Oolite Arts, NSU Art Museum, Fort Lauderdale, FL, Museum of Contemporary Art North Miami, Miami-Dade Art in Public Places Trust, and Perez Art Museum Miami.
Karen Rifas has had solo exhibitions at Emerson Dorsch (2020), The Bass Museum of Art (2018), Emerson Dorsch (2017), Meetinghouse Gallery (2016), MDC Museum of Art + Design (2015), De La Cruz Collection (2010), Pinnacle Gallery, Savannah College of Art and Design (2007), Polk Museum of Art (2004), Art Center South Florida (now Oolite Arts) (1997) and Museo De Arte Comtemporaneo, Panama City (1993). She has exhibited in numerous group shows and presented the following projects: The Willfulness of Objects, The Bass Musuem of Art (2020-21); Notices in Mutable Terrain, curated by Adler Guerrier, Fundación Atchugarry (2019); Selections from Karen Rifas Papers: Defining Space, Women Artist Archive (2019); Transphysics: istwa, landscapes and paisajes, curated by William Cordova, Art and Culture Center, Hollywood (2017), 100+ Degrees in the Shade: A Survey of South Florida Art, curated by Jane Hart (2015), MIA-BER, Berlin Arts Club (2014), Following the Line, Girls' Club Collection (2012), I Triennial, Santo Domingo (2010), globe>miami<island, curated by Robert Chambers, DC Museum of Contemporary Art (2002) and The Bass (2001). She taught at New World School of the Arts for many years as well Kendall Campus of Miami Dade College and University of Miami. She lives and works in Miami, FL. Her work is represented by Emerson Dorsch Gallery.
Irgin Sena – was born in Albania and lives and works in New York. He has an MFA from Hunter College. In 2008 and 2012-13 he was an artist in residency at (ISCP), (NY). In 2012 he was awarded the MARIAN NETTER Award, in 2007 the (ARDHJE Award for Contemporary Art). Irgin has participated at Prospectif Cinéma, Centre Georges Pompidou, Paris, at Qui Vive, International Moscow Biennial for Young Art in (Moscow), at Tirana Bienale 3 in (Tirana) and New Insight, curated by Susanne Ghez (Chicago). He has shown at Invisible Exports Gallery in (NYC), Mixed Greens Gallery in (NYC), Badischer-Kunstverein in Karlsruhe (Germany); at Fresh Window Gallery (Brooklyn), National Gallery of Arts in Tirana (Albania), and Haus am Lützowplatz Berlin (Germany) among others.
Irgin Sena creates spaces of suspense, contemplation, and speculation through the interplay of visual and conceptual cues while investigating the relationship between drawing, sculpture, and film, where formal boundaries between mediums are blurred and bridged where a drawing becomes sculptural and a sculpture becomes filmic. Distinct images, which are drawn on different surfaces, are combined with objects and materials in such a way that given their new structural context a new meaning is created. His works are permeated by ideas of memory, repositioning, omission, and disruption, pushing viewers into an acute state of attentiveness.
Sena challenges' our contemporary notions of time and choice by presenting a maze of shifting contextual, visual
and material associations where personal experience, current events, and the everyday coexist.
Matt Taber – (b. Boston, MA, USA) completed his MFA from Columbia University and his BFA from the School of the Art Institute of Chicago. His solo exhibitions include "In through the out door", Secret Dungeon Gallery, Brooklyn, USA (2018); "Hacienda 2", Interiors, Brooklyn, USA (2018); "Naked Earth", Elevator Mondays Gallery, Los Angeles, USA (2017); "Hacienda", Holiday Forever Gallery, Jackson Hole, USA (2017); "I want You to want Me", YOUNG WORLD Gallery, Detroit, USA (2016).
His work has been included in group exhibitions at Chimney Gallery, Brooklyn, USA (2018), The Marjorie Barrick Museum, Las Vegas, USA (2017), 032c, Berlin, Germany (2016), GUCCIVUITTON, Miami, USA (2016), Schwarzwaldallee, Basel, Switzerland (2015).
Taber has participated in Teton ArtLab (Jackson Hole, USA), The Corporation of Yaddo (Saratoga Springs, USA), The Fallen Tower (Detroit, USA), Skowhegan School of Painting and Sculpture (Skowhegan, USA), Internationale Sommeracademie (Salzburg, Austria).
Andy Van Dinh – was born and raised in Calgary, Alberta, Canada, where he earned his BFA in Painting at the University of Calgary. He obtained his MFA in Painting at Hunter College in New York City.
I am a by-product of the wave of contemporary diasporas, and although I did not experience exile firsthand, I still am defined by the effects of location and relocation, adaptation and resettlement. I have inherited the traumas of war, colonialism, and natural disasters through a collective memory. I came into existence positioned in an ongoing narrative of the Vietnam War, an event that ended before my times. I am the distillation of a cultural sadness, a haunting history, and I recognize it in the way I've engaged with the world.
This feeling of displacement is difficult to explain. There's this comprehensible, measurable distance between where I am and Vietnam, but there is also a strange and intangible distance that takes on many ambiguous forms. This indecipherable distance has formed into an ongoing enigmatic desire, which informs the use of the imaginary and fantasy in my works as temporary solutions to issues of self-hood and nameless longings.
Through drawing methods, I create realms of ambiguous alternate spaces where the self and the other, here and there can be consolidated by forming a visual context for my distant desires. Drawing creates the ability for me to give a tangible, physical presence to invisible, social obstructions that detain me from 'returning'. The drawings become evidence of my corporeal engagement with place; a sensory documentation of translations/transferences of my becoming/being. I am to be found over there, over here, and in between, (re)adapted, (re)located, and (re)settled.