MINDY SOLOMON GALLERY, Caroline Larsen,Super Future Kid & Yvette Mayorga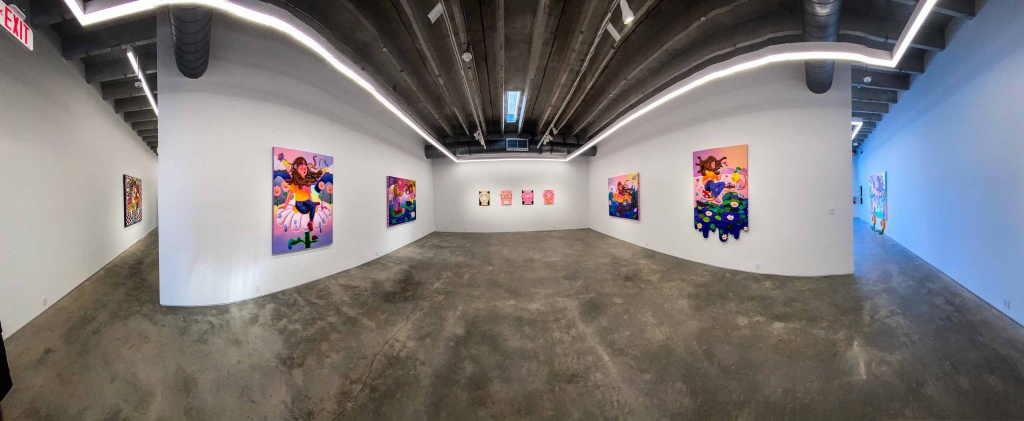 SUPER FUTURE KID
&

YVETTE MAYORGA: A WALK IN THE PARK
A WALK IN THE PARK
The longest journey begins with a single step.
-Patanjali
Yvette Mayorga and Super Future Kid love color. Pigment functions as an identifier for childhood experience and the sweetness of nostalgia and memory. A Walk in the Park is a connection to the power of the stroll as a way to visualize distinct experiences tied to pleasure and joy brought about through the sights and sounds of the outdoors. The sheer gratification of a sunny day, the memory of an ice cream cone enjoyed on a park bench and how the inspiration of nature can function as a reminder of childhood and freedom.
The depiction of amusement and delight remove us if only momentarily from the sometimes-crushing stresses of simply moving through life. Both Artists use pastoral references in similar but different ways-utilizing greenery and flowers to become a metaphor for capturing a moment of freedom within the works.

ABOUT THE ARTISTS
Super Future Kid was born in East Germany in 1981. The fall of the Berlin Wall, and the subsequent heightened experience of delving into late 20th century pop culture, left a lasting impression on her, that has since been explored through colour-drenched characters displaying a range of fleeting emotions. Boredom, apprehension, friendship, serenity and longing have all appeared on the faces of the people within her playful, hyper-surreal landscapes.
Super Future Kid studied at the KHB – Weißensee Academy of Art Berlin, graduating in 2008, and currently lives between Berlin and London. She has exhibited internationally in Amsterdam, Berlin, Los Angeles and Miami with solo shows in Copenhagen, Hong Kong, New York and Tokyo.
Yvette Mayorga is a multidisciplinary artist based in Chicago, Illinois. Her work interrogates the broad effects of militarization within and beyond the US/Mexico border and intervenes in the colonial legacies of art history. She fuses confectionary labor with found images to explore the meaning of belonging.
Her work has been exhibited nationally and internationally at the Vincent Price Art Museum, DePaul Art Museum, El Museo del Barrio, the Center for Craft, the Museo Universitario del Chopo, LACMA's Pacific Standard Time:LA/LA, NXTHVN, Art Design Chicago, the Chicago Artists Coalition, the National Museum of Mexican Art, GEARY Contemporary, EXPO, and Untitled Art Fair. In 2020 her project, Meet me at the Green Clock, was commissioned by Johalla Projects as part of the exhibition Andy Warhol–From A to B and Back Again, at the Art Institute of Chicago. Her work is included in the critically acclaimed exhibition ESTAMOS BIEN: LA TRIENAL 20/21, El Museo del Barrio's inaugural large-scale survey of contemporary Latinx art.
Her practice has been featured in publications such as Artforum, Artnet, Art in America, Art News, Galerie Magazine, Hyperallergic, NewCity, Teen Vogue, The Guardian, The New York Review of Books and The New York Times. Mayorga was featured in Galerie Magazine as a 2021 Artist to Watch. Her works are part of the permanent collections of the DePaul Art Museum, El Museo del Barrio, and the John D. and Catherine T. MacArthur Foundation. She has participated in the Fountainhead Residency and BOLT Residency, and is a recipient of the MAKER Grant. She holds an MFA in Fiber and Material Studies from the School of the Art Institute of Chicago.
CAROLINE LARSEN: THE GILDED LILY
THE GILDED LILY
"I stopped in front of a florist's window. Behind me, the screeching and throbbing boulevard vanished. Gone, too, were the voices of newspaper vendors selling their daily poisoned flowers. Facing me, behind the glass curtain, a fairyland. Shining, plump carnations, with the pink voluptuousness of women about to reach maturity, poised for the first step of a sprightly dance; shamelessly lascivious gladioli; virginal branches of white lilac; roses lost in pure meditation, undecided between the metaphysical white and the unreal yellow of a sky after the rain." 
― Emil Dorian, Quality of Witness: A Romanian Diary, 1937-1944
In Caroline Larsen's inaugural solo exhibition, The Gilded Lily, she exploits the still life genre in the most delicious manner. Explosive, over the top, layered colorful bouquets spill out of decorative vases with enough patterning to make your head spin. In the true definition of gilding the lily, she spoils something that is already beautiful or perfect by amplifying its simple grandeur. Wholly contemporary with a nod and a wink to Northern European painting, these psychedelic images pack a wallop. Larsen is a maximalist, utilizing paint squeezed from an icing bag in thickly piled layers of pigment- building higher and higher as chromatic bouquets vibrate off their hypnotic backgrounds. Her bold and vibrating works will engage the viewer with dramatic effect while inspiring deep investigation of their color surfaces.
ABOUT THE ARTIST
Caroline Larsen (b. 1980 Toronto, Canada) is a multidisciplinary visual artist, her main body of works is focused on paintings, but sculptural practice of ceramic and beaded objects. Larsen has a BA from the University of Waterloo, ON, Canada and Graduate Diploma in Visual Arts and Art History Education from the University of Auckland and received her MFA with honors at Pratt in 2015. Caroline has been awarded numerous awards from the Ontario Council for the Arts and scholarships from Pratt Institute. Larsen has always maintained a robust studio practice and has exhibited widely, she has had solo exhibitions at Andrew Rafacz in Chicago, Craig Krull Gallery in Santa Monica, General Hardware Contemporary in Toronto, Gordon Galleries in Tel Aviv, Dio Horia in Mykonos, Greece and at The Hole NYC in New York City.
Larsen had three paintings in "The Beyond: Georgia O'Keefe" at the North Carolina Museum of Art, a traveling exhibition curated by and beginning at Crystal Bridges Museum of American Art in Bentonville, AK, in addition to a solo exhibition at Wave Hill Public Gardens in the Bronx. She has participated in group exhibitions at Guerrero Gallery and Greenpoint Terminal Gallery and has work in the Dean Collection, the Aisthti Foundation, JB Art Collection Miami, TD Canada, the Donovan Collection, Microsoft and numerous other public collections around the world.
IMAGES FROM THE SHOW