"Emilio Sanchez: Revisited", LnS Gallery
Emilio Sanchez (1921–1999) was a Cuban American artist known for his architectural paintings, drawings, and graphic prints of New York, Latin America, and the Caribbean. As a practitioner of realism, he was attracted to folklore and the vernacular, with architectural scenes of everyday life taking preference over the great historical narratives of western civilization. His keen eye and remarkable ability to edit incidental elements also made him a painter of dreamlike architectural enigmas, as if the buildings he depicted existed only in memory.
Sanchez's work is in the permanent collections of many institutions, including the Metropolitan Museum of Art (New York, NY), the Boston Museum of Fine Arts (Boston, MA), the Brooklyn Museum of Art (Brooklyn, NY), the Hirshhorn Museum and Sculpture Garden (Washington, DC), the Museo Nacional de Bellas Artes de La Habana (Havana, Cuba), the Museo de Arte Moderno (Bogotá, Colombia), and the Philadelphia Museum of Art (Philadelphia, PA). He received First Prize at the 1974 San Juan Biennial in Puerto Rico and was awarded the CINTAS Fellowship in the Visual Arts (1989-90). His remarkable story, like that of his tragic country, is a tale of powerful contrasts, intense light, and mysteriously penetrating shadows.

The paintings presented in the main gallery are a cross-section of Sanchez's finished work, consisting mainly of in situ watercolors and more elaborate, studio-based oil on canvas paintings. LnS Gallery would like to express its sincere gratitude to the many leaders of this show and in particular the Emilio Sanchez Foundation for their continued support and to Dr. Victor Deupi for his dedication to the exhibition and for his insightful essay.
---
EMILIO SANCHEZ
Born, Camagüey, Cuba 1921
Died, in Warwick, New York, USA 1999
EDUCATION
Ransom Everglades, Miami, FL
Fessenden School, West Newston, MA
Choate Rosemary Hall, Wallingford, CT
Yale University, New Haven, CT
University of Virginia, Charlottesville, VA (1941-1943)
Art Students League of New York, New York, NY (1944-1948)
Columbia University School of the Arts, New York, NY
PUBLIC COLLECTIONS
Metropolitan Museum of Art, New York, NY
Museum of Modern Art, New York, NY
Brooklyn Museum, Brooklyn, NY
Cooper-Hewitt Museum, New York, NY
Philadelphia Museum of Art, Philadelphia, PA
New York Public Library, New York, NY
Free Library of Philadelphia, Philadelphia, PA
Lessing J. Rosenwald Collection in the National Gallery of Art, Washington, D.C.
National Museum of American Art, Washington, D.C.
Walker Art Center, Minneapolis, MN
National Museum, Havana, Cuba
University Museum, Havana, Cuba
Delaware Art Museum, Wilmington, DE
International Graphics Art Society of New York, New York, NY
Cincinnati Museum, Cincinnati, OH
Associated American Artists, New York, NY
Smithsonian Institution, Washington, D.C.
Knoxville Museum, Buffalo, NY
Museum of Contemporary Art, Bogotá, Colombia
Manufactures Hanover Trust Collection, New York, NY
Tulsa Civic Cultural Center, Tulsa, OK
New Jersey State Museum, Trenton, NJ
New York University, New York, NY
Museo de Bellas Artes, Caracas, Venezuela
Biblioteca Luis-Angel Arango, Bogotá, Colombia
Corcoran Art Gallery, Washington, D.C.
Boston Museum of Fine Arts, Boston, MA
Museo de Arte Moderno, Bogotá, Colombia
Museo la Tertulia, Cali, Colombia
Marion K. McNay Museum, San Antonio, TX
Joseph Hirshhorn Museum, Washington, D.C.
Clarke Institute, Williamstown, MA
Huntington Art Gallery, Austin, TX
Fort Lauderdale Museum of Art Fort Lauderdale, FL
National Gallery of Australia, Canberra, Australia
The College Board, New York, NY
Miami-Dade Community College, Miami, FL
Huntington Art Gallery, University of Texas, Austin, TX
SELECTED PRIVATE COLLECTIONS
Carton de Colombia
Chase Manhattan Bank Collection
Nelson Rockefeller Collection
John and Barbara Duncan Collection
Anglo-American Bank
IBM Corporation
Twentieth-Century Fund
St. Joseph Corporation
R.J. Reynolds
Deloitte, Haskins and Sells
Brown, Woods, Ivy, Mitchell, Petty
Krasdale Foods
Republic National Bank
---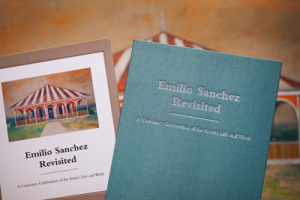 ---
---
MIAMI, June 10, 2021 /PRNewswire/ — The U.S. Postal Service today celebrates the art of Emilio Sanchez (1921-1999) on the centennial of his birth with four new stamps featuring his colorful architectural lithographs and paintings. The pane of 20 stamps showcases Sanchez's architectural works: "Los Toldos" (1973), "Ty's Place" (1976), "En el Souk" (1972) and "Untitled (Ventanita entreabierta)" (1981). It may be purchased at usps.com/sanchezstamp. The dedication ceremony was held at the LnS Gallery in Miami.
---
Gallery