Kelley Johnson
Windows, Planes, Screens, and Veils
Kelley Johnson's work is process driven, built upon gradually by repeating lines and geometric shapes. This repetition gives way to a structural language, which then allows room for intuitive, meditative painting. Using the grid as an underlying structural guide, Kelley works to build layers of space held together by armatures, functioning like planes which interact with one another. Windows, planes, screens and veils all act as framing devices in a system of spatial observation. True to the core purpose of a grid – to separate fluid space into individual units, while also maintaining an operational whole – the framing devices in these paintings obstruct one from viewing a single plane in its entirety, while also functioning as the uniting element visually, physically, and conceptually.
Visual references range from hard edge painting, architectural structures, and stained glass windows, to tribal/religious patterns and textiles. Using loose interpretations of these patterns, the work evokes a collage of distilled information all vying for attention. These competing elements of form and reference imbue the paintings with tension; focal points shift back and forth from one "level" to another. This tension is experienced as vibrations between spaces, causing the paintings to pulsate, breath, expand, and contract. These subtle vibrations attune the viewer to conversations between two and three dimensional space, and visual and physical perception. Color, light and form both flatten and expand the experience of time and meaning. This optical interaction helps to establish how the space oscillates in the image, bringing its viewer in and out of consciousness through hypnotic and meditative experiences.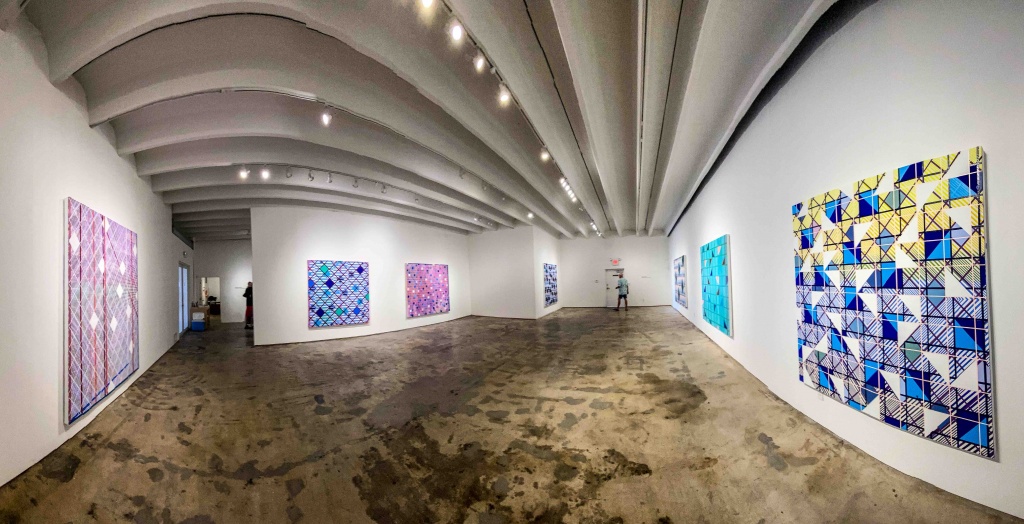 Experienced physically, optically, and emotionally, our understanding of space and time can be as layered and shifting as the forms within the paintings themselves. Our perception of "reality" is fragile – subject to manipulation by external forces. The constant redirection of focus in the paintings addresses the onslaught of distractions experienced in a digitally driven world. Our virtual reality creates new vantage points that compete for our attention, filling our daily lives with the same tension between real and fabricated as set forth by the paintings. In the end the work functions as a build up of guided structures that unfold visually, enacting a play between fiction and reality, tangible and intangible, past, present, and future. The viewer is at once lost in the patterns that filter in and out of our consciousness, and also completely attuned to these ever present vibrations between time and space.
—
 Kelley was born in 1973 in Houston, Texas and grew up in St.Louis, Missouri. He received an MFA from Indiana University and a BFA from Parson School of Design. Growing up in the midwest, Kelley began working in construction at a young age, using materials commonly found in wood framed houses. He was influenced by the idea of framing and applies it to his structures and spaces. Kelley has been professionally working in the field of painting and installation for over 20 years. His work has been featured in publications such as The Miami Herald, Art Net, Art Zealous, New American Paintings, Miami Rail and others. He has had shows locally at the Art and Culture Center of Hollywood, David Castillo Gallery, Mindy Solomon Gallery and The Fountainhead Residency. He currently lives and works in Miami, Florida.
Prototype No. 1: The possible and the actual
Motion introduces into being a scission through which being is separated from its own being. What is finds itself separated from what it is, since what it is may or may not occur to it without it necessarily not being anymore. […] Why is being what it is and what it is not at one and the same time?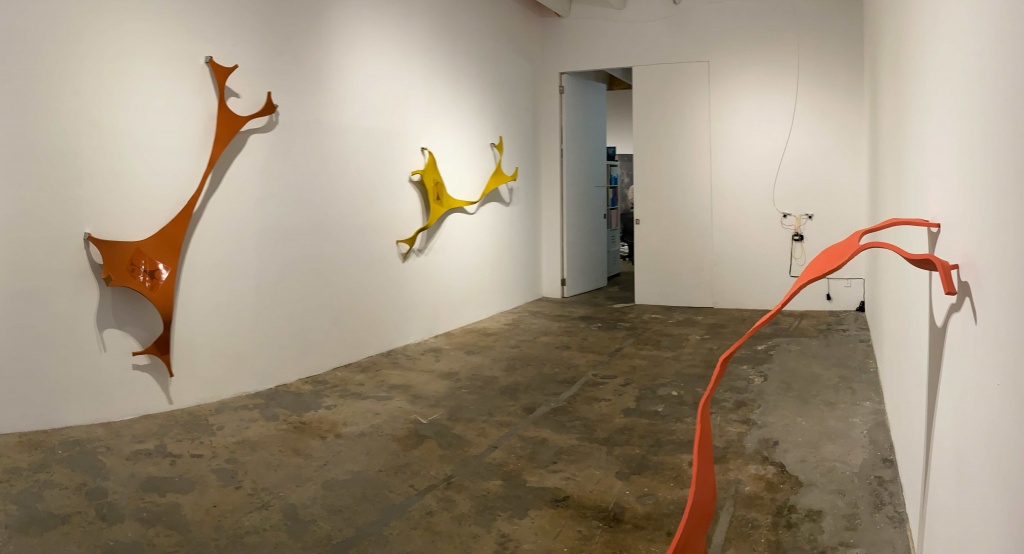 Prototype No.1: the possible and the actual considers the modal distinction between the possible and the actual that underlays our idea of motion and change. It offers an experience of the scission or division that separates an object from itself while it is in motion. The featured sculptures touch upon this scission through language of prototyping, its material constitution and visual devices.
The title hints at the modal distinction, in the field of philosophy, between the possible and the actual. This distinction attempts to bridge the gap that motion introduces on an object's identity by orienting it towards its end. The concept of prototyping presupposes the distinction between the possible and the actual. The language of prototyping serves as a guiding thread to focus on this gap that motion introduces and the paradox or contradiction it produces. An object in motion is and is not at one and the same time.
—
Rafael Rodriguez Gárciga was born in the town of Cojimar, a small fishing village east of La Habana, Cuba. Growing up in a fishing village exposed him at a young age to the process of boat building. This early exposure instilled in him an interest for wood carving and fabrication that developed into an interest in sculpture.He attended the National Academy of Fine Arts San Alejandro. In 2010, Rafael emigrated to Miami where he earned a BFA from New World School of the Arts. He has shown locally at Cisneros Fontanals Art Foundation, Aluna Art Foundation, Miami Biennale and The Yard at Casalin.