Spinello Projects, Antonia Wright & Ruben Millares, and Raheleh Filsoofi, Miami
Antonia Wright & Ruben Millares — "It Is Not Down On Any Map"
"It is not down on any map"
Antonia Wright and Ruben Millares
Opening Reception
Sunday, February 16, 11am — 3pm
Coinciding with Progressive Art Brunch
Exhibition through March 21, 2020
Spinello Projects
Gesamtkunstwerk Building
2930 NW 7th Avenue Miami, FL 33127
>>>
SPINELLO PRESENTS A SPECIAL PROJECT BY ANTONIA WRIGHT AND RUBEN MILLARES
Spinello Projects is delighted to present "It Is Not Down On Any Map," a special project located in the lobby of the Gesamtkunstwerk Building. A collaboration between Antonia Wright and Ruben Millares, artists who have been working together for almost 10 years, will feature two new works from their It Is Not Down On Any Map, True Places Never Are series. The sculptures challenge the meaning of the flag in the contemporary world and speaks critically to the rising popularity of nationalism simultaneous to the devastating number of people without a home seeking asylum. The exhibition runs through March 21st, 2020 and coincides with the Progressive Art Brunch series.
In their mobile sculpture, three indoor flag poles, often used for political speeches and presentations, are suspended from the ceiling and each other by rope. The flagpoles are perfectly balanced with one another to contrast and highlight the imbalance of nationalistic ideologies between these nations. The six flags in the mobile are chosen by the artists because of the migration issues each country stands to face due to climate change. The countries represented in the sculpture are ones who are ominously vulnerable to the threat of sea level rise, are major contributors to the crisis, or in some cases both.
On the wall, hang two flags on a ball and chain, a crippling encumbrance, with the Puerto Rican flag on the floor. The different sized flags play with hierarchical scale to contest the illusion of power dynamics and the existing absurdity of the hegemonic world order.
>>>
Antonia Wright is a Cuban-American artist born in Miami, Florida. Wright received her MFA in Poetry from The New School in New York City in 2005 as well as at the International Center of Photography for photo and video in 2008. She has exhibited in the U.S. and abroad and has been awarded artist's residencies both nationally and internationally. Exhibitions include shows at The Hirshhorn Museum and Sculpture Garden (Washington, D.C.), The Perez Art Museum (Miami), Pioneer Works (New York), The Faena Arts Center (Buenos Aires, Argentina), The Margulies Collection at the Warehouse, Vizcaya Museum and Gardens, Spinello Projects (Miami, FL), Luis de Jesus Gallery (Los Angeles, CA), San Francisco Arts Commission Galleries (SF, CA), Aeroplastics (Brussels, Belgium), The National Gallery of Art (Nassau, Bahamas), and Ping Pong (Basel, Switzerland). In April 2012, she became and founded the first artist-in-residence at the Lotus House Shelter for women and children in Overtown, Miami. She was recently named a CINTAS Foundation Fellowship finalist for 2019 in Visual art. She is represented by Spinello Projects in Miami, FL and affiliated with Luis De Jesus Gallery Los Angeles.
Wright's work has been featured in publications including The New York Times, Artforum's Critics' Picks, Art In America, Hyperallergic, i-D, New York Magazine, Daily News, the Miami Herald, El Nuevo Herald, and The Art Newspaper.
Ruben Millares was born in Miami, Florida in 1980. A multi-disiplanry artist, his work has been shown in Untitled Art Fair/Art Basel, Pan American Art Projects, Volta NY, National Art Gallery of the Bahamas, Art & Culture Center of Hollywood, Spinello Projects. Ping Pong Art Basel Switzerland, The Tampa Museum of Art, White Box Gallery, Hillside House Gallery Nassau,The Invisible Dog Art Space Brooklyn and Crane Art Space Philadelphia. Millares' video/performance piece with collaborator Antonia Wright, Job Creation in a Bad Economy, was featured in the 2011-2012 exhibition at the Margulies Collection at the Warehouse. His work is included in the permanent collections of Martin Z. Margulies at the Warehouse, Dennis and Debra Scholl Collection, Hadley Martin Fisher Collection, The Bass Museum of Art and the Robert Borlenghi Collection.
Millares work has been featured in the Miami Herald, Miami New Times, St. Petersburg Times and El Nuevo Herald among others and featured in the ArtNewspaper's Basel edition on Miami artists. He has also participated in prestigious artist residencies including Pioneer Works, Red Hook, NY and Elsewhere, Greensboro, NC.
Above Image: Antonia Wright and Ruben Millares, Its is not down on any map, true places never are, Mix media
Raheleh Filsoofi — "Inh(a/i)bited" — Solo Exhibition
Spinello Projects is delighted to present INH(A/I)BITED, a solo exhibition by multidisciplinary artist Raheleh Filsoofi, featuring a multimedia soundscape installation. The exhibition runs through March 21st, 2020 and coincides with the Progressive Art Brunch series. INH(A/I)BITED is generously supported by Iranian American Foundation.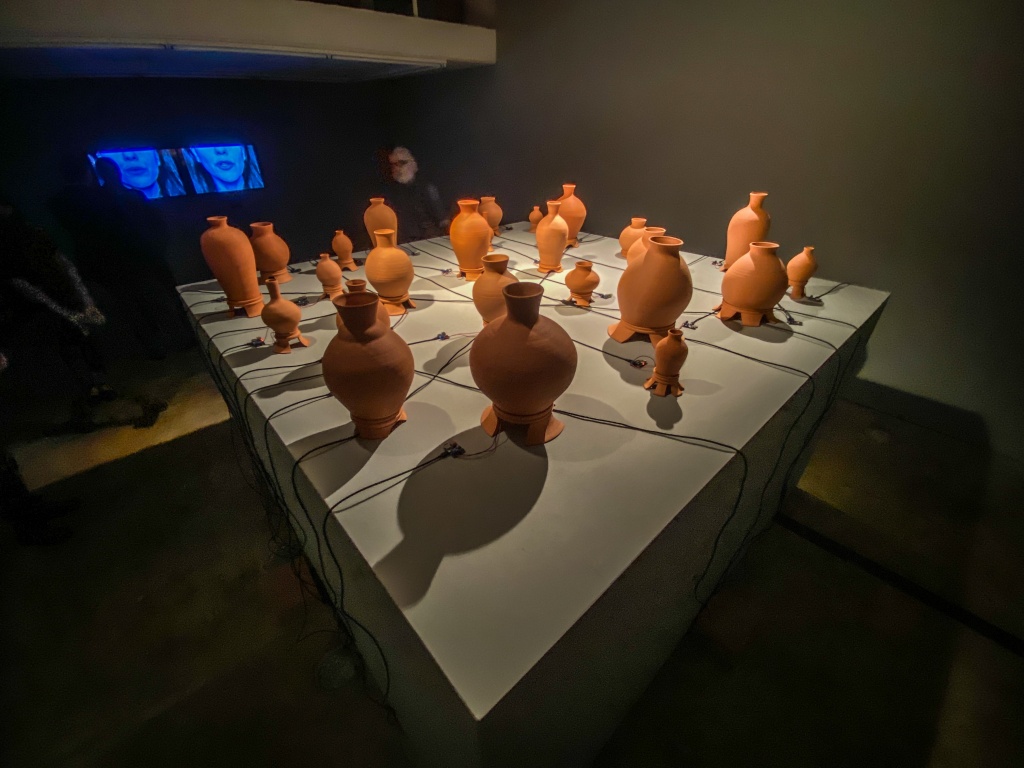 As the world's eyes fall on Iran, Raheleh Filsoofi's ears fall on America, recording the places she has had the freedom to move through. Trumpian rhetoric and other dissonances scorch through wires strewn across the floor and out speakers that sit below Filsoofi's hand thrown clay vessels. The current political environment is a well of sounds for Filsoofi to collect from and layer through time, constantly updating this work with the kind of psychologically displacing and anxiety inducing discourse that causes one to feel inhibited.
As a child in Iran, Filsoofi was confined to homes and shelters to shield from civil unrest and war. Yet when she immigrated to the U.S. she felt a sense of freedom of movement she knew was not guaranteed. In Filsoofi's memory sounds moved through her confined spaces; prayers, bombs, helicopters, marching, music echoed in from the outside and her auditory sense sharpened.
As part of her ceramics practice today, she works outside in nature, extracting and making clay from the land. As clay, this land becomes the work in the form of material to communicate collective ownership of intangible things like history, sovereignty, and home. Wires transmitting the sounds projected travel to each speaker, upwards, like roots or stems, signaling earthly systems that connect us.
The vessels she creates harken back to the vessels of women in the rural north of Iran, who in Filsoofi's observation feel empowered and uninhibited to provide and create for their communities. But in her installation vessels are objects that at once contain and project. The projections of sounds reverberate the projections of fascist that decree the restrictions of others among a cacophony of familiar and at once abstract noises. And yet the containment of these projections recall Filsoofi's childhood, sharpening her ear to catch the sounds that moved through her.
Bio:
Raheleh Filsoofi (Tehran, Iran, 1975)
Raheleh Filsoofi is a multi-disciplinary artist based in Texas, South Florida and Iran. Her work synthesizes socio-political statements as a point of departure and further challenges these fundamental arguments by incorporating ancient and contemporary media such as ceramics, poetry, ambient sound and video; aiming for a holistic sensory experience. Her interdisciplinary practices act as interplay between the literal and figurative contexts of border, immigration and inter-cultural communications. She is an active participant in juried art exhibitions both in Iran and the United States, including the recent solo exhibition 'Imagined Boundaries'- a multimedia digital installation on border issues, consisting of two separate exhibitions debuted concurrently at Florida Cultural Consortium and Abad art gallery in Tehran (2017); 'Dual Frequency' group exhibition at The Art and Culture Center of Hollywood, Florida (2017) and a Solo Exhibition 'On Transcending the Inhibited Space' at O'kane Gallery in Houston (2018). Her most recent multifaceted, self-curated art exhibition 'Fold: Art, Metaphor and Practice'- which engaged over 20 artists, scholars and educators – has proved to be the capstone of her professional artistic career. She has been the recipient of various grants and awards such as the prestigious South Florida Cultural Consortium Fellowship for Visual and Media Artists funded in part by the National Endowment for the Art. She is assistant professor of ceramics at University of Texas Rio Grande Valley at the Department of Art. She holds an MFA in Fine Arts from Florida Atlantic University and a BFA in Ceramics from Al-Zahra University in Tehran, Iran.