Piero Atchugarry Gallery, Dialogue In Black And White, Nevelson -Atchugarry, 2019-20
Louise Nevelson
Louise Nevelson is considered one of the most important American sculptors of the twentieth century for her pioneering assemblages and monumental public art.
Nevelson was born in Kiev, Russia, but her family settled in Rockland, Maine, in 1905 where her father operated a lumberyard. Nevelson grew up playing with scraps from the lumberyard, and by the age of ten had declared her intention to be a professional sculptor. In 1920, she married wealthy ship owner Charles Nevelson and moved to New York. Nevelson gave birth to a son two years later, but the marriage did not last; they separated in the early 1930s and divorced in 1941.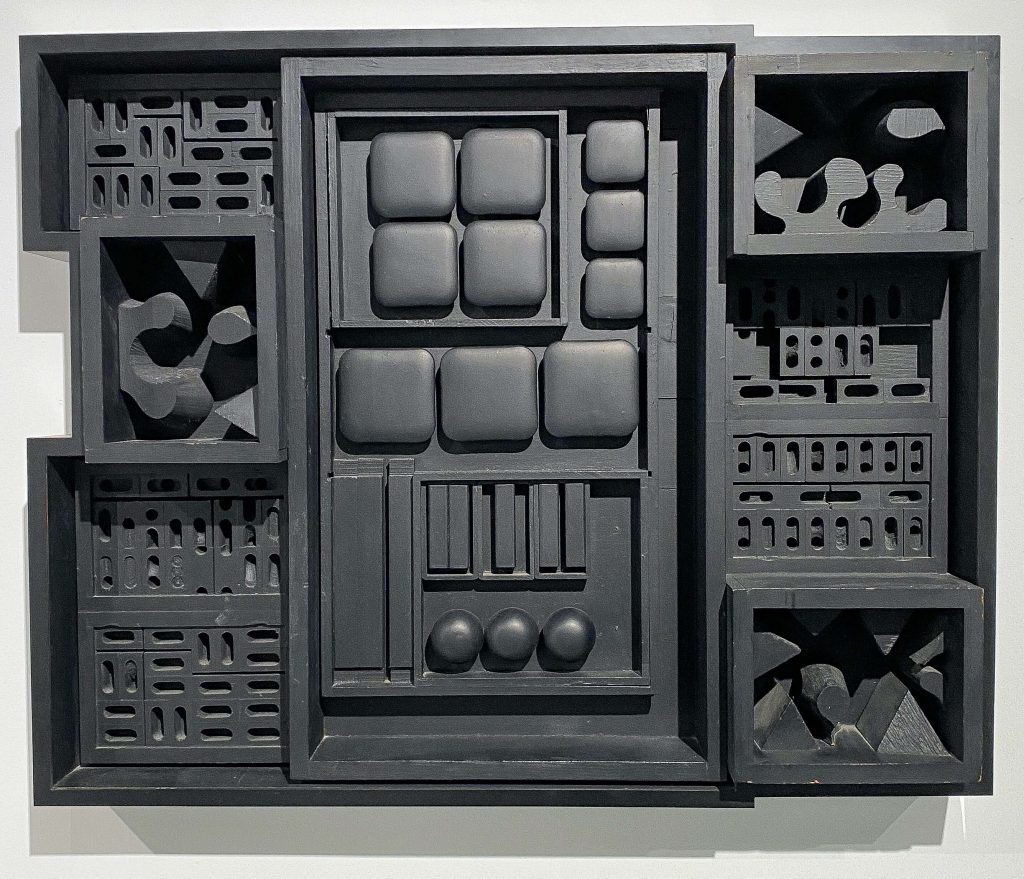 In 1931–32, Nevelson studied with abstract painter Hans Hofmann in Munich and later New York. Through him, she discovered Cubism and collage, which greatly influenced her artistic development. She also worked for a time as an assistant to Diego Rivera on a mural project, and as an art teacher hired by the Works Progress Administration, which helped support many artists in the 1930s.
Though she had her first solo exhibition at the Nierendorf Gallery in New York in 1941, Nevelson did not develop her signature monochromatic, spray-painted wooden assemblages until the late 1950s. She constructed abstract compositions by arranging scavenged bits of discarded wood in boxes, stacking them to form sculptural walls and environments, and unifying them by painting them a single color.
A 1958 exhibition of Nevelson's all-black environments caused a sensation. Her room-size, all-white Dawn's Wedding Feast sculptural group garnered major recognition for Nevelson at Sixteen Americans, a group show at The Museum of Modern Art in 1959–60.
Though she had been working actively as an artist for decades, she was in her sixties by the time her reputation began to soar.  During the 1960s, she represented the United States at the prestigious Venice Biennial art fair and was honored with a retrospective exhibition at the Whitney Museum of American Art. In subsequent years, Nevelson received six honorary doctorates and continued to exhibit her work regularly in Europe and the United States.
Pablo Atchugarry
Pablo Atchugarry was born in Montevideo, Uruguay, on August 23, 1954. His father Pedro, an art lover, perceived Pablo's skills and interest and stimulated him to take up art from childhood. In his early days he expressed himself through painting, and gradually discovered other materials, such as cement, iron and wood.
At the end of the 70s, after staging several exhibitions in Montevideo, Buenos Aires, Porto Alegre and Brasilia, he made several trips to study in Spain, France and Italy, where he organised his first personal exhibition in 1978 in the city of Lecco (Lake Como). His paintings were subsequently exhibited in several cities, such as Milan, Copenhagen, Paris, Coira, Bergamo and Stockholm.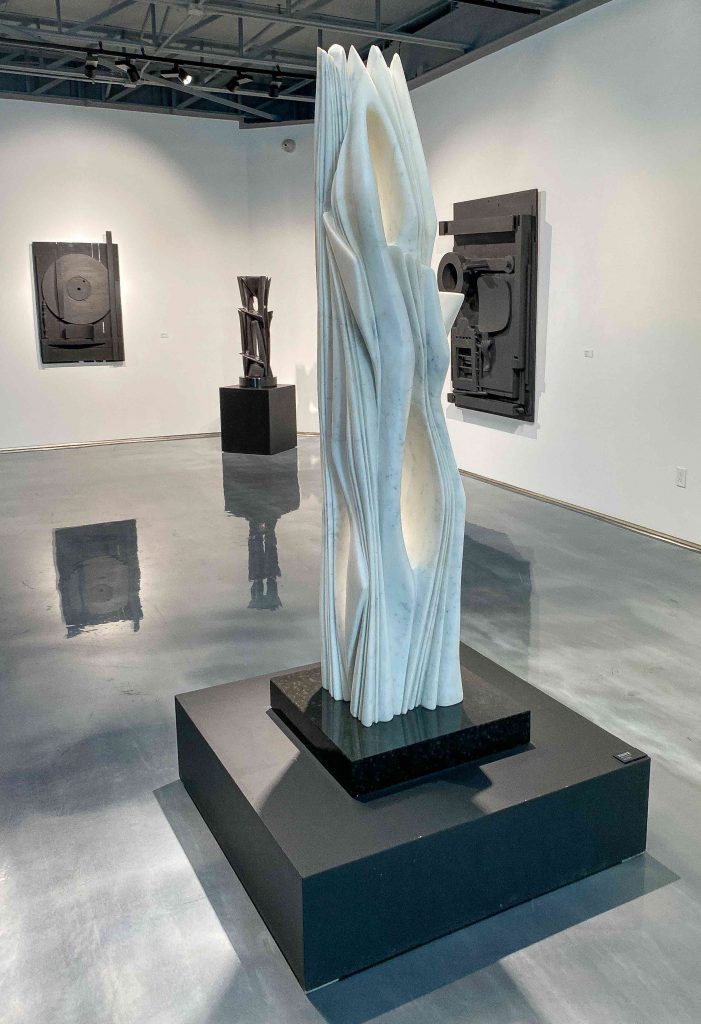 In 1979, after experimenting with different mediums, he discovered marble as an extraordinary and fascinating material, and created his first sculpture called "La Lumière", in Carrara. In 1982, Atchugarry continued to work in marble in Carrara and decided to settle in Lecco, Italy, as a result of his sculpture "La Pieta," executed in a block of 12 tonnes in Carrara statue marble, which he finished in 1983. In 1987 he held his first individual sculpture exhibition in the Bramantino Crypt in Milan, which was presented by Raffaele de Grada.
By 1989, he also made monumental pieces that are now part of private and public collections in America and Europe. In 1996 he executed the sculpture "Semilla de la esperanza" [The seed of hope] for the park of the Libertad Building, the seat of the Government of Uruguay. In 1999, the Pablo Atchugarry Museum was founded in Lecco, exhibiting work spanning his entire career and housing all of the artist's bibliographic documentation and archives.
In 2001, the Province of Milan organised a retrospective exhibition of his work "Las infinitas evoluciones del mármol" [The infinite evolutions of marble], in the Isimbardi Palace in Milan. That same year, he sculpted the monument titled the "Obelisco del tercer milenio" [Obelisk of the Third Millennium], a 6-metre high sculpture in Carrara marble for the Italian city of Manzano (Udine), and he was commissioned to make the monument "Civilización y cultura del trabajo de Lecco" [Civilisation and the work ethos of Lecco], a 6-metre high sculpture in Carrara marble that weighs in at thirty tonnes