The Power of Print:
Iconic Images of the American Landscape
JENNIFER BASILE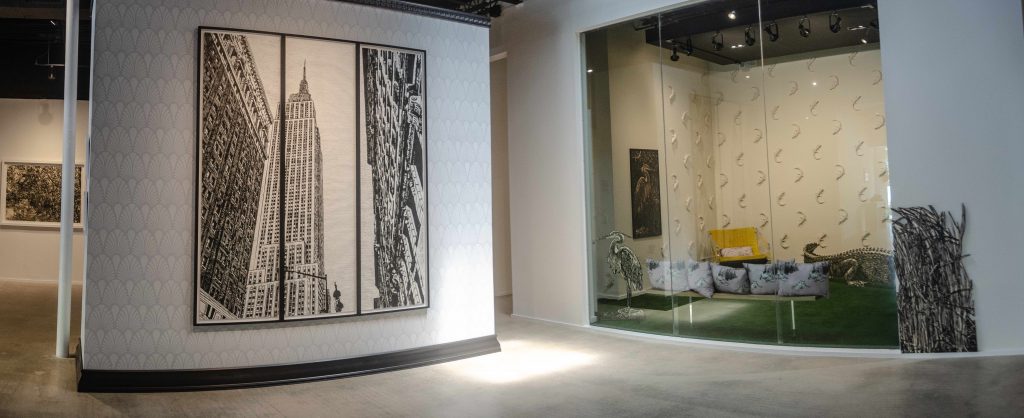 Basile synthesizes the landscape to reproduce it graphically. She eliminates the superfluous – colors and nuances – by eliminating tones and reflections and staying with a single stroke of a single color. She keeps the essential, the iconic, what can be printed with a single black ink. It is an abstraction process, although the result remains figurative. Once she has the image she wants, she takes it to a linoleum matrix, carves it carefully until she obtains the negative that she is going to ink, then prints it on high-quality Japanese paper.
This work, in its nobility and difficulty, brings to mind the preparation and care of a garden. The artist performs this ritual as a kind of meditation in movement, while the precise blows of the wedge discover the image. Her imagination takes wing in the created spaces, as it did in the garden of her childhood home. That is what the artist wants to convey to the viewer: she wants to share that experience and transmit her desire to preserve and care for nature.

Even when the landscape is urban rather than natural, she manages to capture and reproduce its essence. Here also, be it a set of buildings seen from a window, or a bridge seen in the distance between the clouds, the created space invites the viewer to flights of imagination.
What is captivating about her work, beyond the mastery with which she produces impressions that look like drawings, is its profound depth. One enters visually, and the imagination completes what is not seen. It transmits the peace and the majesty of the place, freeing it of all stridency.
Marina Wecksler

ARTIST STATEMENT
The Landscape has and will always be important to me. Throughout my childhood, it was a place of escape. Every time I felt a need to flee reality, which as a young artist was often, I would go into the yard, lie on my back and look up at the trees and sky. That feeling of escapism is one that I want to recreate and share with all who view my artwork.
My body of work explores our surrounding landscapes. It is a reflection of my experiences and road trips throughout our beautiful country.
On my journeys, I stop at National and State Parks, I hike, I learn about the location, and I collect my subject matter.  I enjoy creating traditionally based artworks on a grand scale that envelop the viewer. I get satisfaction from the hard manual labor work of relief printing by hand. These hand pulled prints are off multiple relief blocks, cut out of sheets of linoleum that are 36 inches wide and a minimum of 72 inches long. This is the true challenge, working on a grand scale to create one registered image.
Influenced by artist/print-maker Swoon, I want the viewer to feel as though they are physically present within these environments, experiencing a specific attribute of a particular landscape. Too much of our country's land has been destroyed by construction and over development. Climate change is playing an immense role in our surroundings and is changing the shape of our landscape.
My message is simple, to capture the environment in all of its pure and natural beauty, before it is permanently changed. My goal is to create works that allow the viewer to escape while inspiring them to preserve their precious surroundings.
---
more information on Jennifer Basile
---
Jennifer Basile's "Power of Print" exhibition at LnS Gallery
---
---
Aesthetics & Values, The Patricia & Phillip Frost Art Museum FIU, 2018