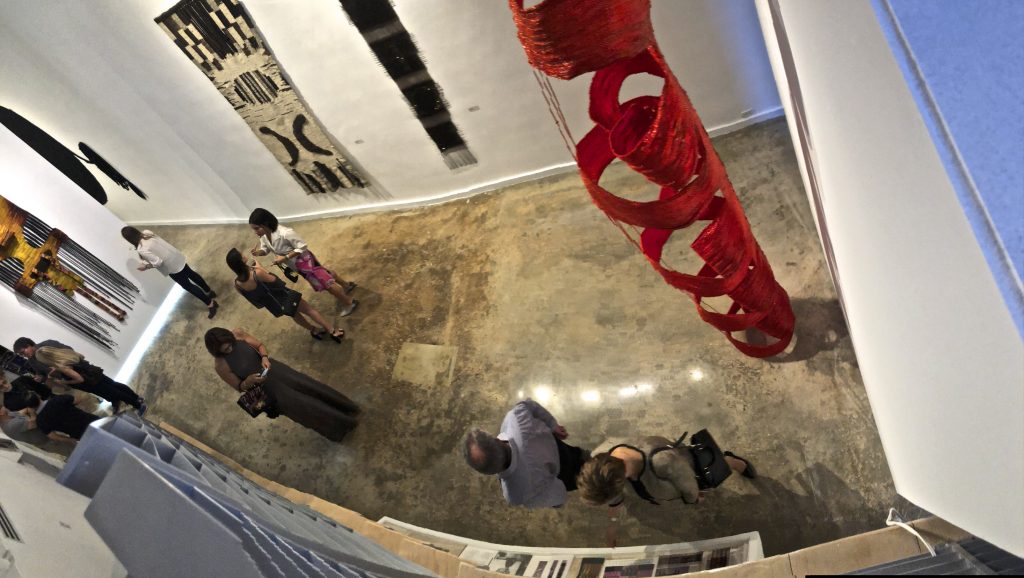 TBBox Art/Ideobox ArtSpace and Aluna Art Foundation "Women Weavers: the Warp of Memory"
The word textile comes from the Latin "texere" which means "to weave", "to braid" or "to construct," and is the common root of words like text and textile. T

here is a discourse that flows between the threads and the fabrics of the artworks by the women artists participating in this exhibition. They weave worlds as incarnations of the mythic Arachne, transforming the techniques of weaving in a practice that invokes a common memory. Through their pieces, they transfer memories of ancestral cultures into contemporary art. Their works reconnect us with nature and respond to the calling of what we have lost in history and now needs to be interwoven in our visions. As such, the spectator should walk carefully and attentively through the threads that connect the artworks of these contemporary artists.
Miami, FL. (August 2018) TBBox Art/Ideobox ArtSpace and Aluna Art Foundation are proud to present Women Weavers: The Warp of Memory, curated by Aluna Curatorial Collective. The exhibition includes artists from all the Americas, from Argentina to the state of Hawaii with artworks created in a period spanning from 1973 to 2018. The display includes pieces by pioneers with dazzling and continuous trajectories like Olga de Amaral (Colombia, 1932), and Stella Bernal de Parra (Colombia, 1932) the rediscovered creator of the same generation who made enormous wool sculptures and abstract three-dimensional tapestries exploring cosmic geometry. Women Weavers: The Warp of Memory will be on view at 2417 North Miami Ave, Miami, Wynwood, from September 14th through November 2th, 2018.
The exhibition also includes one of the first pieces of "Woven Conversations" by Colombian artist María Angélica Medina (France, 1939), whose contribution was vital for conceptualism and non-objectual art in her country. In addition to the Chilean pioneer Cecilia Vicuña (Chile, 1944) —a textual and weaving poet whose work contains the spirit of the offering, reverence for nature, and pre-hispanic memory. Alongside with them, there are artists in various stages of their practice who have experienced varying career paths. The interruption or delay of their trajectories in certain cases, does not invalidate the strength of the works, which when woven together in the same space truly create an extraordinary multigenerational conversation. Some of the artworks are open to be freely transformed in their display. Such is the case with Medina's woven pita fiber piece; with the Venezuelan Suzanne Noujaim's fabrics, which recreate everything from landscapes to political situations and can be worn or hung; and with the small carpets of irregular shapes in which the Brazilian artist Karla Caprali weaves imaginary places.
What these artists have in common is the use of textile fibers in artworks that connect us with spaces of a common memory. Some of them work with used materials: Rachel Schwartz uses hundreds of music tapes to create a magnificent flexible and dark tapestry; Agustina Woodgate makes abstract rugs with discarded stuffed toys, while Sylvia Denburg weaves maps with the traditional 'huipiles' left behind by the native women of Guatemala.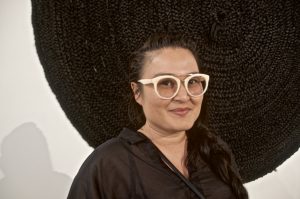 This connection with nature and the pre-Hispanic past is shared by various artists: Sandra de Berduccy, for instance, combines iconographies and ancestral weaving techniques with sophisticated lighting technology. Peruvian Cecilia Paredes stitches in a golden tapestry the chrysalides abandoned by butterflies, and explores the survival strategy of camouflage with a performance in which her body is hidden behind the fabrics. Akiko Jackson, born and raised in Hawai, creates vast installations with a long, black hair braid that she transforms in situ, expressing her ethnic heritage. Similarly, Frida Baranek evokes the hammocks of Pre-Hispanic America in metallic fabrics as part of her practice of sewing and recreating discarded objects which can no longer be used, but that births new vital understandings.
The ocean and all the life contained within it is omnipresent in the textiles and sculptures of American artist Mira Lehr,
who for more than 70 years has seen the tides gradually increasing from her shoreline house in Miami Beach. Marcela Marcuzzi, Mabel Poblet, Elysia Mann, Marina Font, and Norah Hernández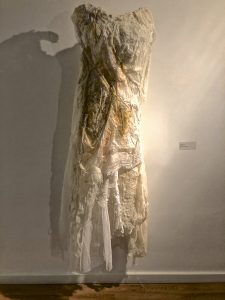 present works connected to the memory of women: from pieces embroidered in paper to installations made with cotton, silhouettes or words in fabrics which disintegrate, or illuminated dresses, they speak of the fragility and power of life. Their artworks span from the cellular universes to all that could be weaved or stretched atop the images of the feminine body. We are in any case, in front of art pieces which are moving because they are connected to their own biographies, and yet not less to history: of the continent, the women, the art, and of the socio-ecological thought. These are pieces which strengthen the interweaving of the common memory.
In ancient Andean mythology, where messages were transmitted through textiles and history itself was sewn, there was a belief that upon death the souls embarked on a journey until they reached a place where the wind blew strong in between hills. As such, people's lives and works acquired the form of a fabric, and only those which were strongly woven could resist the wind. This is the case of the works included in Women Weavers: The Warp of Memory.
Artista:
Frida Baranek,
Stella Bernal de Parra,
Karla Caprali,
Olga de Amaral,
Sandra de Berduccy,
Sylvia Denburg,
Marina Font,
Norah Hernández,
Akiko Jackson,
Mira Lehr,
Elysia Mann,
Marcela Marcuzzi,
María Angélica Medina,
Suzanne Noujaim,
Cecilia Paredes,
Mabel Poblet,
Raquel Schwartz,
Cecilia Vicuña,
Agustina Woodgate
Ideobox Art Space. Tel 305.576.9878 | 2417 N.Miami Ave, Miami Fl 33127
— with Mabel Poblet and Aluna Art Foundation.
---
MSA-X, Love this exhibition extraordinary Display of text tile art in the Americas. We thank the gallery for their conscious curatorial expressions. We hope to see more or Second exhibition, showing us another group of women artists in this field, Thank you and Thank all the artist, and hope you go to the show.
MSA-X, me encanta esta exposición extraordinaria exhibición de arte de textil en las Américas. Agradecemos a la galería por sus expresiones curatoriales conscientes. Esperamos ver más o Segunda exposición, mostrándonos otro grupo de mujeres artistas en este campo, Gracias y Gracias a todos los artistas, y espero que vayan al espectáculo.

catalogo