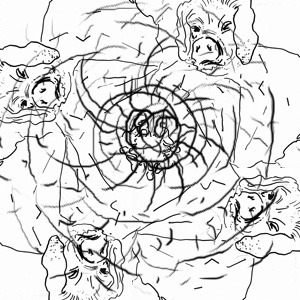 RECTUS – PECTIVA
(Relato)
Por: Dr. Pitt von Pigg Ph.DDD
El mundo del arte tiene sus momentos desalentadores pero también tiene sus momentos gratificantes. Sucede que en una de mis visitas durante el festival de Circa, en su último día, me encontré con uno de estos artistas jóvenes – cuyo nombre debo alterar para no caer en el vicio del chisme – de nombre Johnny Le Fontain. Johnny se me acercó con esa actitud oronda pero a la vez decadente con la cual estos chicos fans míos se me acercan cada vez que me ven por alguna calle, saguán o crack house, y me dijo; "doctor, ¿puedo hablar con usted un ratito, you know?" A lo que le contesté: "Shure, why not!" Luego de dar un último vistazo por el garaje de pulgas junto a Johnny, salimos en su BMW hacia el Viejo San Juan. Allí Johnny parqueó en la calle Norzacaray y nos dirigimos al bar La Esperanza – garita fantástica donde los ya decesos Agustín Larga y Sylvia Remach se inyectaban morfina y fumaban ghangy allá para la década del 40. Esto lo recalco porque los nenes de ahora se creen que se meten de la verdadera cuando en verdá verdá nosotros los ya pasaditos de los 60 somos los verdaderos papases y mamases de la generación '0'. Nosotros eramos pues de la llamada generación 'why not?'.
Ya dentro de la barra nos sentamos al fondo del pasillo. Johnny con una cerveza y un palo de whiskey Pappa Ganger, y yo con mi chichaito. Y empieza Johnny a contarme del caso. Sucede que el Museo de Arte Posmoderno de Puerto Rico-USA (PIMAMPRUSA – por sus siglas en inglé) , pero que los chicos anarquistas intelegtuales de la UPR y la EAPSJ le llaman MAMPRIOLA de forma jocosa y burlonsita, anunció en el periódico El Nuevo Guelbo que habían espacios disponibles para exponer arte. Este oportunidad formaba parte del Programa de Artes Pederastas, fomentado y auspiciado por la Cuban American Mafia Program For Future Republicans (CAMPFR – por sus siglas en inglé). El comunicado, según Johnny, decía: "Space available for the exposure opportunity and commonwealth of the new comers in the field of the Arts, whatever that may mean." Johnny pues, tenía en su resumé todos los requisitos. Arrancó la página del periódico, llenó la solicitud y la envió por correo a nombre de la oficina de la directora , la doctora Lucrecia Rossetta de Rottela, afamada concedora de las artes insulares y miembra de la Whip of Cream Club (WCC – por sus siglas en inglé). A la semana o dos Johnny recibió contestación de que yes, le ivan a dar un espacio para el verano próximo, y Johnny estalló de alegría. Rapidamente empezó a encocarse, dígo, a organizarse y comenzó a preparar las piezas que constituirían la expo. Ello debía incluir ejemplos de todo los medios donde había expresado su vasto talento, esto es: 30 fotos digitalzadas, 42 esculturas en papier maché, 24 pinturas en acrílicos y 200 dibujitos en magic marker y crayolas de color. Se vistió bonito y fue a la entrevista ya programada por la curadora del Museo, la doctora Mother Mary Lambert, mejor conocida como 'Mammi'. Ya, en el vestíbulo del local Mammi lo dirigió a la oficina de la doctora.
En este punto, Johnny pidió otro round de cerveza, whiskey y chichaito, y empecé a notar cómo, a medida que Johnny hablaba los ojos se les ivan aguando, como si quisiera llorar pero aguantao. Y ésto fue lo que Johnny me contó que se sucitó ya dentro de la oficina de la doctora Rossetta de Rottela. Artista al fin, de agudo fijamiento en los details, Johnny me dijo que la doctora era una mujer de apenas 4 pies de estatura, cuyos taconsitos de estileto quedaban guindando desde una butaca churrigueresca de formas leontinas, supuesto adefecio de coleccionista donde el gobernador de PR, el Conde de Girasol posó sus suculentas nalgas allá para el siglo XVIII. La decoración de la oficina semejaba un dungeon medieval y sin ventanas pero donde el aire acondicionado estaba a todo gender como para congelar huesos. Bueno. Johnny tocó la pared de piedras ciclópeas pero para su sorpresa eran hechas de plástico. Mmmm. La doctora se dirigió a Mammi y con ronca pero melódica voz le pidió que fuera de inmediato a buscar los utensilios. Enseguida Mammi se escurrió por la puerta de aldabas. Luego, mirando profundamente a los ojitos de Johnny, dijo:
-LRR: "Acércate. No tengas miedo. ¡Sentate bambino! Estudiamos su Corriculum Vitae y debo afirmar que nos fascinó, y en especial las esculturas de papier maché. Nos gustaron mucho porque se parecen a los cabezones de la Calle San Sebastián, y todo lo que se parece a, es aceptado por la junta del zanedrín. Good. We like you. A la señora Durel no le gustaron los dibujos de crayolas porque dijo que parecían copiados pero yo le dije que hoy en día lo copiado también es aceptado. Lo único que no aceptamos es todo aquello que se salga del mainstream y pueda ofender al gusto popular."
-JLF: "Ay, gracias doctora. Estoy tan tan tan tan agradecido de que este prestigioso Museo acepte esponer mis humirdes trabajitos. Sabe, yo estaba pensando en una retrospectiva, ya que llevo algunos cuatro añitos sin exponer ni papa y usted sabe lo difícil que es encalambrarse en este mundo de las bellas artes. Imagínese, exponer donde han expuesto artistassss tan prestigiosos como Acocoa y Calzoncilla, Jorge Petto, Carmelo Filigrana y Noemí Peluzza de Camp, es para mí un verdadero verdadero verdadero placer."
-LRR: "Ok. ¡Basta de jilipolleses y lambeculadas! Vamos al grano. ¿Leyó usted bien todos los pormenores de la exposición?
-JLF: "Sí señora."
-LRR: "¿Hasta las letras chiquitititas?"
-JLF: "Sí señora. Todo lo leí."
-LRR: "El Kool-Aid lo ponemos nosotros. Las mesas las pone usted. Los manteles y los quesos los pone el Museo. Los meseros los pone usted. La luz y el agua la pagamos nosotros. El vino y la coca-cola y el hielo y la champaña la pone usted. Las paredes las ponemos nosotros. La producción de los opúsculos y las invitaciones los pone usted. La lista de invitados y coleccionistas y el parking lo pone el Museo. El comunicado de radio y prensa lo pone usted. El fotógrafo y el video lo pone usted. ¿Entendido?"
-JLF: "¡Perfecto!"
-LRR: "Pues bien. Ahora viene la ininciación."
-JLF: "¿La ininciación?
-LRR: "Pues sí que sí. ¿O creía usted que las oportunidades en la vida son gratias, así como sale el sol toditos los días?"
Y diciendo esto la doctora brincó de la butaca y pegó un grito ensordecedor que hizo que las paredes de bloques ciclópeos de plástico vibraran vivrantemente, y los tímpanos de Johnny se extremecieran.
-LRR: "¡Mammi!…"
…y entonces Mammi entró de repente, como si estuviese pegada al exterior de la puerta esperando a ser llamada.
-MML: "¡Mande!"
-LRR: "¿Los utensilios?"
-MML: "¿Usted dirá 'los aparatos'?
-LRR: "Aparatos, utensilios. ¿Qué carajos importa cómo le llames? Terminemos ya con esto, que hay otros elegidos por atender y mi tiempo es corto. ¡Cierre la puerta, ponga la música, atenue el dimmer y despliegue los… aparatos sobre la mesa! Proceda".
En este punto de la conversación, y ya en llanto, Johnny se cubrió la faz y me dijo: "Ay doctor doctor doctor doctor… hay cosas en la vida que uno quisiera desaparecer. Quiero decir, desaparecer la cosa y desparecer uno mismo". "Johnny, Johnny", le dije. "Deja el lagrimeo y desembucha. Hay veces en la vida que los verdaderos hombres tienen que tragar y tragar sin poder exputar, pero desembucha ya que me está comiendo la, la, la curiosidá, ¡niño, please!". Y Johnny prosiguió contando.
Mother Mary sacó de un maletín de cuero curtido un pote de manteca de cerdo Grisgow, un consolador de 12" color rojo plegado a un cinturón de alpinista, unas esposas de hierro y por último pero no menos importante, un hueso de goma. Todo lo puso sobre el escritorio. Entonces Mother Mary le cubrió la vista a Johnny con un pañuelo negro que amarró muy apretadamente alrededor de su cabeza. Disminuyó la intensidad de la luz. Puso la pieza musical de Iron Man de Balck Sabbath a todo volumen y cerró la puerta con una aldaba de acero fruñido. Entonces lo mandaron a bajarse los pantalones y los jokies hasta los tobillos, le pusieron el hueso de goma en la boca, lo doblaron apoyado sobre el escritorio churrigueresco y alguien, supuestamente la Mother, le embadurnó el ojo del ano con la manteca luego de haberle esposado las manos hacia atrás con las esposas de hierro. Al otro lado de la oficina la doctora Rossetta, parada en aris con sus manitas manicuradas posadas en las caderas, ordenó a MM colocarle el cinto con el monstruoso artefacto de martirio y dijo locuaz y sardonicamente:
-LRR: "Ahorita mesmo va a ver usted lo que es una … ¡RECTUS-PECTIVA!"
-JLF: Escupiendo el hueso, exclamó: "¡Peroperoperopero yo pensé que le dije que se trataba de una, que yo quería una, que yo pedía una retrospecti…"
-LRR: "Ah, por eso le pregunté que si había leido las letritas chiquitititas. ¡Mammi, pónle el hueso de vuelta a este maricón que ahora va aver lo que siente una mujer violada! Espero que después de esta… ¿ininciación?, no vuelva a ser usted el mesmo. De hecho, va a caminar diferente."
La maldita y proxeneta y alcahueta de la chupacabras de Mother Mary se reía y se reía a carcajadas diciendo: "Oh Lucy, you are one of a kind!", cuando…
AAAAAAHHHHHHHHHHHH-IIIIIIIIIIIIIIIIIIIIIIIIIII! POP!
Desflorado para siempre y con el óculo cuan si dona del Donkins Doughnut, el pobre de Johnny salió quebrado. En el Hospital Aullido Mutuo le tomaron 7 puntos de sutura. Estuvo una semana sin poderse sentar.
Pero…
Salimos del bar a eso de las 2:00am. Yo tendí mi brazo derecho alrededor del los huesudos hombros de Johnny y le dije: "No te preocupes. El éxito tiene su precio. Yo también he mordido el hueso… Al menos hemos tenido nuestros 15 minutos de fama."
Y Johnny me miró con ojos de lagarto muerto, y me dijo: "Usted dirá 15 minutos de …
Fue una experiencia tan desagradable que… Quizá es cuestión de acostumbrarse. You know."
Caminamos juntos hacia el BMW.