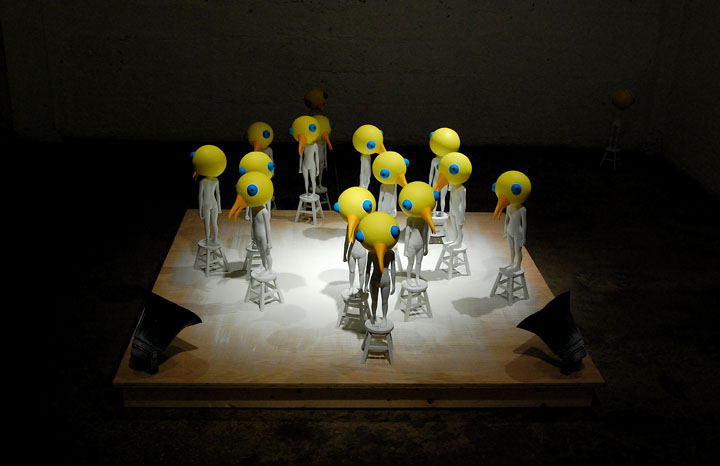 We loved this show with it's little sculptures and larger work of the same small works, the painting where rather strange in atmosphere a little to slick but did work well with the layout of the space thanx Joyce Ho.
03-13-10 – Joyce Ho – Transitions – Curated by Victoria Lu, curator of the Museum of Contemporary Art, Shanghai
Gardener of the Spiritual Garden – The Artistic World of Joyce Ho
Written by Victoria Lu- Creative Director, Museum of Contemporary Art, Shanghai
The privacy and mystery of the codependent relationship between Joyce Ho and art allow her painting style to be naturally formed. Through it, she directly and instinctively depicts the sentiments of her inner world towards life, and the people closest to her, her family, and herself. Joyce Ho has a preference of utilizing a bright tone of yellow, which in ancient China only the royal family was allowed to use. In her eyes, only solemn colors such as this can illustrate the tense relationship between the spiritual worlds of every person. The characters of her creation seem to be frozen in the instant of their confessions, seconds before they reveal their innermost thoughts, thus leaving the audience with the curiosity of the things to follow: What now? What happens next?
Joyce Ho's paintings are images given by nature, and through them she strives to convey her perceptions in their purest form, without the influence of other artists. Her independent and confident nature reflects her fearless and difficult-to-approach monologue. Her sincere and unique style is the reason her name quickly achieved recognition in the art scene; she had her own image from the very beginning.
Joyce Ho's first solo exhibition was at Moon River in Beijing. At that time I was in the planning of a contemporary art museum tailored exclusively for Asia, organizing a co-op gallery together with a group of young people of the Moon River community. The solo exhibition Joyce Ho held then was named In Between, in that opportunity she exhibited works of indoor paintings, sculptures, installations, and a 3-feet outdoor sculpture fountain known as SWOP. The degree of completion and scale of her works reflected her strong ambition, not to mention leaving quite a lasting first-impression as well.
From a theoretical analysis perspective, Joyce Ho's artworks tend to have a "psychoanalytical" magical realistic style, but uses flat colors to represent characters and especially the background. This peculiarity differentiates her style to the European and Central-South American magical realism.
After obtaining the Juror's Special Prize award from Kobe Biennale Art in Container International Exhibition, Joyce Ho recently participated in a biennale organized and held simultaneously by four art museums in China and Taiwan. Furthermore, she has been selected by the Museum of Contemporary Art Taipei to orchestrate the group exhibitions of Taiwanese new generation of artists touring in Shanghai and Beijing. Truly, Joyce Ho has become one of the most representative figures of Taiwanese contemporary art after the decade of the 80s.
the web site of Praxis
other site
JOYCE HO PAINTINGS