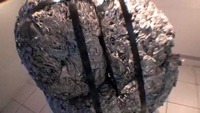 "Inercia" de Carlos Damian Gil Rivera en la 65 Puerto Rico 2009
It was so great to see interesting works, a surprise, we thank that art is out there and working it way's, a must see show, here or live,we loved the project of the portable house, reminds us of a work found in october of Cambridge Press.
Great show………. work on .