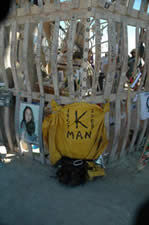 We where so happy to see the kman in burning man taken there by one of hour beloved friend Rocky Lyons here are some images of the Burning Man experience by our friend The Rock .
thanx Rocky
WHAT IS BURNING MAN?
Trying to explain what Burning Man is to someone who has never been to the event is a bit like trying to explain what a particular color looks like to someone who is blind. In this section you will find the peripheral definitions of what the event is as a whole, but to truly understand this event, one must participate. This site serves to try to paint a picture of the Burning Man experience to those who are new to the project, as well as to give those participants looking to keep the fire burning in their daily lives an environment in which to connect to their fellow community members. For a brief yet eloquent overview of the entire event from the time of arrival to the time of exodus, please read "What is Burning Man?", an essay written by participant and one-time web team member, Molly Steenson. Please see archived sections for each year to read more about the art themes, art installations and theme camps for each year.