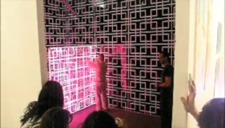 We had the pleasure of viewing this fair and finding a large participation by Puerto Rico Artists. We were also able to see a great collaboration between the Puerto Rican Artists. Thanks to Arnaldo Morales for all his help.
Also thanks to Pedro Vélez for FGA.
photo MIAMI, the only fair during Art Basel Miami Beach dedicated exclusively to contemporary
photography and media based art, offers an expansive and immediate overview of these current
international trends. It showcases a range of established to emerging galleries, presents curated
sections by global artists and curators, and partners with local and international art institutions. This year the fair will host an even greater number of selected exhibitors from 11 countries. 60 galleries will be represented at photo MIAMI
Highlights of the fair include invitational solo projects by artists including Alex Prager (Robert
Berman Gallery) and Lidia Benavides (Estiarte) and Timothy Greenfield-Sanders' premier
showing of his photographs of returning injured soldiers from Iraq (Wetterling Gallery). Madridbased
independent curator and writer Paco Barragán will curate "The Last Painting Show," a series of works investigating traditional aspects of painting through a combination of media based arts and installation.