Chitra Ganesh "Dreaming in Multiverse" Patricia & Phillip Frost Art Museum
Chitra Ganesh draws on Buddhist and Hindu iconography, science fiction, queer theory, comics, Surrealism, Bollywood posters, and video games, to inform her illustrations and drawings. This exhibition presents a major wall installation, a series of recent prints, and several video animations that exemplify her practice of experimental storytelling.
Thirteen digital prints collectively titled Multiverse Dreaming are inspired by a popular comic book series, issued by the Mumbai-based publisher Amar Chitra Katha in the mid-1960s. The publisher became renowned for its comics and graphic novels rooted in Indian mythologies, folklore, and epic tales. The nonlinear narratives of Ganesh's prints focus on themes of reflection, regeneration, togetherness, and desire in times of uncertainty. While the imagery taps into a collective memory for many Indians, who have grown up reading these comics, Ganesh stretches the familiar to interweave utopian possibilities into visual idioms and poetic texts.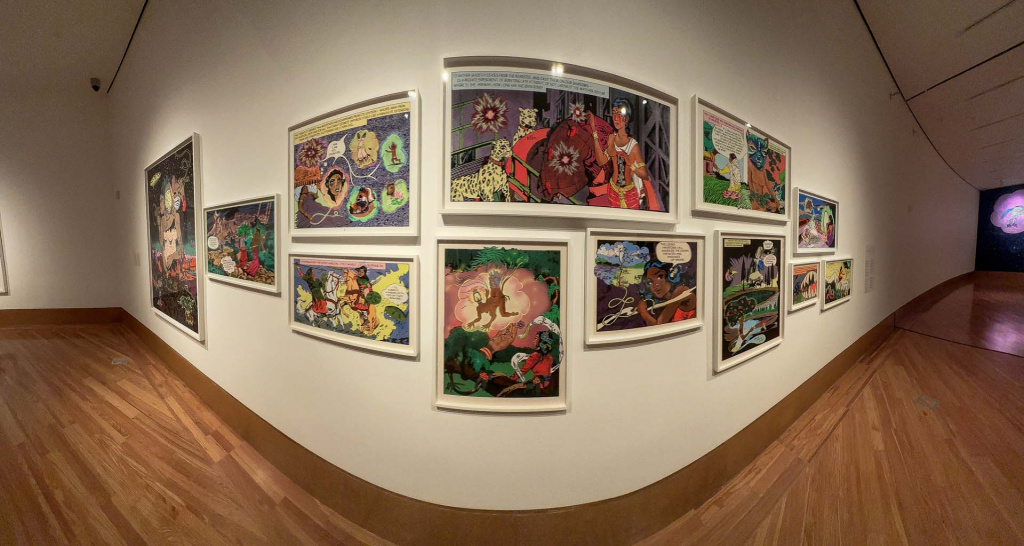 The project notably centers women and queer relationships, reorienting traditional narratives around experiences and communities that have been marginalized or ignored throughout history and in the contemporary art world.  A selection of Ganesh's animations will be screened, including her latest animation, Before the War (2021). Described by the artist as "an open-ended narrative of memory, love, and loss," the visual storytelling, combined with music and lyrics by the singer and songwriter Saul Williams, probes how personal and political conflict can generate profound transformation.
This exhibition is curated by Meredith Malone, Ph.D., Kemper Art Museum, Washington University, Saint Louis.
About the Artist
Chitra Ganesh (b. 1975 Brooklyn, New York) received a BA in art semiotics and comparative literature from Brown University in 1996. She attended the Skowhegan School of Painting and Sculpture in 2001 and received her MFA in visual arts from Columbia University in 2002. Her work has been widely exhibited both nationally and internationally, including solo presentations at the Leslie-Lohman Museum of Art, New York; The Kitchen, New York; Rubin Museum of Art, New York; MoMA PS 1, New York; Andy Warhol Museum, Pittsburgh; Elizabeth A. Sackler Center for Feminist Art at the Brooklyn Museum; and Göteborgs Konsthall, Sweden. She has also been represented in numerous group exhibitions, including at the Bronx Museum of the Arts, New York; Berkeley Art Museum and Pacific Film Archive, University of California; Hayward Gallery, London; Queens Museum, New York; Museum of Contemporary Art San Diego; Pennsylvania Academy of Fine Arts, Philadelphia; Baltimore Museum of Art; MoCA Shanghai; Kunsthalle Exnergasse, Vienna; and Kunstverein Göttingen, Germany.

Her work is widely recognized in South Asia and has been shown in New Delhi (Indira Gandhi National Centre for Arts, Devi Art Foundation, Travancore Palace), Mumbai (Prince of Wales Museum), and Bangladesh (Dhaka Art Summit at Shilpakala Academy). Ganesh is the recipient of numerous awards and fellowships, including an Anonymous Was A Woman award; Robina Foundation Fellowship, Schell Center for Human Rights, Yale University; Hodder Fellowship, Lewis Center for the Arts, Princeton University; John Simon Guggenheim Memorial Foundation Fellowship in the Creative Arts; Joan Mitchell Foundation Award for Painters and Sculptors; and grants from the New York Foundation for the Arts; Printed Matter; Art Matters; and the Pollock-Krasner Foundation. She is associate professor of art at Hunter College, New York. She lives and works in Brooklyn, New York.
ArtWorks