Ambrose Murray "Violet" N'Namdi Contemporary, Miami 2021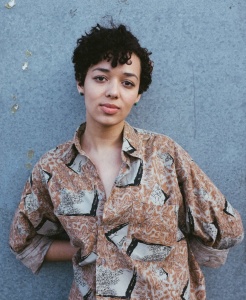 Ambrose Murray
Ambrose Murray (b.1996) is an emerging artist from Western North Carolina with roots in Florida. She is a self-taught painter and seamstress who received her BA in African-American Studies from Yale College in 2018, concentrating in arts & culture. She has recently completed a year-long residency at the Mississippi Center for Cultural Production in Utica, MS as their inaugural Artist-In-Residence. Ambrose has received numerous grants and awards for her work as an artist, including Presidential Scholar in the Arts, Gordon Grand, and Cohen Public Service Fellowships, SpiritHouse Inc. Sankofa Cultural Alchemist Award, and most recently, Alternate ROOTS Project Development Grant. Her work has been exhibited throughout the United States with upcoming solo shows in both Miami & New York. Ambrose lives & works between North Carolina, Florida, and most recently, Maryland.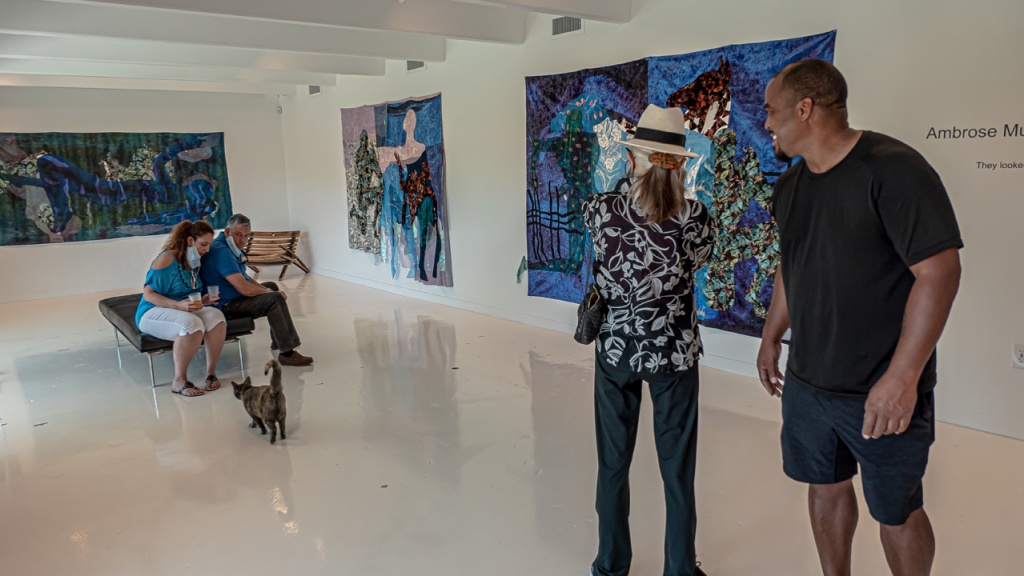 Artist Statement:
My current works are large-scale collages. I assemble them by deconstructing and then reconstructing my paintings of faces, bodies, plants, and animals with layers of fabric and miscellaneous materials. Many images come to me in dreams or daydreams. My process is an exploration of our bodies and land as sites of historical memory and mystical/imaginative potential. The act of making it through college becomes a process to imagine and visualize the complex layers and depth of the story that live within our bodies. Through processes that deepen my relationship to my materials, texture, and color, my practice becomes a space to physically re-member and reconstruct the stories and relationships that have been pulled apart and dismembered across generations. Each piece is spiritual. My practice becomes a place for me to contemplate and imagine the thin veil that exists between the spirit world and the physical world, both within our bodies, across the land/weather, and all around us.

My work continues to be heavily influenced and inspired by the work of artists, visionaries and institutions including Hortense Spillers, Alice Walker, Saidiya Hartman, Toni Morrison, Christina Sharpe, Fannie Lou Hamer, Elizabeth Alexander, Crystal Feimster, Nikky Finney, Terrance Hayes, Maya Angelou, Octavia Butler, Titus Kaphar, Kenturah Davis, Zora Neale Hurston, Amani Lewis, Gerald Sheffield, Mark Fleuridor, Valerie June, adrienne maree brown, Natalie Ball, Wangechi Mutu, Maria Magdalena Campos-Pons, Billie Holiday, Thomas Hirschorn, the Studio Museum in Harlem and the Brooklyn Museum, Wendi and Mandisa Moore-O'Neale, Southerners on New Ground, angela davis johnson, Alvin Ailey Dance Theatre, Beverly Buchanan, BMike Odums, Dwight and Dolly Mullen, Mark Bradford, Abbey Lincoln, Shuvonda Harper, Soul Fire Farm, Marisol Jiminez, Meshell Ndegeocello, Augusta Savage, Roy Harris, SpiritHouse Inc. and the whole tribe, Nina Simone, Nicole Townsend, the Mardi Gras Indians, Carlton and Brandi Turner, Alternate ROOTS, my mother Tamiko Ambrose, my grandmothers Pamela DeNeuve and Sherry Lagergren Murray, and so so so many more. The list is always moving and growing, depending on the day.
---