---
Raul Cordero "The ABC of it" Fredric Snitzer Gallery, 2021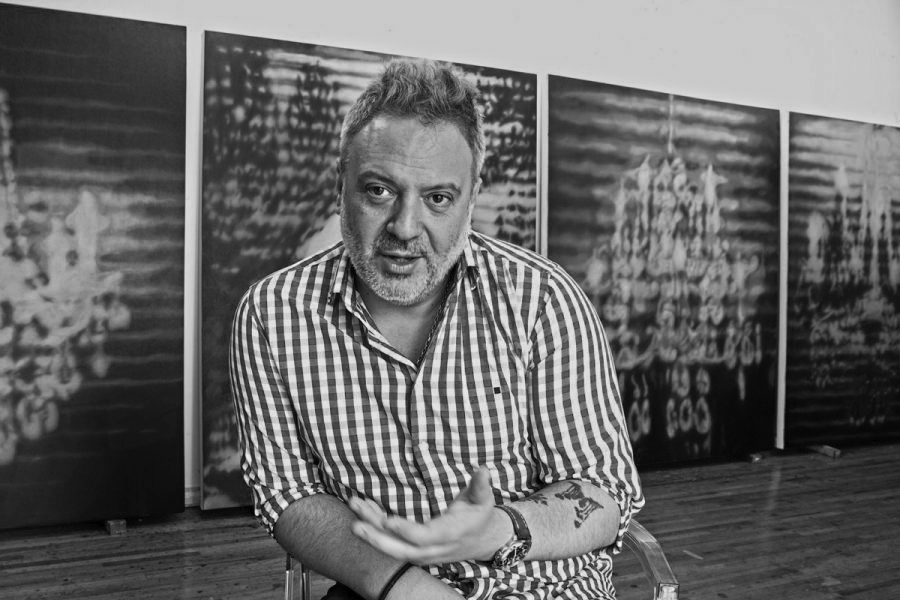 Fredric Snitzer Gallery is pleased to announce, The ABC of it, Raúl Cordero's first solo exhibition with the gallery. Cordero's exhibition presents an ongoing investigation into his conceptual approach to painting – a combination of blurred images reduced from their initial information with layered texts that are rendered from typography the artist has designed out of fragmented dots not easily read upon first glance.

 Cordero's paintings, the mismatch between texts and images, resembles the constant state of distraction we live in: we look at something while thinking of something else at the same time. The main intention of this text, given its visual fragmentation, is to slow down the process of looking, disrupting the initial reading of the picture plane between layers of text and image.
When broken down by images, Cordero shows us what he calls "the three ranges": one, is a wide-open space (landscapes or general scenery); the second, gather things and people we are surrounded by (objects light, shadows, portraits, interiors) and the third, is a metaphorized representation of the quantum reality (energy particles, vibration); that is, what we can't see but only feel, what we and everything else is made of.
These two elements, imagery, and text, are two language systems invented by human civilization in order to record and spread information throughout history. These visual and textual languages have no translation or compatibility between them, both are used as a complement to another to serve humanity to create truths, inform, educate, or indoctrinate, among other functions. Cordero uses visual and verbal in a paradoxical way to displace their intended function as communication.
Raúl Cordero, born in Havana, Cuba, in 1971, studied art in his native city at both the Academia San Alejandro and the Instituto Superior de Diseño, and in the Netherlands at the Graphic Media Development Centre, The Hague, and the Rijksakademie Van Beeldende Kunsten, Amsterdam. Cordero's works have recently been shown at Mai 36 Galerie in Zürich, Museo Nacional de Bellas Artes in Havana, and El Espacio 23 in Miami. His work can be seen in public collections around the world, including the Musée National D'Art Moderne Centre Pompidou in Paris, France; Los Angeles County Museum of Art (LACMA), The Museum of Contemporary Art in Los Angeles (MOCA), The Museum of Contemporary Art San Diego, The Pérez Art Museum Miami (PAMM) and the Museum of Art Fort Lauderdale, in the United States of America; El Museo Nacional de Bellas Artes, in Cuba; The Stedelijk Museum Voor Actuele Kunst (SMAK) in Gent, Belgium; El Centro Atlántico de Arte Moderno (CAAM) and Museo Extremeño e Iberoamericano de Arte Contemporáneo (MEIAC) in Spain; among many others.
---
---
---
---
RAÚL CORDERO: The ABC of it, solo exhibition at Fredric Snitzer Gallery from Raul Cordero Studio on Vimeo.