Dan Flavin, Institute of Contemporary Art, Miami, 2019
Best known for his iconic works featuring industrial fluorescent lights, Dan Flavin (b. 1933, Jamaica, New York; d. 1996, Riverhead, New York) is a central figure of American art. Building on Puerto Rican light (to Jeanie Blake) 2 (1965) in the museum's permanent collection, one of the artist's early signature fluorescent tube light sculptures, ICA Miami presents a focused presentation of his works from the mid-1960s.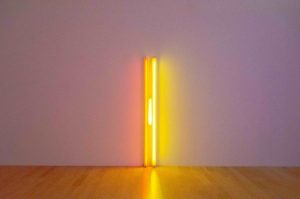 The title Puerto Rican light (to Jeanie Blake) 2 refers to an employee at Green Gallery, New York, Jeanie Blake, who remarked that the artist's use of bright red, pink, and yellow colors reminded her of "Puerto Rican lights." Flavin's 1963 exhibition at Green Gallery was his first entirely composed of works made of fluorescent light and marked a major turning point in his career and the development of his signature Minimalist language.
Flavin often added parenthetical dedications to friends, family members, artist colleagues, or historical figures (often painters) to his titles, inserting social and art historical references into otherwise Minimal works. The presentation at ICA Miami gathers intimately scaled pieces from the mid-1960s that explore Flavin's interest in the sculptural and painterly qualities of color and light and their relationship to built space. In addition to Puerto Rican light (to Jeanie Blake) 2, a tall, vertical arrangement of fluorescent tubes, which relates to the human body in its size and warm hues of pink, yellow, and red, the exhibition features the rectangular-shaped a primary picture (1964), consisting of the primary colors red, yellow, and blue, as well as four red horizontals (to Sonja) (1963).
A major traveling retrospective devoted to Flavin's work was organized by the Dia Art Foundation in association with the National Gallery of Art, Washington, DC, in 2004; other major solo exhibitions have been presented at the Museum of Contemporary Art, Chicago (1967); Museum Boijmans van Beuningen, Rotterdam (1975); Stedelijk Museum Amsterdam (1986); Menil Collection, Houston (2003); and Museum Moderner Kunst (MUMOK), Vienna (2013). Long-term and site-specific installations are located at the Chinati Foundation, Marfa, Texas; Dia:Beacon, New York; Hamburger Bahnhof – Museum für Gegenwart, Nationalgalerie Berlin; Menil Collection; and Stedelijk Museum Amsterdam, among others. Flavin's work has been included in key group exhibitions, including Primary Structures, The Jewish Museum, New York (1966); Minimal Art, Gemeentemuseum, The Hague (1968); and documenta 4 and 6, Kassel, Germany (1968 and 1977). His work can be found in significant international museum collections worldwide.
This exhibition is organized by ICA Miami and curated by Stephanie Seidel, Associate Curator.
---