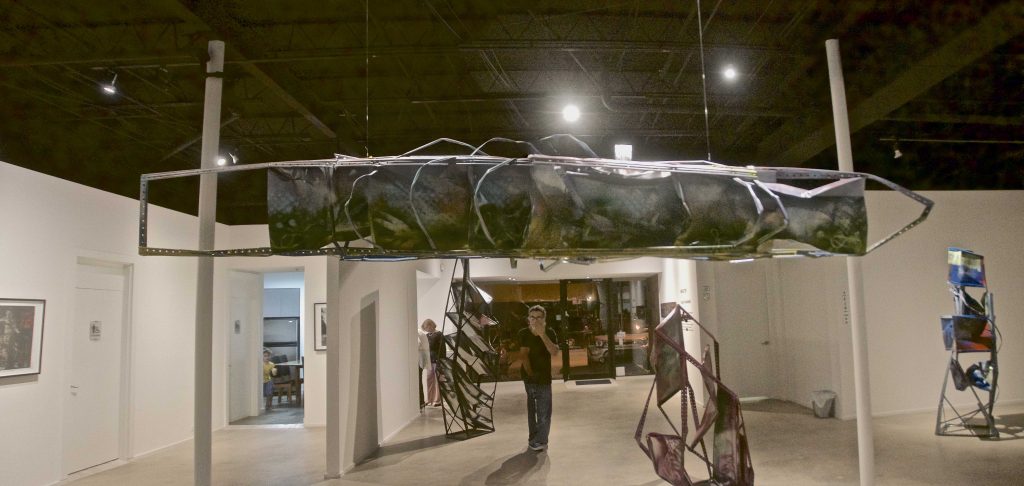 REDACTED by CÉSAR TRASOBARES
Launching its second Fall Season, LnS Gallery presents REDACTED, an exhibition by César Trasobares. Featuring a suite of recent
constructions made with recycled metal bookshelves, the show also includes special pieces in various media and a site installation in our project space, LØUNGE. The exhibition is documented by a catalog.
Through his installations and exhibitions of the last 40 years, Trasobares has engaged official display furniture as metaphors for the indexing, studying and presenting of cultural artifacts and scientific specimens. In a surprising reversal, these recent works embody an intentional makeover of the functional, culture-organizing objects into unusable enigmatic structures.
ARTIST BIOGRAPHY AND STATEMENT
César Trasobares is an artist, curator and author based in Miami. Over the past 40 years he has worked in various media and has engaged a broad scope of subjects in his work. He has been included in most of the major national and international exhibitions featuring Cuban-American artists. His sculptures, constructions and drawings are in numerous museums and private collections.
"I have worked with paper currency for more than twenty years, transforming actual billetes into various objects and poetic sculptural constructions. Overprinting dollar bills with images of iconic artworks questioned the fluidity of economic value in contemporary art and the evolving repositories of wealth. Shredding, cutting, staining and converting paper money into landscapes, rings, flowers and myriad enigmatic objects have been directions driving my practice. The transformation and mutability of materials, the formulation of post-institution creative expression and the urgent need to embrace new cultural and ideological hierarchies continue to inspire my intentions."
Trasobares emigrated from his native Cuba with his family to the United States in 1965 as a teenager. He attended American universities and received a liberal arts training focusing on art and art history. He worked as an education administrator and in art management as the Director of Miami-Dade County's Art in Public Places program. He is currently retired from full-time public service. He continues his advocacy for artists' rights and cultural literacy.
catalog