LOS PLATILLOS VOLADORES DE JOSÉ LUIS VARGAS

EXPOSICIÓN: "EXORCISMO INEVITABLE: ¿POR QUÉ SEGUIMOS POSPONIENDO LA FECHA?"
Exposición de José Luis Vargas en el Arsenal de la Puntilla. I.C.P.
¡Excelente exposición! Tuve la oportunidad de presenciar esta exposición – aunque debo admitir que el ICP debería contener más facilidades para los que asistimos en silla de ruedas, además de separar un día, o varios, para el que tullidos como yo puedan ver las obras sin la necesidad de tener que esperar a que la multitud se disperse o el que algunos curiosos miren a uno como si uno también fuera una obra de arte. En este sentido, me enfogonan los mirones y ligones. Tengo un amigo ciego donde en una ocasión fuimos a ver la obra de Aarón Salabarrias y no nos dejaron entrar dado que no admitían perros guías. Horas y horas pasaron mientras yo, mi amigo ciego y los dos cabezones de la ambulette que nos llevaron hasta San Juan discutíamos con el guardia sobre si el perro (Harry) era una mascota o un perro guía, y nada. "Un perro es un perro", dijeron. El guardia llamó: "Code yellow, code yellow!" por radioteléfono a dos guardias más, y se apostaron con cara de guapo frente a las puertas de la galería para cuidar que no pasáramos. Ya desesperanzados y desesperados, yo me tomé la iniciativa de empezar a gritar a pulmón partio dónde estaban los encargados (¿directores, managers, quality control?) y nadie se acercó a nosotros. Hasta nos argumentaron que si el ciego, que era ciego, cómo iba a ver las obras y hasta que si el perro era telepático. Cuando ya la cosa parecía tomar otro rumbo (por desgracia había dejado mi revólver en la égida) tuvimos que marcharnos y conformarnos con ver la exposición de Aarón por Internet.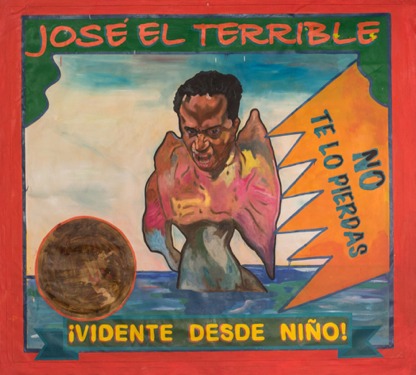 José Luis Vargas es un visionario, y esto se recaba cuando leemos la entrevista que le hizo Elsa María Meléndez para Visión Doble. En su obra, como muy bien él detalla, vemos visos del nativismo folclórico, personajes de nuestra historia colectiva, como citaciones de orden personal. José Luis participa, de lo que acá en la "isla" llamamos con el mote de "visión de la otredad marginada" y, ya, trasvasando los límites de nuestro "imaginario fantástico" (o vice-versa) el artista se regodea y purifica en esa misma intravisión de un colectivo que cree carecer de identidad (cuando en verdad la tiene) y siente como cosa horripilante el verse, el reconocerse a sí mismo dentro de las vísceras de su propia alma latinoamericana/caribeña. Pensemos en los tiovivos de las fiestas patronales, en sus colores brillantes a base de aceite, en las carpas de circos nómadas, pensemos en el "Santo contra las momias de Marte", en los platillos voladores de la ruta de Lajas y avistados en tantas otras localidades de nuestro entorno archipiélago, pensemos en los santos de yeso que descansan sobre los pedestales de nuestras iglesias y nos catan con ojos de vidrio, en el ectoplasma de nuestros espíritus capturados en tantas postales decimonónicas, en el gusto kitsch regodeado de misticismo primitivo, pensemos en los bustos de indios foráneos en nuestra santería, en el arte haitiano y en la factura de su instinto naïf traído y recapitulado a su manera por el artista, pensemos en el Maestro Albizu radiado con el aval de nuestro propio gobierno asesino y sicofante, pensemos en el balazo a los cojones de Toño Bicicleta, en el garadiábolo de Garamendi comiendo uvas playeras entre los mangles de la Parguera, pensemos en el destello africano de nuestras raíces cimarronas, jíbaras, aindiadas y criollas, aunque se nos clave un puñal en nuestro instinto de colonizado, aunque se nos dé una patada en el esófago por ello… Aquí está todo señores, a la vista y al plain air mediante unos lienzos de tamaño mayor, mediante unos dibujos impecables y líricos, pues José Luis amolda el tema a través de una mano poética, una brocha justa y diáfana, sin mentiras ni artificios. El Espacio, en la obras de tamaño mayor como en muchas de las pequeñas, acentúa el ondeo de los platillos, los garadiábolos flotando, las palmas esquemáticas, la trillada muchedumbre  y todas sus Formas. El color es el de una máscara de vejigante, con escarcha, con brillo, con sabor a congó, buen humor, con rasgos de desgaste en los materiales, de desuso, de nostalgia por tiempos más auténticos, más sencillos. Pero hay aquí algo más profundo; existe un dolor, una incertidumbre, una batalla espiritual, un halo de lástima, un instinto de algo que perdimos y que sabemos no ha de volver, una pesadumbre por el entorno, un amor profundo a nuestra patria y a nuestros niños que se separa por completo del arte oficialista de raíces neo-inter-apropo-dada-bull… El arte aquí está en la metáfora única del autor para dirigirse y comunicar a su público esos retazos, esas manchas, esos rasgos, esos espacios "casuales", esas marcas, esas magnánimas menudencias que hacen eco en nuestras mentes como algo imbuido, como un eco bien adentro en el tuétano de cada uno de nosotros. Por ello, en su temporalidad, la obra de José Luis Vargas es intemporal, como todo buen arte siempre es. No hay oficialismos, ni turismos, ni pitiyanquismos por entertainment, no existe "parejería"*1, ni tan siquiera un atisbo de "jaibería"*2. Es un arte nacionalista que se regodea en lo terrenal, en la síncresis de una isla que mezcla lo fantástico con su propia existencia hasta el punto de eliminar los límites entre una y otra. Es una obra ingenuamente sincera, sin esa falsedad que tantos hacen, pero que no reconocen (¿porque no lo saben?) en el arte presente de nuestra isla.
De acuerdo al filósofo Jean Baudrillard (reanimando a Marx); del original hecho a mano pasamos a la producción industrial mecanizada, luego a la reproducción digital "improductiva", para terminar en el simulacro (hecho a mano o reproducido) y devolvernos el paquete estrellándonos de cabezas en el Expresionismo Falso de raíz maligna y anti-artística. El arte de José Luis se revuelve al original en un arte sensato, pulsando como una herida en carne viva, como un recuerdo feliz, como un tumor con su propio latido, y su realismo se constituye en lo que verdaderamente somos (¿fuimos?) como pueblo y… sin "parejerías". Su otredad consiste en que su obra se encuentra a cien años luz de nuestro triste y trasnochado sino de new gringo lumpen-burgués.
¡Esperando estoy a que me rapte uno de sus platillos voladores!
"Buscando estoy a un hombre verdaderamente sensato."
José Ortega y Gasset
Thurdmon Capote ©2014 "AKA Carlos Fajardo"
*1 Parejería: Palabra coloquial relativa a pretensión, comemierdería, ostentamiento ridículo, simulacro malogrado, superficialidad, cursilería.
*2  Jaibería: Palabra coloquial relativa a pasar algo falso como real, salirse con la suya sin intención de pasar trabajo, astucia mal intencionada, ardid, marrullería.
¡VIDENTE DESDE NIÑO! Muestra individual de José Luis Vargas Sala Oeste, Antiguo Arsenal de La Marina Española febrero a abril de 2014
As I walked through the opening of José Luis Vargas current exhibition at the Arsenal de la Marina de Guerra Española, I found myself surrounded by the characters of the images presented  by the artist. I was eventually escorted by them into a dream like space, where it all seemed to spin out of proportion. Was I in the midst of a freak show, or in another such place?  Had I been lead into some type of a surreal fairy?, Had time ended, or had it sped up? As I said hi to some of my friends they seemed to deform, to shred apart. Had that spirit, which seems to have abducted the artist, recruited me as well?. Was I about to steam out into ectoplasm all over and under?, Could I suddenly see the lies that we all live within? Was I one of such lies?, as weird as this art world that  fears the fierce and lives instead for a fake fight , where everyone else wears their own cape and mask, never transparent, never naked, never mind.  So, I had to sit down to catch my breath through the smoke of a cigarette …try to calm my untangled spirit… Had I also become a clairvoyant as the artist claims he has been since his childhood? Had I just been keeping my short sight away from the canvas and flesh around the egomaniacal  "Garadiávolo" that can only see as far as it's tail, a wooden cane which would otherwise hook us on to its indifference?  Or, am I to become, as of this thought, a "chota" willing to cooperate with it all ?
Great show Mr. Vargas!
ETC
¡VIDENTE DESDE NIÑO!
Muestra individual de José Luis Vargas
Sala Oeste
"¡Vidente desde niño!" presenta una selección amplia y contrastada del trabajo pictórico de José Luis Vargas. Estas colecciones de imágenes llenas de ironía y sarcasmo abordan críticamente la realidad contradictoria de vivir en un país caribeño que se piensa desde afuera y no se reconoce a si mismo. La muestra esta compuesta en su mayoría de obra sobre papel nunca antes presentada, además recoge una generosa representación de trabajo en formato monumental. Desde los '90, Vargas ha articulado una obra que combina imaginería popular y ciencia ficción, junto a estrategias muy propias de la pintura expresionista y el bad painting. Su experiencia como educador y artista transdisciplinario le ha permitido escoger su vocabulario de un panorama amplio de posibilidades que complementa su trabajo pictórico. Muchas de las historias que vemos sugeridas en las imágenes en sala también son parte de novelas radiales, proyectos performáticos y eventos multitudinarios. Como parte de la muestra, el público tendrá la oportunidad de aportar a la exhibición dejando imágenes en sala que podrán realizar durante sus visitas.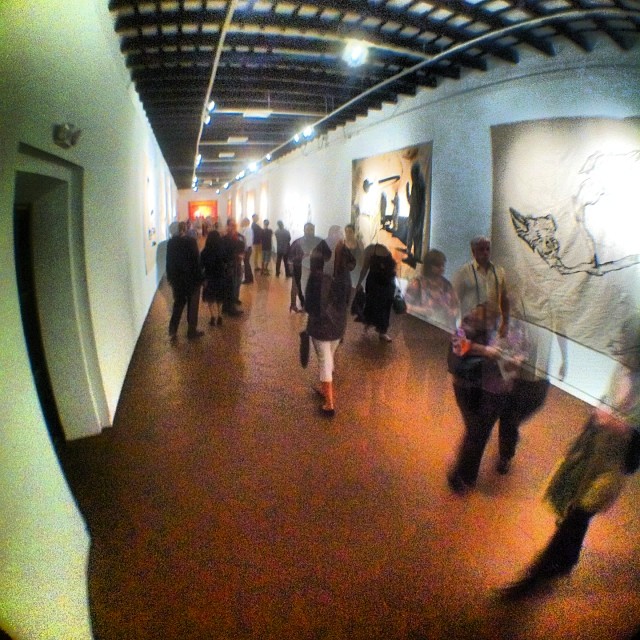 Biografía – José Luis Vargas Vázquez – Nace en Santurce, Puerto Rico en 1965. Estudio su Bachillerato en Pintura en el Pratt Institute de Nueva York (1988) y su maestría en Pintura en el Royal College of Art en Londres, Inglaterra (1994). Su obra se ha expuesto en Inglaterra, Nueva York, Suiza y Puerto Rico. Ha ganado premios en certámenes de arte joven, en exhibiciones colectivas, además fue premiado en una de las ediciones del certamen John Moores en Liverpool, Inglaterra en 1993. Actualmente es profesor en la Escuela de Artes Plásticas y en la Universidad de Puerto Rico en Río Piedras. Fue coordinador del componente de radio comunitaria en el Proyecto de Comunicación del Canal Seis y es fundador de El Museo de Historia Sobrenatural, un evento multimedia y performático que reúne artistas de distintas disciplinas.
Programa de Artes Plásticas
Antiguo Arsenal de la Marina Española
3 La Puntilla
Viejo San Juan, Puerto Rico 00901