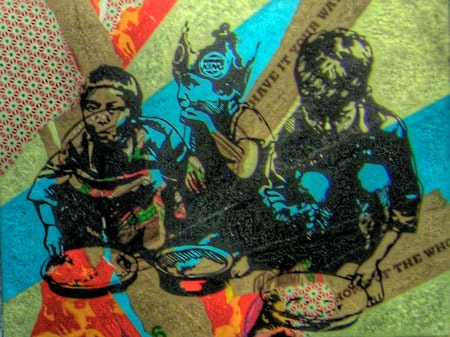 Zinthia Vázquez Viera reconocida por un cuerpo de trabajo gráfico experimental, nos presenta su más reciente producción en Souvenir de un Mundo Fantástico. En esta nueva producción la artista presenta xilografías y serigrafías intervenidas con esténciles y pintura en aerosol. Aborda sobre los contrastes entre culturas tribales y la popular, trae a colación realidades y aspectos sociales de nivel mundial. Técnicamente experimenta con la superposición de papel y el uso de vinilo impreso, utiliza soportes variados tales como el papel decorativo y los textiles, ahora subordinados a la carga conceptual de la propuesta de corte social. A través de estos juegos iconográficos reflexiona sobre realidades desconocidas y ocultas en el depravado consumismo que compra el glamour impregnado en lo exótico, belleza étnica y cultural que es opacada por una situación real de miseria, explotación y sufrimiento. Souvenir de un Mundo Fantástico incluye también piezas interactivas utilizando magneto sobre metal galvanizado, esta serie ofrece al espectador la oportunidad de cambiar realidades o descubrir que se oculta detrás de las imágenes.
Souvenir de un Mundo Fantástico podrá ser visitada hasta el 12 de enero de 2011. La Galería Guatibirí está localizada en la calle González #1003 en la Urb. Santa Rita en Río Piedras. Para mayor información puede comunicarse con el Sr. Rubén Malavé al 787.250.1959. También puede escribir a zinthia03@gmail.com
We have seen Zinthia work for some time now and where glad to see this one women show of a fantastic world, made of the diversity of the human family. The work with vivid colors with removable object of the print, were the spectator can rearrange the work, the works of art work well with their pop color and the use of varies support canvas pattern print plastic material. Thanx Zinthia we are always watching, excellent show a must see.