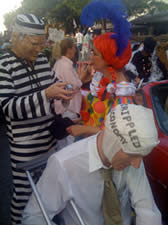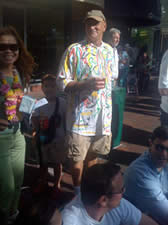 We love this parade parody we use to go with ArtKman but this year he was in spirit , the parade has a spirit of fun and political satire make us aware of many problems around the world and locally it is a must see and if you are so inclined to partake.
The King Mango Pre-Strut activities begin at the corner of Commodore Plaza and Main Highway with Grand Master C, Buzz Fleischman, from the WLRN 'South Florida Arts Beat' Radio Buzz hosting the Little Miss Mango Pageant (for kids 5-12) at 1:15 pm. This is a highly competitive pageant. All the contestants are expected to win. The winners will ride the first float of the Strut.
Join up!
King Mango Strut Applications HERE!
To see what we are up to this year, join us for one of our infamous brainstorming sessions, held every Tuesday until the Strut happens. See the Events listings for current details.You can start your own parade unit and join the march by filling out one of our King Mango Strut Applications HERE!