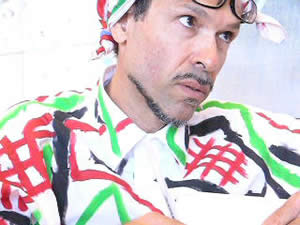 BARTLETT, JORGE L., 50. Performance artist known as ART KENDALLMAN and KMAN of Miami
died 6/28/08. Celebration of his life and art, Fri., 7/4, 4pm Matheson Hammock Park mangrove beach.
Dear All:
Please join us tomorrow, July 4, 2008, 4 pm to celebrate Art Kendallman's life and work at:
Matheson Hammock Park, 9610 Old Cutler Road, Miami FL 33156, Tel: 305.665.5475
After the entrance kiosk (they charge $5/car entrance fee) take the road on the right. Go all the way down to the 'loop' (see the attached map of the park)
We are gathering at the bay for a ceremony and celebration. His ashes will be released in the bay waters that he loved so much.
Please feel free to forward this message to all interested persons that knew Art Kendallman | KMAN.
The Bartlett Family
Ana, Gyr, Gavin and the entire family
Our dear friend and artist, Kman has left this world he will be missed a true inspiration to MSA.