Allora & Calzadilla Unspecified Promise, 2017 , ICA Miami
Jennifer Allora (b. 1974, Philadelphia) and Guillermo Calzadilla (b. 1971, Havana, Cuba) began their artistic collaboration in 1995 and have since produced an expansive and interdisciplinary body of work involving sculpture, video, sound work, performance, and social interventions. Allora & Calzadilla are known for their often radical approach to site-specific installations that focus on regional concerns, such as Puerto Rican Light (Cueva Vientos), an edition of Dan Flavin's referenced piece installed in a limestone cave in south Puerto Rico, commissioned by the Dia Art Foundation in collaboration with Para La Naturaleza (the nonprofit unit of The Conservation Trust of Puerto Rico).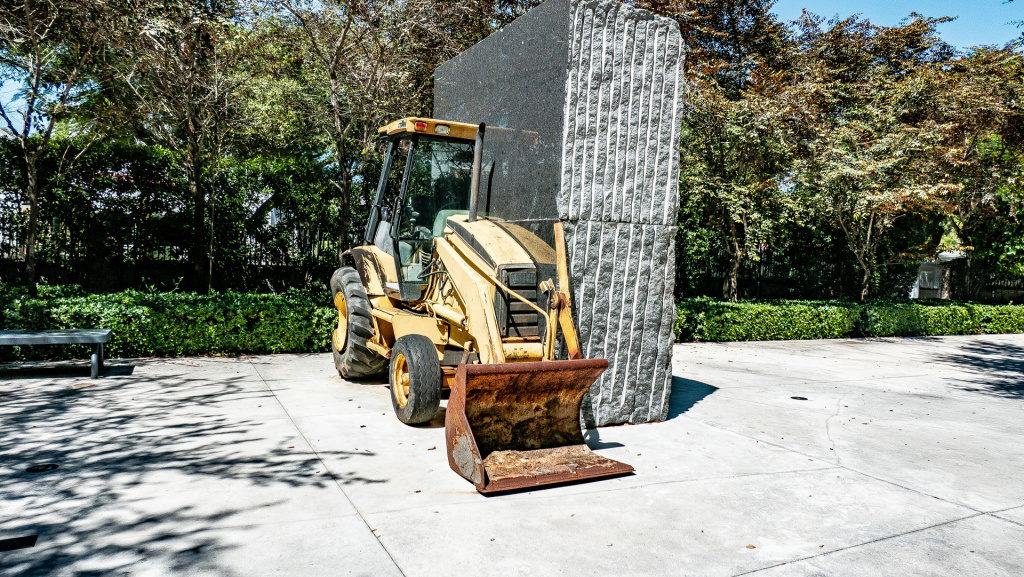 Unspecified Promise (2017), a sculpture commissioned by ICA Miami for its Sculpture Garden, questions the trope of the "monument" that reflects on political and technological issues of our time. Inspired by both a public and personal loss of hope, the work explores how the United States' policies towards the Hispanic Caribbean Islands of Puerto Rico and Cuba have impacted the social, economic, and political realities in the islands and for members of its diaspora, many of whom reside in Miami. In the work, more than thirty tons of black granite form an incomplete symmetry with half of a construction loader. The mirror-like finish on the stone's polished side reflects the missing half of the loader, creating the illusion of a whole. Continuing the artists' sublime and surreal treatments of the massive machines that power our lives, industries, and militaries, the sculpture invokes a complex social matrix.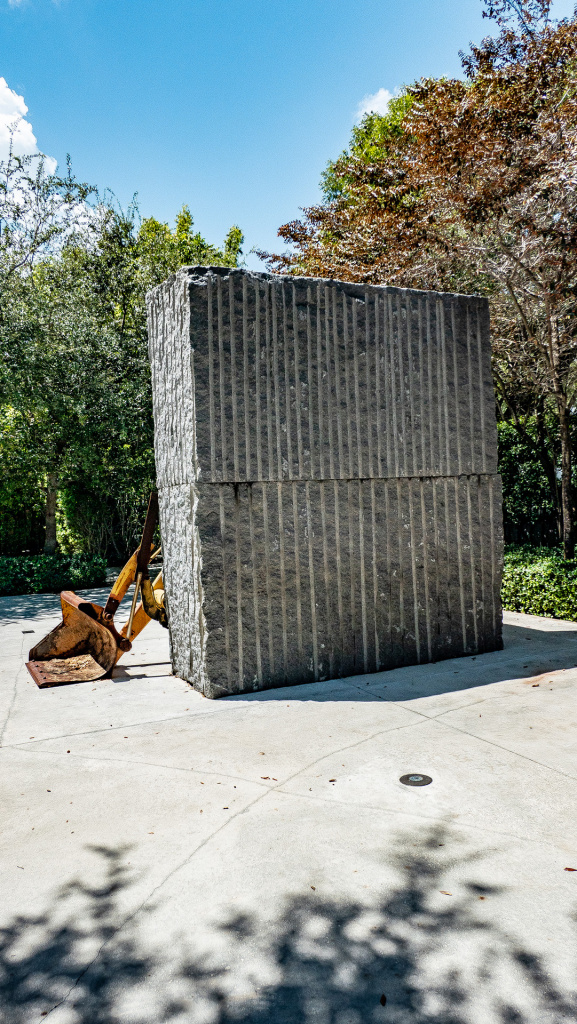 Allora & Calzadilla's work has been featured in numerous shows internationally, including solo exhibitions at the Guggenheim Bilbao, Spain (2019); the Walker Art Center, Minneapolis, MN, USA (2019); the Venice Biennale, Venice, Italy (2011); and the Stedelijk Museum, Amsterdam (2008). The artist collective has participated group shows at the Centre Pompiduo, Paris, France (2019); the 12thShanghai Bienniale, China (2018); the Venice Biennale, Venice, Italy (2017, 2015, 2005); and Documenta 13, Kassel, Germany (2012) among many others. Allora & Calzadilla's work can be found in the permanent collection of the Museum of Modern Art, New York, NY; Philadelphia Museum of Modern Art, Philadelphia, PA; and Tate Collection, London, UK among others.
Artwork