Cecilia Vicuña: "About to Happen", Museum of Contemporary Art, North Miami, 2019-20
In celebration of Miami Art Week 2019, the Museum of Contemporary Art North Miami (MOCA) will present the first major U.S. solo exhibition of influential Chilean-born artist Cecilia Vicuña. "About to Happen" traces Vicuña's career-long commitment to exploring discarded and displaced materials, peoples, and landscapes in a time of global climate change,
"Cecilia Vicuña: About to Happen" is comprised of Vicuña's multidisciplinary work in performance, sculpture, drawing, video, text, and site-specific installations created over 40 years. Reframing dematerialization as both a formal consequence of 1960s conceptualism and radical climate change, the exhibition examines a process that shapes public memory and responsibility. Operating fluidly between concept and craft, text and textile, Vicuña's practice merges dissimilar disciplines and communities with shared relationships to land and sea, and to the economic and environmental disparities of the 21st century.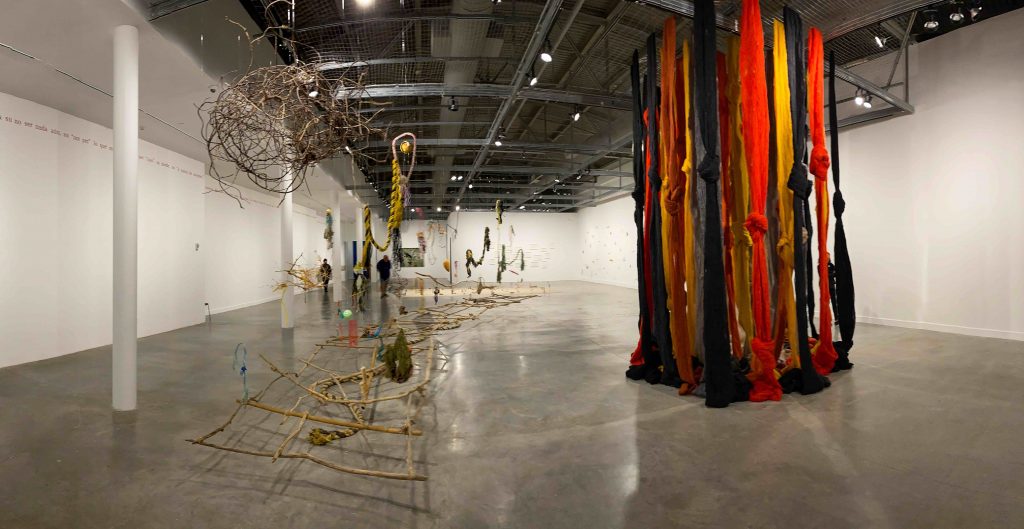 Vicuña's work reflects the overlapping dialogs of conceptual art, land art, poetry, and feminist art practices. For the first time in this traveling exhibition, the show will include painting, a practice which Vicuña began in the 1970s and to which she has recently returned – in some cases, repainting lost paintings from memory.  The addition of painting to "Cecilia Vicuña: About to Happen" is an affirmation of a practice that exists, in its entirety, in the logic of every single work – and yet – is also, always evolving.
The exhibition will include an expansive presentation of Vicuña's precario sculptures, which the artist began creating in 1966.  Vicuña assembles these "precarious works" from bits of wood, thread, and other found objects into temporary small sculptures that despite their modest scale have a surprising dynamism and energy. The exhibition also features the installation "Burnt Quipu" (2018), in which lengths of dyed wool hang floor to ceiling, connecting earth and sky, in tribute to recent forest fires in the greater West Coast region. "Burnt Quipu" is part of Vicuña's longstanding artistic exploration of the ancient Andean writing tradition of "talking knots," an advanced communication system inhibited during colonization.
Born in Santiago de Chile, Vicuña is a poet, visual artist, and filmmaker. She is the author of more than 20 books of poetry, and exhibits and performs internationally. Her multi-dimensional works begin as an image that becomes a poem, a film, a song, a sculpture, or a collective performance.
Vicuña's work is included in the collections of The Tate Gallery, London; Museo de Arte Contemporáneo de Chile, Santiago, Chile; MoMA, the Museum of Modern Art, New York. She was appointed Messenger Lecturer 2015 at Cornell University, an honor bestowed on authors who contribute to the "Evolution of Civilization for the special purpose of raising the moral standard of our political, business, and social life." She lives in New York City, where she co-founded oysi.org, a site for the oral cultures and poetries of the world. Vicuña's work is represented by Lehmann Maupin, New York, Hong Kong, and Seoul. Vicuna's art has also been featured inDocumenta 14 and shown at Witte de With. She most recently was awarded the CINTAS, a very prestigious United States artist fellowship.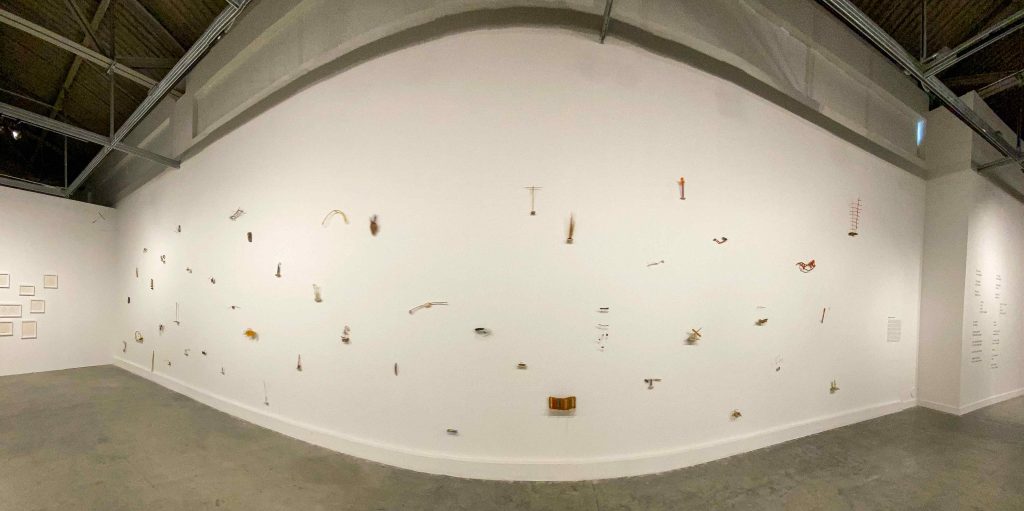 "Cecilia Vicuña: About to Happen" is organized by the Contemporary Arts Center, New Orleans (CAC), and co-curated by Andrea Andersson, The Helis Foundation Chief Curator of Visual Arts at the CAC, and Julia Bryan-Wilson, Professor, University of California, Berkeley. Support for this exhibition is provided by Sydney & Walda Besthoff Foundation, The Helis Foundation, The Kabacoff Family Foundation, and the Louisiana Endowment for the Humanities, the state affiliate of the National Endowment for the Humanities.  The exhibition is accompanied by a catalog.
The exhibition at MOCA is made possible, in part, with support from Funding Arts Network and Citizens Interested in the Arts. MOCA's exhibitions and programs are made possible with the continued support of the North Miami Mayor and Council and the City of North Miami, the State of Florida, Department of State, Division of Cultural Affairs and the Florida Council on Arts and Culture, and Miami-Dade County Tourist Development Council, the Miami-Dade County Department of Cultural Affairs and the Cultural Affairs Council, the Miami-Dade County Mayor and Board of County Commissioners.
Also on view at MOCA November 26, 2019 – March 29, 2020, a new exhibition featuring works of French-Mexican surrealist painter Alice Rahon (1904–1987). Guest curated by Mexico-City based art historian Tere Arcq, "Poetic Invocations," marks the first solo show in 55 years dedicated to Rahon's work in the United States.
Press
Art Basel: "The intimate and the vast: a conversation with Cecilia Vicuña and Teresita Fernández"
Art Net:"Here Are 18 Horizon-Expanding Museum Shows to See During Art Basel Miami Beach 2019″
Hyperalleric: "Your Concise Guide to Miami Art Week 2019"
Miami New Times: "MOCA North Miami Explores Poetic Female Artists in Dual Exhibitions"
The Art Newspaper: "The Chilean-born artist-poet Cecilia Vicuña on her poetry, precario sculptures and her return to painting"
New York Times: "For Cecilia Vicuña, 'Consciousness Is the Art'"