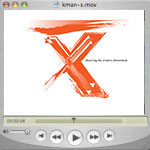 "Our art collection includes works made since the mid-1980s that interact and engage in dialogue amongst themselves. Here, you can witness 'the push and pull' of abstraction and figuration as well as that of the accidental gesture versus the deliberate one. This is the story of contemporary American art influencing and being influenced by the contemporary artists from Central Europe over the last three decades."
– Rosa de la Cruz
"The 30 year time span covered by the works in the Collection observed the dismemberment of the Soviet Union, the reunification of Germany, the preeminence of U.S. global rule, the beginnings of a general awareness of both the positive and negative consequences of globalization, as well as domestic social issues such as the AIDS epidemic, gender identity, and continued racial conflict. "
– Carlos de la Cruz
---
In the late 1980's, Rosa and Carlos de la Cruz started collecting from their home which they opened to the public by appointment only. From 2001 to 2007, Rosa founded and chaired the non-profit Moore Space, a kunsthalle located in the Design District. (Learn more about the Moore Space.) It was then that Rosa and Carlos started planning and building the present de la Cruz Collection on 41st Street, a 30,000 square foot museum which opened to coincide with Art Basel/Miami 2009.
Ibett Yanez, Director, and Melissa Wallen, Daniel Clapp, Chris Dougnac, Juan Gonzalez
The Collection also organizes lectures, educational scholarships in NY for high school students of DASH, educational travel to Europe for college students of New World School of the Arts, and summer workshops for grade school children.
The de la Cruz Collection is a private museum and is not government funded.
web site de la Cruz Collection
---
Artists in the Exhibition
Kathryn Andrews, Tauba Auerbach, Walead Beshty, Mark Bradford, Joe Bradley, Dan Colen, Martin Creed, Aaron Curry, Salvador Dalí, Peter Doig, Jeff Elrod, Isa Genzken, Félix González-Torres, Mark Grotjahn, Wade Guyton, Guyton/Walker, Rachel Harrison, Arturo Herrera, Jim Hodges, Evan Holloway, Thomas Houseago, Alex Israel, Rashid Johnson, Alex Katz, Martin Kippenberger, Michael Krebber, Wifredo Lam, Glenn Ligon, Michael Linares, Nate Lowman, Adam McEwen, Ana Mendieta, Albert Oehlen, Laura Owens, Jorge Pardo, Manfred Pernice, Sigmar Polke, Seth Price, Sterling Ruby, Analia Saban, Josh Smith, Reena Spaulings, Rudolf Stingel, Rufino Tamayo, Kelley Walker, and Christopher Wool
---
Very interestin Collection of works, a lovely space a must see in Miami.