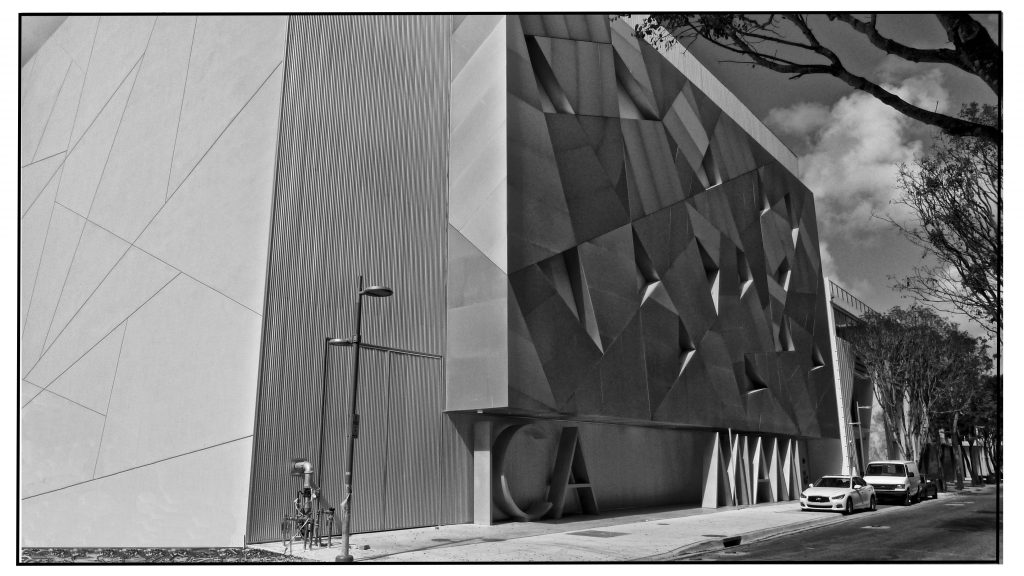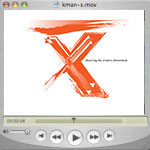 We visited ICA and found the space to be excellent, great show and a small sculpture garden, we were excited to see Allora & Calzadilla work. we hope all get a chance to visit ICA Miami.
---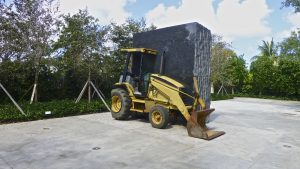 The newly commissioned sculpture Unspecified Promise (2017) by artist duo Allora & Calzadilla is a contemporary interpretation of the granite monument that reflects on the political and technological issues of our time.
Inspired by both a general sense of loss and hope that is personal to the artists, the work explores how the United States' policies towards the Hispanic Caribbean Islands of Puerto Rico and Cuba have impacted the social, economic, and political realities in the region and for members of its diaspora, many of whom reside in Miami. The work's more than thirty tons of black granite forms an incomplete symmetry with half of a construction loader. The mirror-like finish on the stone's polished side reflects the missing half of the loader, creating the illusion of a whole. Continuing the artists' sublime and surreal treatments of the massive machines that power our lives, industries, and militaries, the sculpture invokes a complex social matrix.
Allora & Calzadilla are internationally recognized for their radical approach to form. Jennifer Allora (b. 1974, Philadelphia) and Guillermo Calzadilla (b. 1971, Havana) began their artistic collaboration in 1995 and have produced an expansive and interdisciplinary body of work involving sculpture, video, sound work, performance, and social interventions that focus on the regional concerns of their often site-specific installations. Their work has been featured in solo and group shows internationally, including Dia Art Foundation (2015); the Venice Biennale (2015, 2005); Documenta 13, Kassel, Germany (2012); the Museum of Modern Art, New York (2009); and the Stedelijk Museum, Amsterdam (2008). The artists represented the United States in the 2011 Venice Biennial.
for more information:
---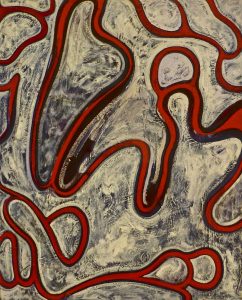 "Donald Judd: Paintings" marks the first museum exhibition dedicated to 14 rarely exhibited paintings, created from 1959 to 1961 when the artist was developing his ideas about color, space and exploring the limitations of the flat plane.
The exhibition offers an expanded understanding of the artist through this understudied facet of his practice. These paintings, which have not been on view together previously, reveal Judd's transition from figuration to abstract compositions of color and lines that demonstrate his prevailing interest in structure and space. In the year after making these paintings, these elements evolved into Judd's three-dimensional works and grounded the next three decades of his practice.
One of the most significant artists of the twentieth century, the radical ideas and work of Donald Judd (b. 1928, Excelsior Springs, Missouri; d. 1994, New York) continue to provoke and influence the fields of art, architecture, and design. Judd exhibited throughout the United States, Europe, and Asia with his work in museum collections worldwide. Major exhibitions of his work include the Whitney Museum of American Art, New York (1968, 1988); the National Gallery of Canada, Ottawa (1975); Stedelijk Van Abbemuseum, Eindhoven (1970); and Tate Modern, London (2004).
for more information:
---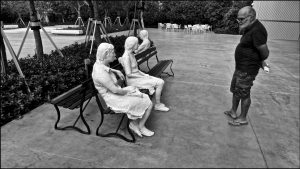 Three Figures and Four Benches (1979) is an iconic sculpture by renowned Pop artist George Segal, whose figurative installations in steel and plaster explore the human figure as it relates to the surrounding environment.
Segal began his career as a painter, but is best known for his hyperreal life-size cast figures for which he pioneered the method of making full-body casts of live models—including himself, friends, and neighbors— made from orthopedic bandages dipped in plaster. Most of Segal's figures are depicted in monochrome (a single bright color or whitewashed) and minimal detail, creating an eerie yet emotionally resonant appearance. These figures are accompanied by uncast, appropriated props such as chairs, sections of cars, beds, brick walls, or in the case of this work, park benches. Here, the artist plays with themes of urban sociability and alienation. Two female figures seem engaged in possible dialogue, their attention wandering, while behind them a man sits dejected. The work is interactive, such that visitors relate to the figures as they observe them.
Segal (b. 1924, New York; d. 2000, South Brunswick, New Jersey) has had works installed in public spaces and institutions across the country, including the Solomon R. Guggenheim Museum, San Francisco Museum of Modern Art, and—perhaps his most well-known work—Gay Liberation (1980) became the first piece of public art dedicated to LGBT rights when it was commissioned in memory of the 1969 Stonewall riots and installed in two editions, one in Christopher Street Park, New York, and the other on the Stanford University campus.
for more information:
---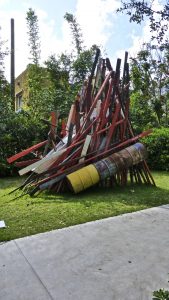 Abigail DeVille is known for her dense, formless installations that involve deep engagement with the history of violence against marginalized people and places. For Lift Every Voice and Sing (amerikanskie gorki) (2017), DeVille creates a hybrid structure inspired by the history of the United States.
The newly commissioned installation's form is based on sources as diverse as the Great Seal of the United States; the Underground Railroad; artist Jacob Lawrence's 1941 "Migration Series"; the Russian ice slide; and Augusta Savage's destroyed sculpture Lift Every Voice and Sing from the 1939 New York World's Fair. The central form is a diamond star, a half-pyramid that alludes to the Egyptian Eye of Providence used on the US dollar as a symbol of esoteric power. The diamond star, also a symbol of safety that was used in the Underground Railroad, describes in DeVille's work perilous migrations that are witness to the systemic and structural racism of their times. Covered in stacks of oars, the structure's surface invokes harrowing images—both historic and terrifyingly recent—of migration to the United States. The topic of immigration is ubiquitous today, but DeVille's work seeks to bring specific attention to the adjacent neighborhood of Little Haiti and the some sixty thousand asylum seekers who relocated to Miami following the 2010 earthquake and are now living under a tenuous temporary protection status.
Abigail DeVille (b. 1981, New York) has exhibited work at the Contemporary, Baltimore (2016); Contemporary Arts Museum Houston (2014, 2013); the Venice Biennale (2013); the New Museum Triennial, New York (2012); and El Museo del Barrio, New York (2011), among many others.
for more information:
---
Dr Pepper (2017) by Mark Handforth marks a major public commission for this leading Miami-based artist.
In his sculptural installations, Handforth often transplants familiar objects found in civic infrastructure—such as municipal signs, motor scooters, hydrants, street lamps, wheels, and traffic cones—into unfamiliar surroundings and transforms them, by reworking or deforming their structures and configurations, in order to reveal something new about the ways in which these objects function in our everyday lives. He revels in the skewed perspectives and unintended consequences that result from cultural exchange and displacement.
Mark Handforth (b. 1969, Hong Kong) was raised in London and has been based in Miami since 1992. His work has appeared in exhibitions worldwide, including solo presentations and outdoor public sculptures at the Museo d'Arte Contemporanea, Villa Croce, Genova, Italy (2016); Museum of Contemporary Art Chicago (2011); Dallas Museum of Art (2007); Kunsthaus Zürich (2005); and the Hammer Museum, Los Angeles (2002).
for more information:
---
This focused presentation of works by Edward and Nancy Kienholz from 1982 to 1992 demonstrates the artists' exploration of the representation of women in a contemporary, media-saturated society.
Encompassing a series of found-object tableaux that incorporate photography, television screens, and mirrors, the exhibition is anchored by a major work from ICA Miami's permanent collection, The Soup Course at the She-She Café (1982). The Kienholz's elaborate found-object tableaux and assemblages famously scrutinize American society, addressing issues surrounding war, racism, and working-class culture. The first project the artists collaborated on was "The Kienholz Women" (1972–early 1980s), a series of tableaux featuring female subjects performing functions that define them in relation to men—as wife, lover, widow, mother, or daughter—that raise questions about female agency. At a variety of scales, the works on view mirror how the image of women is shaped through a male gaze, and how mainstream media disseminates these representations.
Edward Kienholz (b. 1927, Fairfield, Washington; d. 1994, Sandpoint, Idaho) and Nancy Reddin Kienholz (b. 1943, Los Angeles) were married and worked together for more then two decades until Edward's death in 1994. Major solo presentations of the artists' work have been held at institutions worldwide, including Fondazione Prada, Milan (2016); the Museum of Contemporary Art, Los Angeles (1997); the Whitney Museum of American Art, New York (1996); the Menil Collection, Houston (1995); the Walker Art Center, Minneapolis (1985); and Moderna Museet, Stockholm (1970), among others.
for more information:
---

This presentation by Senga Nengudi, a Conceptual artist operating at the intersection of performance and sculpture, represents a pivotal advancement in the artist's innovative approach to material and offers important insight into her current practice.
This series, "Wet Night — Early Dawn — Scat Chat — Pilgrim's Song" (1996/2017), has not been exhibited for over two decades. The installation incorporates plastic and dry cleaning bags, continuing the artist's use of universal, commonplace materials, and explores her transformative time researching the practices of Gutai in Japan in 1966–67, as well as her notion of the pilgrimage. Deeply influenced by the artist's concepts of spiritualities—or belief systems that in spite of their differences share similar constructive ideologies—the works on view are like altarpieces, while the pigment on the floor alludes to ritual burnings in Eastern cultures. Reprised for ICA Miami, Nengudi has added new and site-specific elements to the work in abstract, alluring forms that might reference garments or anthropomorphic compositions.
Senga Nengudi (b. 1943, Chicago) became a driving force in the African American avantgarde art scene in New York and Los Angeles in the 1960s and '70s. Her seminal work, the series "R.S.V.P." (1975– ), comprises sand-filled pantyhose twisted and affixed to various points on a wall, and was created after her first pregnancy in response to the feeling of transformation within her own body. Much of Nengudi's work confronts gender limitations within particular racial and cultural contexts, highlighting the impact of systematic forces through performance, video, photography, and installation. Nengudi has been honored with solo exhibitions at the Contemporary Arts Center New Orleans (2017) and the Museum of Contemporary Art, Denver (2014), among others. Her work has been included in group exhibitions at such venues as Yerba Buena Center for the Arts, San Francisco (2015); Whitney Museum of American Art, New York (2013); and the Hammer Museum, Los Angeles (2011).
for more information:
---
This presentation examines an important series of works created by Hélio Oiticica at a crucial transformational period in the artist's development.
In 1963, Hélio Oiticica, an essential figure in Brazilian postwar art, began to make his "Bólides," a series of objects, drawing from the language of geometric abstraction, that viewers were invited to physically interact with. The aim was to involve spectators in such a way that the duration of their engagement with the work feel like a substantial and unrepeatable experience. The "Bólides" were made at an important moment in the development of Brazilian art and in the artist's own trajectory, against a social backdrop in which Brazil's military regime was becoming ever more repressive, leading to a tumultuous political atmosphere and increased economic disparity.
Hélio Oiticica (b. 1937, Rio de Janeiro; d. 1980, Rio de Janeiro) founded, along with his generational peers Lygia Clark, Lygia Pape, and Ferreira Gullar, the Neo-Concrete movement in 1959, using visual geometries as a way of making the spectators aware of their spatial relationship to the artwork. Recent retrospectives of the artist's work have been presented at the Art Institute of Chicago (2017); Whitney Museum of American Art, New York (2017); Museum of Fine Arts, Houston (2006–07); and the Museu de Arte Moderna do Rio de Janeiro (2002).
for more information:
---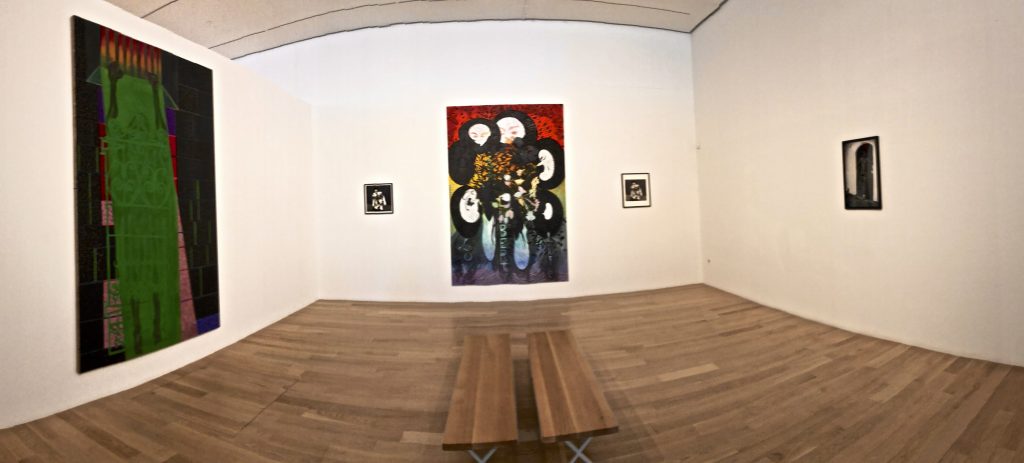 At ICA Miami, Ofili's extended-run installation will evolve over the course of its duration, with works being added and/or subtracted over time.
Chris Ofili is renowned internationally for his richly layered works that combine imagery and influences from sources as divergent as comic books, hiphop, Zimbabwean cave paintings, Biblical scenes, and 1970s-era Blaxploitation films. Since moving to Trinidad in the mid-2000s, Ofili has looked increasingly to the Trinidadian landscape and mythology in order to further reflect upon his long-term consideration of history and identity. His most recent paintings have been animated by figures and scenes from folkloric myths and arguably revisit and revise tropes of modernist painting by artists such as Henri Matisse and Paul Gauguin. Over the last few years, he has also experimented beyond painting through immersive installation works.
Ofili (b. 1968, Manchester, England) has presented solo exhibitions internationally, including at the New Museum, New York (2014); Arts Club of Chicago (2010); Tate Britain, London (2010, 2005); and the Studio Museum in Harlem, New York (2005), among others. He represented Britain at the Venice Biennale in 2003 and was the recipient of the Turner Prize in 1998.
for more information:
---
his presentation of work by Robert Gober features the iconic sculpture Untitled (1993–94) and a portfolio of significant photographs, 1978–2000 (1978–2000).
In Untitled, a pale male body is installed below the floor, his heart replaced by a drain over which water gently laps. Photography is an important and ongoing but typically unseen part of Gober's practice. 1978–2000 features twenty-two photographs that place Gober's iconic sculptures within their contexts and reinforce the artist's interest in sociology and cultural history. Shot over the course of two trips—a 1978 drive from Manhattan to Jones Beach, Long Island, and an encounter with detritus on the beach near his studio in Peconic, Long Island, some twenty-two years later—the photographs witness the convergence of a seaside landscape scene with traumatic, topical newspaper headlines and images of Americana.
Over the last three decades, Rober Gober (b. 1954, Wallingford, Connecticut) has innovated through his surreal and topical recreations of common, domestic forms. Since the mid-1980s he has created sculptures that incorporate plumbing elements, including oversize body-like sinks and drains installed in unlikely places. These works are at once mundane, familiar, and provocative, invoking the intimate bodily processes of personal hygiene and the systems that regulate them. Gober made his debut museum presentation in 1988 at the Art Institute of Chicago and since that time has presented his works internationally, at the Walker Art Center, Minneapolis (2012); five presentations of the Whitney Biennial; and the Venice Biennale (2001), among many others. Solo presentations include a major retrospective at the Museum of Modern Art, New York (2014–15).
for more information:
---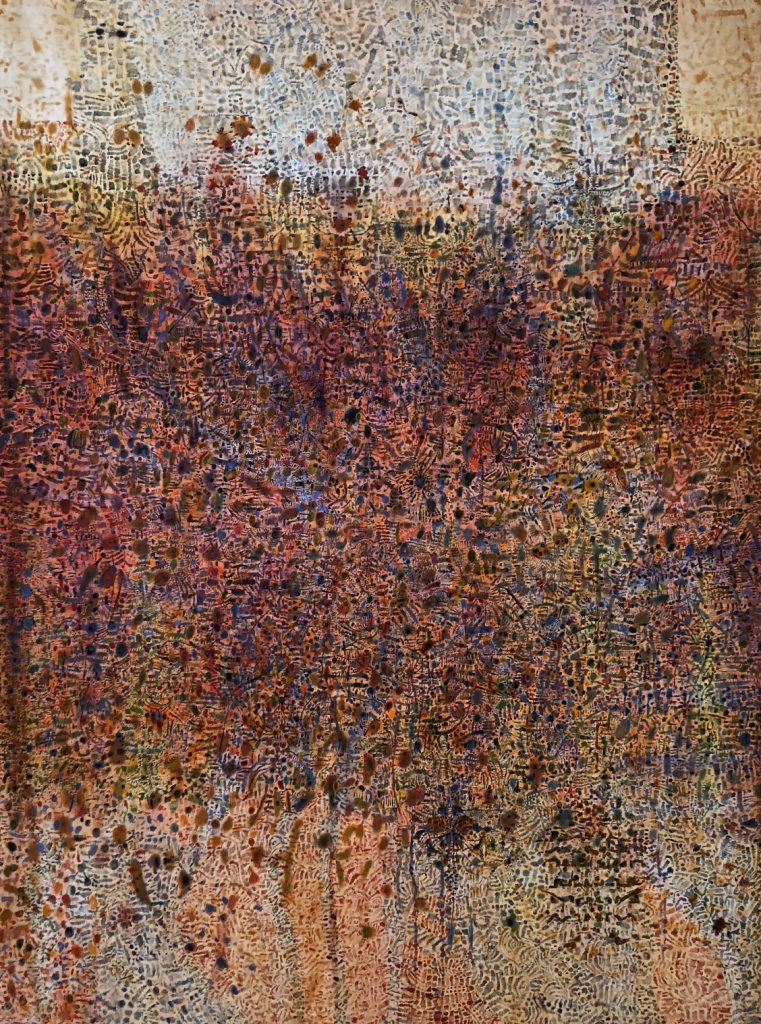 Tomm El-Saieh's solo museum debut features a suite of new paintings that explore and probe the meanings of abstraction by invoking Haitian traditions of figurative spiritual art.
El-Saieh's colorful, map-like constellations are created through a frenetic process of all-over rubbing, a diverse application of material, and strategic erasures. The large-scale compositions are so full of information that the works themselves allude to the artist's labored physical process, which could be seen as performative. Through this mode of facture, El-Saieh creates a subtly diverse range of surfaces that can be seen as networks, fields of data, or nodes of activity, or that can be interpreted as abrasions or micro-destructions to the paintings' surfaces.
In the largest of these paintings, the canvas becomes a sort of screen—an effect that heightens El-Saieh's contention that the painting is a type of information, and that abstraction relates to an ideological Western form of modernism posing as "natural." Dedicated to providing a platform for emerging and under-recognized artists from around the world early in their careers, the Ray Ellen and Allan Yarkin Gallery features commissions of site-specific or experimental works and rotates exhibitions three times per year.
El-Saieh (b. 1984, Port-au-Prince) studied at the New World School of the Arts, Miami, and currently directs the El-Saieh Gallery in Port-au-Prince. His work has been featured in solo exhibitions at Michael Jon & Alan, Miami (2016); Central Fine, Miami Beach (2015); and the Haitian Heritage Center, Miami (2008).
---
for more information:
---