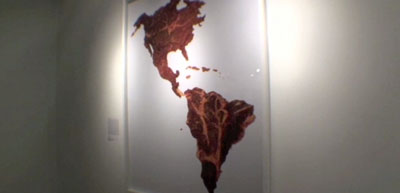 One can see that the title of this post is "Puerto Rico in Miami"
We in MSA-X have been haunted by a question for sometime now, and have been confronted by many on the role and purpose of many blogs and websites, in the art scene. Many have protested for the criticism of exhibitions out of P.R. by Puertorrican artists. Reasons of this anger by artists and galleries has been, that by giving criticism to our own artists, galleries and Museums etc.. has damage the perspective of Puerto Rico and its artists products, and it projection in international circles, so before entering in the participation of our artists, and galleries in Miami we wish to address this question that has been twisting our mind.
In the miracle of Creation we must respect the passion of each individual, her or his position and their personal experience in the creative process.
Like one artist has explained to MSA-X , "…it is a miracle that art is done at all", Charles Juahasz Alvarado.
We at MSA-X say we observe the phenomena. But can we fall short to explain the search for the internal wonder that produces art, and fall into the trap which has created doubt in this contemporary world?, the commercial falsehood greed that has befoul our world with the infinite monetary falsehood which clearly falls short to the grandeur of any type of experience in the creative field.
How can one fall in the trap of others expectations when one creates?, the falsehood of fame , money, and greed that becomes a discourse in this field in the contemporary state of the arts.
So is anger necessary if we are sure of what we do?,
Is it necessary to question any criticism?
It is better to understand and question in a discussion between persons in the field, to understand in a way we can learn to work on our new found answers to resolve and admit our views in some way, and to discuss in a level playing field.
Then work for a better understanding of our creative process.
We at MSA-X have always said, that what we say is a personal opinion, and that the viewers should investigate for themselves and come to their individual positions or conclusions. The greatest property of art, is its ability to transcend ones opinion but project itself in many ways and in many layers.
So now with this new found thought and explanation we can continue with the review of the "Puerto Rico in Miami"
356 Gallery in NADA had, like always, presented fine works by many artists. We where glad to see their presentation in this fair. The space was somewhat small but we know that the larger the space the more the cost to the gallery or the artist. In this case they tried to show as much as possible and it seemed somewhat tight, The works where very good and the gallery did make $ or may have broke even, but did make its contacts.
ArteFoundation at Scope was well put together and the space look clean each artist had their place and well documented. It was great to see Cathy Lucas the Director of the Foundation. She was there to put order, and to push a great esthetic experience.
Galeria Yemaya at Scope was interesting. A smaller space and the works seemed somewhat tight, they seem to be doing well.
Petrus at Scope. This space was very small, to much works and had been divided and made it look smaller. The people at the gallery where not happy and seem to be having a bad time. We will let the other blog talk on their spectacle and bad representations in the fairs.
Carlos Mercado and Rosario Fernandez at Photo Miami, while we found this fair not to be as good as before, we found that Carlos and Rosario did a good job and an interesting show. The space was very large, we where glad to see Carlos as he had showed in MSA Gallery when he was a younger man and is also good to see his evolution in time. Rosario's work where very difficult to look at but this is good, sometimes things that are hard to look at make us think on our perceptions.
RICA Gallery which is a part of CIRCA Art Fair, presented Karlos Ibarra. Karlos work was interesting and one of his work was stopped at the airport for it had some guns. And well ,you can't take guns on a plane, but we did love the video on people singing the US national anthem in PR.
So this is it for now. We hope you can make your own opinion, and investigate for yourself and discover this phenomena of art.
Now, we must understand art fairs and the world of art in this business fair select galleries by the artists that show in them. In this way the curator for the fairs have some judgment on what is benign put up and has a standards by the convention of that fair, so the galleries are chosen by their content. In this case their artists as their content.