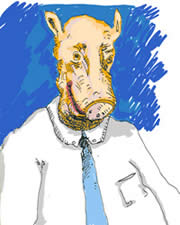 BIENVENIDOS!
Free at last! Luego de estar tres meses ½ encerrao en el hosp. Pepperoni por orden de un juez gay del gobierno chabista y populette del alcalde Güembelito, de este pueblo estercolado de Yagüeca-USA, he salido intacto y sin un sólo rasguño. Pues sucedió (para los que quieran chismear), que por razones de anti-droga y anti-corrupción, un mamalón espía (haciéndose pasar de dandy), dirigido y brainwashed por los anibaluchios y commies, me tendió una trampa. Yo inocentemente, yo totalmente, yo inmaculadamente, yo consumadamente, yo incipientemente, yo incípidamente, y a la misma vez, inescrupulosamente, fui acorralado, embaucado, eyaculado, amonestado, maniatado, manipulado, increpado, a mentir. Se necesitaron varios hombres para controlarme. No soy como esos paticos que a la primera bofetá sueltan prenda y salen descocaos corriendo hacia la puerta o hacia la ventana. Nó. Yo aguanté el dolor como buen machote que soy, adiestrado en las artes del tapujo y el estreñimiento mental, en los square nuts y en las torturas más pisicriáticas, no claudiqué. Me pusieron películas Xs de mujeres mamándose las totas, alfileres bajo las pezuñas, palillos de diente entre mis párpados, música jíbara y tambores negroides, espadiaron pipises frente a mi cara, explotaron condones cargados de sobre mi testa, usaron mis pelotas de punching bag , me hicieron comer donas rellenas de caca, hurgaron mis naríces con algodones humedecidos en éter, sangraron mis glóbulos máximus a gomaso limpio, me sellaron el pipí con dock tape, etc., etc. En fin; estos fagofílicos me hicieron todo lo que no está en la lista de torturas admisibles por la CIA como friendly tortures, para, y que hacerme hablar. Pero nada. Nada lograron. Ni gota. Ni los cuartos oscuros, ni las camisas de fuerza, ni las paredes acolchonadas, ni en la muerte por inanición safaron un pelo de mí. ¡Pues soy un macho como pocos! 'Death' is my second name! Y los muy cabrones no pudieron creer que haya salido vivito y con la colita coleando diciéndoles goodbye & have a nice day, desde la calle. ¿Acaso se creían que yo era como ese Farinabi? Nó. ¡Ni un triste tabaquito en todo ese tiempo! ¡Ni un puyacito decente! ¿Se imaginan? Cosa que yo sé que ninguno de ustedes podría aguantar. Pero, este machote de campo estuvo en todas las guerras santas. Desde Bahía hasta el Golfo. ¡He pintao y raspao como no se imaginan! Y que conste: ¡siempre con mi bandera en alto, porque!… ¿qué serías tú sin ella? Remember: This days will live in inflami!
Sooooo, fanáticos/cas, I am back!
En el Nuovo Biln-Blin del 26 de Oct. de200?, una de las mejoras traductoras del verbo sáfio en nuestro territorio, la anacoreta anacóndica Mayra Greesy Febles, en la página 88 de la Sección culturetera del 'Mirador', nos escribió un ensayo crítico y requetechuchín. ¡Al fin esta niña se ha decidido (como muchos otros) a dar el salto al charco! Pues aunque de incorrecto color pero de exacto pensamiento, esta chica al fin ha entendido. Nos dice la doctora Febles que durante este pasado mes de Oct. vinieron, como todos los hartos bi-años, el mismo bonche de holgazanes, commies, lesbians, cojecupones, mantenios, lambegüebos y natzifemies, a bostezar, mentir e inventar sobre el cansao tema de la supuesta diáspora boricua a los y desde los rasca-cielos del Mainland. Nos dice que después de haber leído su 'conferencia inagural', visto, estudiao y jangiao alrededor, entre y por debajo con este bonche de potatoes y potatoas extranjerizantes, al fin ha llegado ella a entender el intralinguis de este dramón auspiciada por el DMMDE (Dept. of Moneys for Minorities in Danger of Emancipation – por sus siglas en inglés). Se trata de el haber traido al Centro de Estudios Avanzados? de PR y del Caribe a unos 500 'expertos' a dicertar en diferentes temas como el patinar con rueditas sobre el hielo, hacer muñecos de nieve con paja de yagua, fumar crack y dar lectures en ambos idiomas a la vez, cómo tirar basura en las áreas donde vive gente blanca, cómo 'hacer que se hace sin hacer na'', cómo embelequiar con el mantengo social, cómo fungir de Puerto Rican sin tener idea de cómo, qué es eso de la doble nacionalidad unipolar, alocarse frente a un americano, jugar dominó mientras se baña en una pompa abierta, cómo janguear frente al bldg., cómo fumar pasto en el subway sin que la policía te coja, etc., etc. En fin; una serie de conferencias, según ella, sin sentido y dirección, que aún están en eso y no van para ningún lado sólo para tomar pon ida y vuelta en el avión y pasar un ratico grátis y felíz en la isla del gufeo, la maraca y el vacilón. ¿Que chévera, verdad? ¡Y después se quejan de los americanos! Dice esta dama enchancletada, que ahora que "tenemos sólo dos aliados: la Cuba de Raúl y la Venezuela de Chávez, el círculo se ha agrandado, pero que en verdad se ha achicado, pues son sólo estos dos lambestacas los únicos que dicen que todavía sí existen los puertorriqueños". Que "el resto del mundo esférico o plano ni se dieron cuenta de la eliminación por consentimiento de de Filiberto Ojeda, ni ningún gobierno del mundo terráqueo se expresó condolentemente ante tal culazo". Y sigue. Que "hay que negar la importancia absoluta de esa identidad o identidades y dejar esa pendejada de estar sólo hablando de nosotros, y hacer cunilingus con el resto de latinoamérica para insertarnos ensartaos en la estaca de la dicotomía sandunguera de los neo-post-nigger-boricua-sluts", y cierro la cita. Luego hace una digresión inintelegible de algún poeta desconocido de nombre Bayoán Nicolaus, para terminar diciendo que "las nuevas generaciones boricuas estamos pidiendo algo más que una identidad. Queremos: ESTATEHUD NOW!!!". Y termina con un glorioso dictámen de que ha llegado el tiempo del cambio para PR-USA!!!
¿Quieren algo más explícito que ésto, queridos conciudadnos americanos? Este escrito prueba, una vez más, que sí hay espacio para el expansionismo cuatripolar de nuestra Sagrada Nación, como hay espacio para la babilla que se aferra a las paredes de la taza de nuestros inodoros sin limpiar por meses y meses infinitos. Alrededor del hueco podemos encontrar la costra. ¿Y no es la costra parte integral del hueco? Contéstense ustedes mismos. Este escrito también es prueba de que hasta una negra chancletera ex-escritora con el grifo estirao y husmeando a medianoche, sonámbula por entre los trastes y alacenas de su cocina… ¡puede escribir bien!
La segunda parte de este iluminante ensayo trata sobre el Sgt. Zam Zack. Sucede que hubo ese mismo fin de semana una reunión de AA en los predios de la calle Hipocampo, en Santurce, donde se celebraba una exposición de obras esotéricas y raras de esos artistas intemporales del nuevo/viejo cuño donde Zam y un grupito de panas se dedicaron toda la noche a tomar, toquetear y jaranguiar a los artistas y a sus mujeres. Después de haberles bebido toda la cerveza, haberles comido todos los pinchos y piscolábis y cansados ya de haberse mofado de las obras, se fueron a terminar la reunión de AA a una barrita nacionalista. Ustedes sáben; a una de esas barritas de esquina que sirven de Punto y de broche de lata a una noche de jodedera, charlataneo inpune y descaradas risotadas. Adentro, el Sgt. y sus panas notaron que las paredes estaban recargadas de albízues, corretjeres, batencéses, banderines patrios, peloteros locales , matusalenes de una época ya muerta, posters con 'pensamientos célebres' y guindalejos nacionalistas. En el jux box sonaba la musiquita del comunista Andrés Panza, que ya les estaban molestando los oídos, cuando un nacionalista de nombre Cheche empezó a joder con uno de los chicos panas de Zam. Zam se encojonó y repentinamente sacó su sable del Confederate Army, y: ZA, A, A, ZS!, de un sólo sablezaso le cortó la cabeza de cuajo a Cheche. La cabeza rodó como una bola de boliche hacia la acera y de ahí a la alcantarilla. Se formó un salpafuera que pa' qué les cuento. Se treparon en el counter, arrancaron los posters, viraron la vitrola patas arriba, rompieron las sillas sobre las cabezas de los nacionalistas, se robaron 14 cajas de cerveza y la caja registradora, y al final, cuando la policía los escoltó hasta San Juan, terminaron la fiesta en casa de los artistas escultores de Charly y Rose Anne Pimpleton. ¡Fue todo un happening! Este pasaje también prueba que hasta un ex-machetero puede reivindicarse, siempre. Welcome home, Zam! These are my boys.
And last but not least. La conferencia en el MAC. Se dieron cita en una de las aulas del centro unos tres artistas del montón, más 14 o 15 pelagatos de la cream of whip de la urbe metrosexual. La conferencia trataba sobre sus obras que componen parte de la colección del afamado coleccionista local, el doctor Otto de Hun, amigo mío. Primero habló el mago Arthur Brotherjau, e hizo varios actos de mágia donde desapareció al orador presentador Humbert Fitzguerald (que de hecho, núnca apareció más por allí). El acto fue un éxito. Todos aplaudieron. Segundo; habló y presentó laminillas sobre sus pinturas, el jibarito Nonsense Decuatro, donde al final todos quedaron dormidos en sus sillas o sobre el suelo brillosos del aula. Nadie aplaudió. ¡Pero el último! Ajá. Aquí la cosa se puso buena a juzgar por las fotos de celular y las grabaciones escondidas tomadas por mis dos espías: JLF y JT (lo que prueba que también nosotros contamos con nuestras conexiones). El último lo fue el afamado artista multimedia, Néstor Cornetta. Néstor mostró, en un muy bien documentado CD, 14,000 ejemplos de alguna parte del total de su creación artística, a la vez que explicó escuetamente y sin remilgos, el trasfondo de su obra creativa. Luego de una perorata en ocasiones inintelegible (a razón de su frenillo en crechendo), este ex-rebelde ex-johnlord, digníficamente arremetió a mansalva epítetos cargados de furia sobre los comecacas que se han negado a arrodillarse frente al altar de la burguesía sexometral de la capital local. Ahí, en ese instante, Néstor recibió el aplauso más efusivo del público y fue rodeado de la whip of cream capitalino, firmando autógrafos, besando bebés y sacándose fotos con los fans. Hubo llantos, risas y hasta le pidieron que se postulara como candidato a. Lo que prueba, una vez más, que una rectus-pectiva está en camino y que un ex-rebelde ex-johnlord sí tiene espacio en este espacio transmetrocular, donde todos podemos ser incluidos, siempre. Welcome home sweet home, Néstor.
Si no consumimos toda esta droga e incitamos a la masa a participar de toda esta corruptela, ¿quién lo hará?
Dr. Pitt von Pigg PhDDD