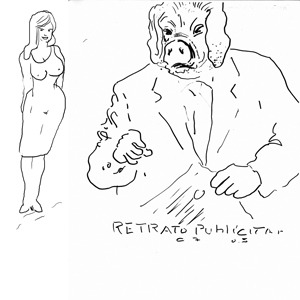 ensayo sobre el MAC por Dr. Pitt von Pigg
– LAS AGUAS LLEGARON SU NIVEL –
Por: Dr. Pitt von Pigg
Al fin las aguas llegaron a su nivel. Gracias a tres honorables americanos del gobierno insular, lease Porto Rico-USA, el MAC ya tiene sus fondos. Y esto me arrecuerda aquella bella canción de TB Hooker que decía: "What do I want? Money money, that's what I want! Pleeeeeeeeeeeeeeeeeeeeeeease…" And so on and so forth. Yeah, baby! Ya Miyouka & Associated tienen su batata segura por hasta que la muerte los separe o el de arriba disponga. Porque señores, vamos a ver: ¿No es la idea de recibir fondos del Estado, lease USACF (United States for American Cultural Funds – por sus siglas en inglés) a través del gobierno insular, lease American Fruit Company, el de recibir un batatal de chavos para mantener el batateo insular haciendo que se hace y no se hace na'? Y preguntense, queridos conciudadanos; no es esta la idea de promover la cultura insular al igual que democraticamente promovemos nosotros las artes ecuestres del oeste americano, con sus indios gritones, búfalos mojados, caballos en relincho, lazos, pañuelos, sombreros, botas y espuelas, carretas y bueyes y becerros también? Contéstense ustedes mismos. Por algo el NEA (National Endowment of the Arts – por sus siglas en inglés) revocó los dineros para amansar y promulgar las nimiedades sexuales de los degenerados del grupito aquel de Robert Mapplethorpe y su camada de liberales homous. Imagínense que ustedes vayan con sus esposas y sus hijos a ver y gozar de una tarde dominguera a los museos de la capital y se encuentre con un chorro de pipises erectos, bocas gargantuas haciendo gárgaras de esperma, vaginas malolientes, partes traspasadas por huesos y pinches cuan caníbales salvajes, tatuajes de madres copiando a bárbaros tercermundistas y foráneos, caca embarrando a imágenes divinas, animales partios en dos en tanques de formalina y con la víceras expuestas, obejitas sodomizadas por bestias humanoides, cerdos clavando a mujerzuelas del bajo mundo, Sí. Gracias al insígnie Strom Thurmond (RIP) y los honorables Inhofe y Ronquist, estos decadentes simbergüenzas antes de morir de AIDS (Afliction of the Inmune Deficit Syndrome – por sus siglas en inglés) dejaron de comer del cuerno de la abundancia americano a razón de sus salvajismos culipandeaos. Aquí pues, pasó algo parecido pero al revés. Es decir; que los iconoclastas e inmaduros que creen promover la cultura local se quedaron bailando rumba frente al Capitolio cuando en verdad nuestros insígnies senadores Georgie de Castro-Font, Mariela Parrilla y Orland Papas rapidito ortorgaron lo necesario que pedía doña Miyiuka Zzzzzomosa para el mantengo de la escuela Larra, lease MAC (Museum Against Cultural Corruption – por sus siglas en inglés). Doña Miñiuka se salió con la suya porque simplemente es una dama (y ya lo he dicho antes) que sabe muy bien cómo batear a la vez que juega de jardinera, que de paso, no es nada fácil!!! Entonces, conciudadanos del chiringui y el batateo, entonces los pequeñines comunistoides y liberales mañosos se quedaron afuera del bembé, bailando como los negros, sin ton ni son. Ya lo dijo aquel negro chango de Jessi, Jessi Jackson: "We dont need hope in our brains, we need dope in our veins!" ¿No es verdá? Que anunque un negro antimarina al menos dijo algo de cierto. Pero no es por racismo que digo esto, es que basta con ser negro y no añadirle más al cocido, por favooour. Los cabezones de blanco, los saltinbanques peluos, los pleneros pandengueros tanto como los chiquillos juguetones añadieron a la planchadera provincial y preplanificada superagrandando la sorpresa de tan sublime gesta. Y creían que el batatal les iba a caer a ellos como maná del cielo cuando en verdá les cayo a los que le tenía que caer. Bravo Miñouca!, bravo por esa azaña tan… cómo decirlo?: Tan sabijonda! You are the best! Slavastes la cultura coloquial a la vez que empequeñecistes más al enemigo con ínfulas de jodedor. A esos crackeaos hay que enseñarles que el coco se come sin cáscara porque la verdad verdad, no saben na'. Miyoucaca, you can sleep well. This thing will soon ware down and nobody will remember shit. Otro día les contaré sobre el cheque regalao del OAWLA (Our American Way of Life Association – por sus siglas en inglés) y las verdades de la senadora americana de Florida, la honorable dama Mary Brown Nose & Wait. Que si se quejan porque los honorables Joey Small y Josseline Embalde gastarán $48,000.00 pesitos en rearreglar el baño de sus oficinas en el Capitolio, lease las casa de las… Pues entonces, qué carachis quieren? Que las aguas negras lleguen a su nivel? Sí. Ustedes se quejan pero… que mucho les gusta el billete americano, no verdá? El resto es simplemente …
BOLONY.
Thankyou.